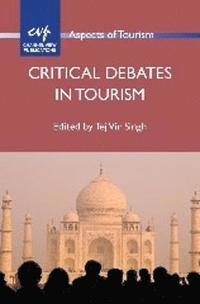 Fler böcker inom
Format

Häftad (Paperback / softback)

Språk

Engelska

Antal sidor

416

Utgivningsdatum

2012-08-14

Förlag

Dimensioner

228 x 152 x 25 mm

Vikt

635 g

Antal komponenter

1

ISBN

9781845413415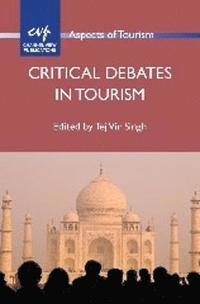 Critical Debates in Tourism
Skickas inom 3-6 vardagar.
Fri frakt inom Sverige för privatpersoner.
Finns även som
Skickas inom 11-20 vardagar (specialorder)
In this volume tourism experts collectively discuss and debate some intriguing questions that the tourism industry poses, such as the relevance of mass tourism, the dilemma of authenticity, whether small tourism is beautiful, whether volunteer tourism is benign, whether tourism contributes to climate change, as well as many others. The book brings together the expertise of 35 renowned international scholars of tourism to examine these perplexing issues. Multidisciplinary in its content, it touches upon anthropology, sociology, geography, climatology, biosciences, and planning and development aspects of tourism. The book provides a dialogue for an academic discussion which challenges research conservatism and stereotypes in tourism studies. It will encourage scholars to test the consistency of critical notions whose heuristic value is often taken for granted. The book will benefit graduates, research scholars and those involved in organizing the industry sustainably.
Passar bra ihop
+
Fler böcker av Tej Vir Singh
Challenges in Tourism Research

Tej Vir Singh

In this volume leading experts from different disciplines and diverse geographic regions discuss fundamental, often controversial topics in the field of tourism studies. The book attempts to understand, identify and analyse some of the perennial p...
Recensioner i media
While those seeking a dense work on a particular issue should perhaps look elsewhere, this book will be useful for both seasoned scholars and new graduate students seeking an up-to-date overview of the current state of tourism knowledge and the juxtaposition of critical issues. It can be read comprehensively for a holistic summary, as in a graduate seminar, or serve as an encyclopedic-like reference book for researchers. -- Laura B. Johnson, Michigan State University, USA * Tourism Analysis, Vol. 18, pp. 749-752 (2013) * Being one of its kind "Critical Debates in Tourism" edited by Tej Vir Singh is highly advised and recommended to experts, consultants, graduate students, academic researchers, policy makers, destination management organizations and decision makers who work or study on sustainability, tourism research, heritage, nature based tourism and ecologically friendly tourism products, climate change and economic, social, cultural and environmental impacts of tourism industry on destinations, local people and in general. -- Ige Pirnar, Yasar University, Turkey * European Journal of Tourism Research 6(1), 98-99 * The editor has brought together fourteen discussions and supplemented them with additional materials, resulting in the production of a compelling volume that addresses many important themes in contemporary tourism research. -- Geoffrey Wall, University of Waterloo, Canada * Tourism Management Vol. 38 (October 2013) * This book is very much a reference guide, an assessment, and a polemic all in one volume. The fact that most of the giants in tourism research have contributed mark it as a must read. -- R. W. Benfield, Central Connecticut State University * CHOICE April 2013 * Overall, this is an excellent book for those wishing to acquire a more comprehensive understanding of some of the most relevant issues in contemporary tourism research by some of the most established authors of today. -- Tom Griffin, University of Waterloo, Canada i * Annals of Tourism Research, Vol. 40, pp. 440-442, 2013 * Critical Debates in Tourism is an excellent guide for those who are already engaged into or break the ground in tourism research, or simply travel. Researchers from other fields, such as social and natural sciences, will also find this book useful due to multidisciplinary approaches to the discussed subjects. The book reveals lots of facts on ongoing debates around various issues in tourism that are essential to learn or to catch up on. -- Olga Lipkina, University of Eastern Finland, Finland * JOST * Each chapter is organized around the contribution of a lead author and those of two or three commenting authors. Also each chapter starts with outlining the context of the debate and ends with concluding remarks by the lead author. In addition, each chapter comprises discussion questions, references and further readings. The book is thus unique and innovative in its presentation and style...Since it contains some intellectually challenging discussions, the publication will mainly be of interest to academic researchers and tourism students. -- H. Leo Theuns, Independent international tourism consultant, the Netherlands * Tourism Recreation Research Vol. 37, No. 3, 2012 * Through this fascinating book Tej Vir Singh harnesses key debates that he has encouraged and fostered during his editorship of Tourism Recreation Research. It provides engaging and critical perspectives around fourteen contemporary tourism themes by eminent scholars in the field. Highly recommended. -- Professor John Tribe, University of Surrey, UK A must for those wanting to get to grips with the key tourism debates. This is an unconventional book that covers many of the big policy issues in tourism - climate change, mass tourism, community empowerment, etc. Experts explore these issues providing opinions, exploding myths and highlighting the value-laden nature of tourism. -- Noel Scott, The University of Queensland, Australia
Bloggat om Critical Debates in Tourism
Övrig information
Tej Vir Singh is Professor and founding Director of the Centre for Tourism Research & Development (CTRD), Lucknow, India. He is also Founder Editor of the Centre's international journal Tourism Recreation Research. He has produced many international books and papers on tourism development and impacts. He is a fellow of the International Academy for the Study of Tourism (since 1989) and has consulted for the UNEP. He was awarded lifetime honorary professorship of tourism by Bundelkhand University, Jhansi, India.
Innehållsförteckning
Preface Introduction - Tej Vir Singh 1. Mass Tourism and Sustainability: Can the Two Meet? 1.1 Towards Sustainable Mass Tourism: Paradigm Shift or Paradigm Nudge? - David Weaver 1.2 Is Mass Tourism Serious About Sustainability? - Ralf Buckley 1.3 Sustainable Mass Tourism: More Smudge than Nudge the Canard Continues - Brian Wheeller 1.4 Critical and Normative Responses to Sustainable Tourism - Bill Bramwell 2. Consumerism and Tourism: Are They Cousins? 2.1 Does Consumerism Necessarily Promote Bad Tourism? - Richard Sharpley 2.2 Consumerism, Tourism and Voluntary Simplicity: We all have to Consume, but do we really have to Travel so Much to be Happy? - C. Michael Hall 2.3 Not All Consumerism has Shady Side - Joan C. Henderson 3. Is Small Tourism Beautiful? 3.1 Tourism: Is Small Beautiful? - David Harrison 3.2 Small can be Beautiful, but big can be Beautiful too - and Complementary: Towards Mass Tourism/Alternative Tourism Synergy - David Weaver 3.3 Small is Beautiful: Size can be Important - Richard Butler 4. Does Community Participation Empower Local People? 4.1 The Mantra of `Community Participation' in Context - Jim Butcher 4.2 Community-based Tourism as Strategic Dead-end - David Weaver 4.3 Community Participation - In Need of a Fresh Perspective - Shalini Singh 5. Does Tourism Reduce Poverty? 5.1 Pro-Poor Tourism: Is There Value Beyond the Rhetoric? - Regina Scheyvens 5.2 Pro-Poor Tourism: Is There Actually Much Rhetoric? And, if so, Whose? - Dorothea Meyer 5.3 Pro-poor Tourism: Is there Value Beyond `Whose' Rhetoric? - David Harrison 5.4 Pro-Poor Tourism: Climate Change and Sustainable Development - Paul Peeters 6. Volunteer Tourism: Is it Benign? 6.1 Volunteer Tourism: As Good as it Seems - Daniel Guttentag 6.2 Volunteer Tourism: May not be as Good as it Seems - Jim Butcher 6.3 Volunteer Tourism: Looking Forward - Eliza Raymond 7. Tourism and Welfare: Seeking Symbiosis 7.1 The Tourism Industry's Welfare Responsibilities: An Adequate Response? - Derek Hall and Frances Brown 7.2 `Ethical' Travel and Well-being: Reposing the Issue - Jim Butcher 7.3 Tourism Ethics Needs More Than a Surface Approach - David Fennell 7.4 Tourism and Welfare: A Good Idea and a Pious Hope - Carson. L. Jenkins 8. Tourism Education: Quo Vadis? 8.1 Contemporary Tourism Education: Notes from the Frontline - Chris Cooper 8.2 The Cost of Everything and the Value of Nothing - Brian Wheeller 8.3 Innovate or Deteriorate - Moving Tourism Education into the 21st Century - Lisa Ruhanen 9. Post Colonialism: Academic Responsibility? 9.1 `Post-colonialism', Responsibility and Tourism Academics: Where's the Connection - Derek Hall and Frances Brown 9.2 Academic Capitalism, Academic Responsibility and Tourism Academics: or, the Silence of the Lambs? - C. Michael Hall 9.3 Towards an Ethics of Responsibility in Tourism Education - Erik Cohen 10. The Dilemma of Authenticity and In-authenticity 10.1 `Authenticity' in Tourism Studies: Apres la Lutte - Erik Cohen 10.2 Staged Authenticity: A Grande idee? - Kjell Olsen 10.3 Persisting with Authenticity: Gleaning Contemporary Insights for Future Tourism Studies - Philip L. Pearce 11. Heritage Tourism: Heritage Tourists 11.1 Do Tourists Destroy the Heritage They Have Come to Experience? - Gregory J. Ashworth 11.2 Heritage Tourists: Responsible, (f)or What? - Brian Wheeller 11.3 Tourists and Heritage: All Things Must Come to Pass - C. Michael Hall 12. Nature Based Tourism: There is Lot in the Name 12.1 What's in a Name? Conceptualizing Natural Resource-Based Tourism - David Fennell 12.2 Nature-Based Tourism in Breadth and Depth - Ralf Buckley and Alexandra Coghlan 12.3 Ecotourism and Nature-Based Tourism: What's Beyond the Names and Labels? - Betty Weiler 13. Tourism and Climate Change: A Need for Critical Analysis 13.1 Tourism and Climate Change: Knowledge Gaps and