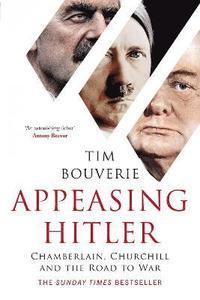 Fler böcker inom
Format

Inbunden (Hardback)

Språk

Engelska

Antal sidor

512

Utgivningsdatum

2019-04-04

Förlag

Dimensioner

237 x 157 x 36 mm

Vikt

994 g

ISBN

9781847924407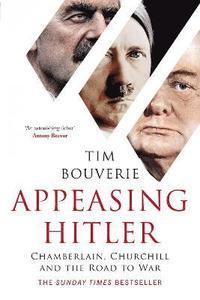 Appeasing Hitler
Chamberlain, Churchill and the Road to War
Skickas inom 2-5 vardagar.
Fri frakt inom Sverige för privatpersoner.
THE SUNDAY TIMES BESTSELLER 'Appeasing Hitler is an astonishingly accomplished debut' ANTONY BEEVOR `One of the most promising young historians to enter our field for years' MAX HASTINGS `Brilliant and sparkling ... reads like a thriller. I couldn't put it down' PETER FRANKOPAN On a wet afternoon in September 1938, Neville Chamberlain stepped off an aeroplane and announced that his visit to Hitler had averted the greatest crisis in recent memory. It was, he later assured the crowd in Downing Street, `peace for our time'. Less than a year later, Germany invaded Poland and the Second World War began. Appeasing Hitler is a compelling new narrative history of the disastrous years of indecision, failed diplomacy and parliamentary infighting that enabled Nazi domination of Europe. Beginning with the advent of Hitler in 1933, it sweeps from the early days of the Third Reich to the beaches of Dunkirk. Bouverie takes us into the backrooms of 10 Downing Street and Parliament, where a small group of rebellious MPs, including the indomitable Winston Churchill, were among the few to realise that the only choice was between `war now or war later'. And we enter the drawing rooms and dining clubs of fading imperial Britain, where Hitler enjoyed surprising support among the ruling class and even some members of the Royal Family. Drawing on deep archival research, including previously unseen sources, this is an unforgettable portrait of the ministers, aristocrats and amateur diplomats who, through their actions and inaction, shaped their country's policy and determined the fate of Europe. Both sweeping and intimate, Appeasing Hitler is not only eye-opening history but a timeless lesson on the challenges of standing up to aggression and authoritarianism - and the calamity that results from failing to do so.
Passar bra ihop
+
Recensioner i media
"Appeasing Hitler is an astonishingly accomplished debut. Bouverie writes with a wonderful clarity and we will no doubt hear a lot more of his voice in future" -- Antony Beevor "A brilliant and sparkling debut by an outstanding young historian. Tim Bouverie has written an account of the build-up to the Second World War that reads like a thriller. I couldn't put it down." -- Peter Frankopan "This is the debut of an unusually talented writer, one of the most promising young historians to enter our field for years" -- Max Hastings "Drawing on an impressive and interesting range of sources and characters, Tim Bouverie has written a fascinating and scholarly portrait of a decade when credulity, self-interest and poor judgement prevailed tragically and inexorably over morality and good sense: this is the reporting of history at its best" -- Caroline Moorehead "Appeasing Hitler is the stunning debut of a major new narrative historian. A riveting and depressing story which has resonance today as the democracies again face dictatorships" -- Professor Margaret Macmillan "In meticulous detail and with moments of novelty and insight... [Appeasing Hitler] should become a standard text on this inglorious episode... an exceptionally promising debut. He has great narrative abilities and his research has been extensive" -- Simon Heffer * Daily Telegraph * "Sparkling and witty... The best account of the subject that I have ever read" -- Professor Sir Michael Howard "This gripping book is...valuable because it illuminates some eternal truths" -- Andrew Rawnsley * Observer * "Tim Bouverie tells the story of appeasement with skill, verve and panache, using contemporary accounts to great effect in exploring the mentalities that lay behind the political decisions" -- Ian Kershaw "With enormous flair and confidence, Tim Bouverie has brought his subject to life, elegantly drawing out the historical parallels while also presenting a gripping and well-paced narrative. Lively, nuanced, and full of surprising details, this is a stunning debut" -- Henry Hemming "With tremendous narrative flair and impeccable judgement, Bouverie illuminates the wishful thinking, the gullibility and the appalling amateurishness that led us to the precipice" -- Simon Griffith * Mail on Sunday * "An eye-opening narrative which makes for exciting but at times uncomfortable reading as one reflects on possible lessons for the present" -- Antonia Fraser "Truly impressive and enjoyable. Tim Bouverie writes with verve and wit, gives us an often moving and always human angle on the story, and removes the tarnish from the word `appeasement' to make us look anew at one of the most important, and salutary, periods of modern times" -- Roland Philipps "No previous book on Appeasement has managed to cast such a vivid, detailed and utterly fascinating light on the incredible political machinations that were being played out in the late 1930s. Tim Bouverie has brilliantly brought alive the tension, political brinkmanship and immense drama of those days... This is political drama at its most compelling, and one whose relevance sits with the reader long after the book has been put down. Superb." -- James Holland "Tim Bouverie breathes new life into this familiar story. His vivid narrative is compelling, even exciting, as it hurtles towards its tragic conclusion. This is a superb book that deserves to be widely read" -- Adam Sisman * Literary Review * "Vivid, engaging... pacy, personality driven" -- Susan Pedersen * Guardian * "Bouverie... retells [the story of appeasement] with gusto" -- Dominic Sandbrook * Sunday Times * "Bouverie gives a lucid account... [and] skilfully traces each shameful step to war... which he describes in moving and dramatic detail" -- Lewis Jones * Sunday Telegraph * "Gripping.. Bouverie
Bloggat om Appeasing Hitler
Övrig information
Tim Bouverie read history at Christ Church, Oxford. From 2013-2017 he was a political journalist at Channel 4 News, where he worked alongside Michael Crick, as his producer, and covered all major political events, including both the 2015 and 2017 General Elections and the EU Referendum. He regularly reviews history and politics books, and has written for the Spectator, Observer and Daily Telegraph. He has also for the last five years worked at the Chalke Valley History Festival as an interviewer.