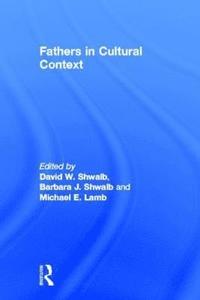 Fler böcker inom
Format

Inbunden (Hardback)

Språk

Engelska

Antal sidor

442

Utgivningsdatum

2012-09-05

Förlag

Illustratör/Fotograf

Illustrationer

4 Tables, black and white; 6 Line drawings, black and white; 33 Halftones, black and white; 39 Illus

Dimensioner

234 x 160 x 28 mm

Vikt

726 g

Antal komponenter

1

ISBN

9781848729476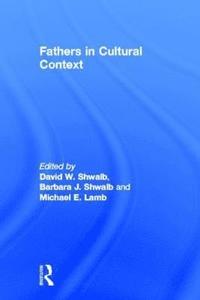 Fathers in Cultural Context
Skickas från oss inom 10-15 vardagar.

Fri frakt över 249 kr för privatkunder i Sverige.
Finns även som
Skickas inom 10-15 vardagar
A CHOICE Outstanding Academic Title 2013! Winner, APA Division 52 Ursula Gielen Global Psychology Book Award, 2014! This new volume reviews the latest research on fathering from every continent, from cultures representing over 50% of the worlds population. International experts on 14 societies/regions discuss cultural and historical influences, variations between and within cultures, and socio economic conditions and policies that impact fathering. Contributors from several disciplines provide thought-provoking reviews of the empirical data to help us gain an understanding of fathering worldwide. Over 1,000 studies on fathering published in languages other than English are made accessible to readers around the world. The cultures were selected based on availability of substantial research on fathering; representation of worldwide geography; a balance between large, middle, and small populations; and significance for a global understanding of fathering. Each chapter features personal case stories, photos, and maps to help readers create an engaging picture for each culture. Empirical evidence is blended with the authors expert opinions providing a comprehensive view of what it is like to be a father in each culture. The book opens by explaining theoretical and methodological underpinnings of research on fathers. The main chapters are then organized by world regionsAsia and the Middle East, Africa, North and South America, Europe, and Australia. The conclusions chapter integrates and compares all the chapters, and makes suggestions for future research. Every chapter follows the same structure, making it easy for readers to compare fathers between cultures, or to compare chapters as a textbook: Opening case story of one fathers life Cultural/historical background and influences on fathers Comprehensive review of research on fathering in that culture Sub-cultural variations in fathering Social/economic conditions and policies that impact fathering: divorce, never-married fathers, immigration and migration, and economic disparities Government policies and laws relevant to fathering Comparisons with fathers in other societies Summary highlighting the most pertinent information presented in the chapter This thought-provoking anthology is also an ideal text for graduate or advanced undergraduate courses on child development, fathering, or family processes taught in family studies, psychology, sociology, anthropology, education, and gender/womens studies, and ethnic studies departments. Practitioners, educators, policymakers, and researchers interested in the study of father involvement will also appreciate this book.
Passar bra ihop
+
Fler böcker av författarna
Recensioner i media
"The collection as a whole is strong, and the contributions on Africa and Asia are particularly interesting. For researchers studying fatherhood (and/or motherhood), the volume is indispensable. Summing Up: Essential. Upper-division undergraduates through faculty and professionals." - Ralph LaRossa, Georgia State University, for CHOICE, March 2013 "In our view, this book is an important milestone in the research on fathering. There have been few systematic attempts to bring together research about fathers from cross-cultural perspectives. The chapter authors were chosen well, and the chapters are, for the most part, well-written and filled with salient and interesting information. One could easily visualize this volume being used as a text for an upper-division or graduate class. In addition, it is a substantial starting point for those wishing to launch into cross-cultural research about fathers." - Randal D. Day & Nathan A. Jorgensen, Brigham Young University, in Fathering: A Journal of Theory, Research, and Practice "This book was the required text for my Fathering class in the Family Studies Program, when I taught the course in Spring 2013 with 25 upper-division undergraduate students. It is an excellent book as it covers the context of fathering across cultural communities. All chapters are well-written and information is based on either empirical data and/or solid conceptual frameworks. Case stories are effective sections as they set the tone of each chapter and lead to good class discussions. This book is easy to read as each chapter is organized within a systematic theme of presentation, which makes it practical for my class as a text. My students received the book well; it is full of testable material and is a refreshing change from typical textbooks. I plan to use it when I teach my fathering class again." - Ziarat Hossain, Family Studies Program, University of New Mexico "This outstanding book vividly describes the variety and common circumstances affecting men, fathers and families everywhere. Every chapter is captivating to read, moving from vivid case exemplars, to qualitative summaries of fathering patterns, historical trends, demographic influences, quantitative surveys, family studies, and current and future trends. Charting an exciting future course for father research, this is the book to lead the way." - Thomas S. Weisner, UCLA, USA "Let me commend the editors of the present volume for succeeding in their Himalayan task of providing a panoramic view of fathers roles in different regions of the world. As an interested reader, I must state that this is one of the few books of readings in the field that enthuses the reader to go through the entire volume instead of choosing only a few chapters of specific interest. In fact, the readers interest is sustained by wanting to "discover" what happens to fathers in other cultures, and to make cross-cultural comparisons in ones own. Kudos for a well timed and useful contribution to the field." T.S. Saraswathi, Baroda University, in International Society for the Study of Behavioral Development Newsletter "Fathers in Cultural Context provides a worthy follow up to Lambs 1987 book, The Fathers Role: Cross Cultural Perspectives.I found the Foreward and the Introduction to be extremely informative, and recommend that readers treat those sections with the same attention and focus as one would bring to reading the volumes core content.I highly recommend Fathers in Cultural Context. It is an invaluable tool for researchers, teachers, and students of anthropology, psychology, human development, and cultural studies to name a few. Social work, human services, and educational scholars and professionals will also benefit from discussions of the social policy implications of fatherhood research covered in each chapter." -Robert A. Veneziano, Department of Social Work, Western Conne
Övrig information
David W. Shwalb is a Professor of Psychology at Southern Utah University. He received his PhD in Developmental Psychology from the University of Michigan. A Fulbright Dissertation Fellow at Tokyo University, he is a former president of the Society for Cross-Cultural Research. Along with Barbara Shwalb, he is English Abstracts Editor for the Japanese Journal of Developmental Psychology. David and Barbara Shwalb have also co-authored or edited three books: Japanese Childrearing: Two Generations of Scholarship (1996), Applied Developmental Psychology: Theory, Practice and Research from Japan (2005), and Respect and Disrespect: Cultural and Developmental Origins (2005). During 8 years in Japan, Shwalb taught at the preschool, middle school, high school and college levels. He has conducted cross-cultural research on fathers since 1978, and his cross-cultural interests are in parenting, socialization, and personality development in family and school contexts, and in the developmental origins of respect, disrespect, and self-respect. Barbara J. Shwalb is retired from the Psychology Department at Southern Utah University. She received her PhD (Combined Program in Education and Psychology) from the University of Michigan. She was a Japan Ministry of Education Fellow at Tokyo University.Along with David Shwalb, she was a research associate of the Japanese Child and Family National Research Center and the Hokkaido University Faculty of Education. Together, Barbara and David Shwalb have written six volumes, in both English and Japanese. Dr. Shwalbs research interests are cross-cultural developmental and learning issues, and affective and cognitive concept formation in the development of respect and disrespect. The Shwalbs have published papers on human development in Japan, Korea, China, Vietnam, Indonesia, South Asia, and the U.S. Michael E. Lamb heads the Division of Social and Developmental Psychology at the University of Cambridge. A native of Northern Rhodesia (now Zambia), he received his PhD in psychology from Yale University along with honorary doctorates from the Universities of Goteborg and East Anglia, and the 2004 James McKeen Cattell Award from the Association for Psychological Science for Lifetime Contributions to Applied Psychological Research. He is the co-author of Development in Infancy, Socialization and Personality Development, Infant-Mother Attachment, Child Psychology Today, Investigative Interviews of Children, and Tell Me What Happened: Structured Investigative Interviews of Child Victims and Witnesses. In addition, he has edited many books including The Role of the Father in Child Development and he founded and co-edited Advances in Developmental Psychology. In total he has authored or edited about 45 books an approximately 600 professional publications. Editor of the journal Psychology, Public Policy, and Law, Dr. Lamb has written or co-authored reports of research in the U.S., U.K., Sweden, Germany, Switzerland, Israel, Canada, the Central African Republic, the Congo, Malaysia, Taiwan, China (Peoples Republic), Japan, Korea, and Costa Rica.
Innehållsförteckning
Dedication. J. Pleck, Foreword. D. W. Shwalb, B. J. Shwalb, M. E. Lamb, Preface. Part One Introduction D. W. Shwalb, B. J. Shwalb, M. E. Lamb, Introduction. Part Two Asia X,Li, M. E. Lamb, Fathers in Chinese Culture: From Stern Disciplinarians to Involved Parents. J. Nakazawa, D. W. Shwalb, Fathering in Japan: Entering an Era of Involvement with Children. N. Chaudhary, The Fathers Role in the Indian Family: A Story That Must be Told. Z. Hossain, Fathers in Muslim Families in Bangladesh and Malaysia. R. A. Ahmed, The Fathers Role in the Arab World: Cultural Perspectives. Part Three Africa H. N. Fouts, Fathering in Central and East Africa: Cultural and Adaptationist Perspectives in Small-Scale Societies. N. W. Townsend, Complications of Fathering in Southern Africa: Separation, Uncertainty, and Multiple Responsibilities. Part Four Americas J. L. Roopnarine, Fathers in Caribbean Cultural Communities. A. C. Bastos, V. Volkmer-Pontes, H. Martinelli Serra, P. Brasileiro, Fathering in Brazil: A Diverse and Unknown Reality. K. E. McFadden, C. S. Tamis-LeMonda, Fathers in the U.S. Part Five Europe J. Utrata, J. M. Ispa, S. Ispa-Landa, Men on the Margins of Family Life: Fathers in Russia. L. L. Haas, C. P. Hwang, Fatherhood and Social Policy in Scandinavia. C. Lewis, Fatherhood and Fathering Research in the UK: Cultural Change and Diversity. Part Six Australia B. M. Smyth, J. A. Baxter, R. J. Fletcher, L. J. Moloney, Fathers in Australia: A Contemporary Snapshot. Part Seven Conclusions D. W. Shwalb, B. J. Shwalb, M. E. Lamb, Final Thoughts, Comparisons, and Conclusions.