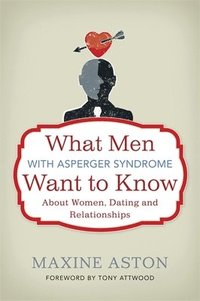 Fler böcker inom
Format

Häftad (Paperback / softback)

Språk

Engelska

Antal sidor

208

Utgivningsdatum

2012-07-15

Förlag

Medarbetare

Atwood, Tony (foreword)

Illustratör/Fotograf

Illustrationer

12 black and white line drawings

Dimensioner

228 x 154 x 10 mm

Vikt

304 g

Antal komponenter

1

Komponenter

,

ISBN

9781849052696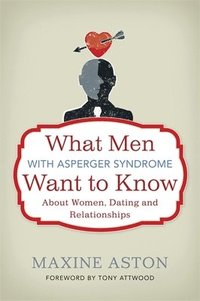 What Men with Asperger Syndrome Want to Know About Women, Dating and Relationships
25 Questions Men with Asperger Synd
Skickas inom 7-10 vardagar.
Fri frakt inom Sverige för privatpersoner.
Positive, practical and realistic, this book offers a wealth of information on women, dating and relationships for men with Asperger Syndrome (AS). Many AS men are totally confused and bewildered by women and relationships and find it hard to know what to do, what to say and how to get it right. For these men, understanding the emotional side to relationships and women's needs can be a complete mystery and they often get it disastrously wrong. This practical handbook provides the answers to Asperger men's most frequently asked questions about women, dating and relationships, helping them to understand the way relationships work and increasing their confidence and ability to have successful relationships. This comprehensive handbook is essential reading for men with Asperger Syndrome (and their partners). It will also be of immeasurable use to counsellors and other professionals working with such individuals.
Passar bra ihop
+
Fler böcker av Maxine C Aston
Recensioner i media
What a relief men with Asperger syndrome will feel after they've educated themselves about women and all that comes with them with Maxine Aston's spot on wisdom. And my, oh my how much smarter am I now that I've learned the meanings and motives behind neurotypical women's vast array of behaviors. What an interesting and important read this book is! -- Liane Holliday Willey, EdD, author of Safety Skills for Asperger Women and Pretending to be Normal Maxine Aston has written the book that thousands of people have been waiting for. Whilst it primarily focuses on helping men with Asperger Syndrome (AS) understand the complex thoughts, feelings and behaviours of women, it will also greatly benefit partners, family members and professionals who have tried for years to describe the neurotypical way of thinking. With this book about dating and relationships, Maxine enlightens readers once more with her outstanding knowledge, her incredible insight, her amazing sensibility and her great skill in sensing exactly what people want to know. -- Katrin Bentley, AS couples counsellor and author of Alone Together: Making an Asperger Marriage Work Building on her previous work, Maxine gifts the autism community a resource I could have sorely benefitted from when dating and in the early years of marriage. Although I have been with my wife for over two decades, insights within this book contain valuable information that will help my spouse and me form ever closer bonds as we travel the journey of life together. -- Stephen Shore, Ed.D., Assistant Professor of Special Education, Adelphi University, internationally renowned author, consultant, and presenter, and person on the autism spectrum This book provides information and wisdom on how someone with Asperger syndrome can achieve, maintain and enjoy a successful long-term relationship. The content resonates with my experience of supporting and guiding so many adults with Asperger syndrome seeking a partner or requesting relationship counselling, from a couple who have only recently fallen in love to those who have been together for decades and become grandparents. If you have Asperger syndrome or are in a relationship with someone who has Asperger syndrome this book will change your life for the better. -- From the Foreword by Professor Tony Attwood, Minds and Hearts Clinic, Brisbane, Australia ...a wealth of detailed and practical advice, useful to AS males, their partners, and to counsellors who may meet them in their counselling rooms. And an attitude of realistic, but genuine optimism for these relationships. -- Relate Newsletter This is the best book I've come across for explaining what is going on in typical "mixed" relationship, and, although it's aimed at men who have Asperger's, their partners will also be able to gain some insight... she pulls no punches, including one possible solution to relationship difficulties which other books I've read have ignored or not discussed seriously: you could leave... she states plainly when things will be hard, sometimes putting the onus on one partner, sometimes the other, and always justifying why some resolutions can't be shared. I wish more books reached this standard. -- Asperger United This book is a definite must for partners in a Aspergerrelationship and Aspergers, who want to enter into an affair and relationship. -- Nederlandse Vereniging voor Autisme
Bloggat om What Men with Asperger Syndrome Want to K...
Övrig information
Tony Attwood, PhD, is a clinical psychologist from Brisbane, Australia, with over 30 years of experience with individuals with autism spectrum disorders. He is currently Adjunct Professor at Griffith University in Queensland. Maxine Aston is a qualified counsellor and supervisor and presents Asperger Syndrome awareness workshops to counsellors and professionals who may encounter clients affected by AS. She also runs workshops and support groups for partners and parents that live with a person with AS. Maxine has an MSc in Health Psychology and is the author of The Other Half of Asperger Syndrome (NAS) and Aspergers in Love (Jessica Kingsley Publishers). She is a regular speaker at National and International ASD conferences.
Innehållsförteckning
Foreword by Tony Attwood. Acknowledgements. Introduction. Dating and Courtship. 1. Where is the best place to meet a prospective partner? 2. How do I know if she is attracted to me? 3. How do I ask her out? 4. Where do I take her on the first date and what can I do to make a good first impression? 5. What should I talk about on the first date? 6. How do I know when or if to take it further? 7. When is it OK to expect sex? 8. What if she rejects me? How can I avoid this happening? The Relationship. 9. Why are women so complicated? 10. I feel that whatever I do it will be wrong, especially when she is upset. If I say nothing it is wrong, if I say something that will be wrong too. So is it all my fault? 11. I get to a point that I feel I want to run away, as I cannot discuss or argue anymore. Why won't she just let me go? 12. She asks me what I feel or why I love her and before I can answer she has become reactive/angry/upset/critical. Why? 13. She tells me I have a communication problem, yet I have been complimented on my communication at work. Who is right here? 14. I feel like she purposefully pushes me until I react and then acts the victim and blames me for getting angry. Why does she do this? 15. Why is she always criticising me? 16. Why does she exaggerate so often? 17. If I keep quiet it is wrong and if I speak up it is wrong! Why? 18. My only purpose seems to be to work and earn the money. Is this all I am worth? Why doesn't she appreciate all I do for her (and the family)? 19. Why does my partner expect me to come in from work and immediately start discussing the day with her? 20. My partner keeps nagging me to get rid of some of my possessions. She does not understand how much stress this causes me. What can I do? 21. My wife does not seem to know how to load a dishwasher and yet when I rearrange the contents she gets really mad at me. Why won't she just do things the correct way? 22. Why does my partner constantly disrupt my plans and routines? 23. Why does my partner have to announce everything we do on Facebook? Surely I am entitled to some privacy in my life? 24. She constantly accuses me of not listening to her and forgetting what she has told me. Is she making this up to put me down or do I really have memory problems? 25. My partner complains I spend too much time on the internet and not enough time with her, and yet when I try to spend time with her she just wants to watch soaps! I think she is being unreasonable. Is she? 26. My partner discovered I had been looking at porn on the internet. She is now threatening me with divorce. Why is she taking it so out of proportion? 27. I feel I am living with Jekyll and Hyde. For two weeks out of every month my partner seems to have a personality change. She blames it on PMT. Is it really that bad? 28. Why does she get angry/upset if I don't call or text her at least once a day? 29. Why are cards and gifts so important to her? 30. Why does she need me to keep telling her I love her? 31. How can I keep saying 'I love you' and other nice things without sounding false? 32. How can I tell the difference between when she just wants a hug and when she wants to have sex? 33. Why won't she have sex with me? And then there were three...34. We have recently had our first child. I feel my whole life has been turned upside down. My wife has become totally unpredictable; one minute she is happy and the next she is crying her eyes out. What's wrong with her? 35. Our baby seems to scream all the time and I cannot cope with the noise. I am not getting any sleep. My partner does not understand how hard it is for me and gets angry if I complain. Why? 36. I spend all day at work and when I get home my partner expects me to take on the childcare, yet she has been at home all day. This feels unreasonable. Is it? 37. My partner said she cannot trust me to look after the children. I would never hurt the children so why is she doing this? 38. I feel totally on the outside and alienated from the