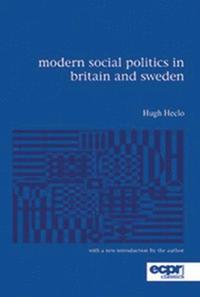 Fler böcker inom
Format

Häftad (Paperback / softback)

Språk

Engelska

Antal sidor

374

Utgivningsdatum

2010-03-01

Upplaga

2 Revised edition

Utmärkelser

Winner of American Political Science Association: Woodrow Wilson Foundation Award 1975

Förlag

Medarbetare

Hugh, Hugh

Illustrationer

black & white illustrations

Dimensioner

234 x 158 x 19 mm

Vikt

544 g

Antal komponenter

1

Komponenter

Paperback

ISBN

9781907301001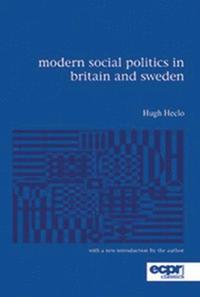 Modern Social Politics in Britain and Sweden
From Relief to Income Maintenance
Skickas inom 10-15 vardagar.
Fri frakt inom Sverige för privatpersoner.
Modern Social Politics in Britain and Sweden was the winner of the 1974 Woodrow Wilson Foundation Book Award for the best book published in the United States on government, politics, or international affairs.
Passar bra ihop
+
Recensioner i media
Lacking its own distinct methodological identity, social policy has grown up under the wing of a number of cognate disciplines, most notably sociology. This book is an attempt to shift the study of social policy away from a predominantly sociological perspective and into the realm of political science. The policies chosen for analysis are British and Swedish old-age pensions and unemployment insurance programmes, and the techniques and concepts used are derived from pressure-group theory, systems analysis, political theory and political history. Mr Heclo begins his study by identifying certain preconditions for public welfare policies in both countries, emphasizing particularly economic growth, population stability and humanitarian reaction against the tradition of poor relief. He then proceeds to a comparative analysis of inputs, processing, outputs and feedback in the growth of social policy over the past hundred years. Drawing on a wide range of mainly secondary sources, he examines the role of electorates, parties, interest groups, politicians and free-lance intellectuals and he concludes with an analysis of social policy as part of a 'process of social learning' - a process which he sees not merely as the product of power relationships but as 'a form of collective puzzlement on society's behalf. Many illuminating parallels are drawn between the British and Swedish systems. In both countries the electoral significance of social welfare is found to be slight. In both countries the civil service is singled out as the most powerful force in policy formation - if not in the actual initiation of policies at least in their drafting, scope and subsequent modification. In both countries there appears to have been a high level of ideological discontinuity, policies which were originally sponsored by the 'left' later re-emerging as policies of the 'right' and vice versa. In both countries purely negative influences, such as ignorance, inertia and failure to correct unintended consequences, are seen as significant 88 Reviews policy sources, and in both countries the inheritance of past policies appears to be the single most crucial factor in determining what is feasible at any given time. Nevertheless the author avoids a convergence position, and the contrasts which he draws are in many cases as instructive as his parallels. In Sweden centralized government long preceded social welfare, whereas in Britain social welfare has been the cause rather than the consequence of the growth of a centralized state. In Britain social policy was largely a response to industrialization whereas in Sweden it was a response to rural proletarianization. In Britain social insurance has helped to stifle a more rational use of the labour force, and one of the most significant facts in this book is that Sweden with a labour force one-sixth the size of Britain's has four times as many places for industrial retraining. In Britain social policies have been forced to accommodate a much larger and more powerful voluntary sector, but perhaps paradoxically governments in Sweden have been much more successful at integrating pluralistic organizations into the policy-making elite. This contrast is most striking and most politically important in relation to trade unions, which in Sweden have for many years played a dynamic role in the planning of social welfare whereas in Britain they have been much more exclusively concerned with wages and conditions of work. Similarly there seems to have been much more co-operation in Sweden between the different political parties. This has not precluded quite severe political conflict (for example over 'cost of living areas' in the 1930s and national superannuation in the 1950s); but battle has been joined not as a conditioned reflex of preconceived party loyalties but at the conclusion of intelligent and open public debate. In general social policy formation in Sweden comes across as
Bloggat om Modern Social Politics in Britain and Sweden
Övrig information
Claus Offe, born 1940, was Professor of Political Science at Humboldt University, Berlin, where he held a chair in Political Sociology and Social Policy. His previous positions include professorships at the Universities of Bielefeld and Bremen, where he served as director of the Center of Social Policy Research. He has held research fellowships and visiting professorships in the US, Canada, Australia, Hungary, Poland, Austria, Italy, and the Netherlands. Since 2006 he has been Professor of Political Science at Hertie School of Governance, Berlin. His fields of research are democratic theory, transition studies, EU integration, and welfare state and labour market studies. He has published numerous articles and book chapters in these fields, a selection of which is reprinted as Herausforderungen der Demokratie. Zur Integrations- und Leistungsfahigkeit politischer Institutionen (2003). Recent book publications in English include Varieties of Transition (1996), Modernity and the State: East and West(1996), Institutional Design in Post-Communist Societies (1998, with J. Elster and U.K. Preuss), Reflections on America. Tocqueville, Weber, und Adorno in the United States (2005) and Europe Entrapped (2014). Ulrich K. Preuss is Professor emeritus of Law and Politics at Freie Universitat Berlin and at the Hertie School of Governance in Berlin. In 1989-90, he co-authored the draft of the constitution as a participant of the Round Table of the German Democratic Republic. He has taught at, among others, Princeton University, New School University, the University of Chicago and Haifa University. He served as a judge at the Staatsgerichtshof (State Constitutional Court) in the Land Bremen [state of Bremen] from 1992 unitil 2011. His book publications include, among others, Constitutional Revolution. The Link Between Constitutionalism and Progress, 1995; Institutional Design in Post-Communist Societies. Rebuilding the Ship at Sea (co-authored with Jon Elster and Claus Offe), 1998; Krieg, Verbrechen, Blasphemie. Zum Wandel bewaffneter Gewalt [War, Crime, and Blasphemy. On the changing character of armed conflict]. 2nd ed. 2003; Bedingungen globaler Gerechtigkeit, 2010.
Innehållsförteckning
Contents Chapter One - The Union's Course: Between a Supranational Welfare State and Creeping Decay 1 Chapter Two - The Significance of Cognitive and Moral Learning for Democratic Institutions 33 Chapter Three - Democratic Institutions and Moral Resources 49 Chapter Four - Crisis and Innovation of Liberal Democracy: Can Deliberation Be Institutionalised? 73 Chapter Five - Democracy Against the Welfare State? Structural Foundations of Neoconservative Political Opportunities 99 Chapter Six - Toward a New Understanding of Constitutions 129 Chapter Seven - The Political Meaning of Constitutionalism 147 Chapter Eight - Citizenship and Identity: Aspects of a Political Theory of Citizenship 163 Chapter Nine - Competitive Party Democracy and the Keynesian Welfare State: Factors of Stability and Disorganisation 177 Chapter Ten - Main Problems of Contemporary Theory of Democracy and the Uncertain Future of its Practice 199 Chapter Eleven - Constitutionalism in Fragmented Societies: The Integrative Function of Constitutions 211 Chapter Twelve - `Homogeneity' and Constitutional Democracy: Coping with Identity Conflicts through Group Rights 227 Chapter Thirteen - Perspectives on Post-Conflict Constitutionalism: Reflections on Regime Change Through External Constitutionalisation 255 Chapter Fourteen - Is There, Or Can There Be, a `European Society'? 283 Chapter Fifteen - Problems of Constitution Making: Prospects of a Constitution for Europe 301 Chapter Sixteen - Revisiting the Rationale Behind the European Union: The Basis of European Narratives Today and Tomorrow 317 Chapter Seventeen - Citizenship in the European Union: A Paradigm for Transnational Democracy? 341 Chapter Eighteen - The Democratic Welfare State in an Integrating Europe 355 Chapter Nineteen - The Constitution of a European Democracy and the Role of the Nation State 379 Chapter Twenty - The Problem of Legitimacy in the European Polity: Is Democratisation the Answer? 389 Chapter Twenty-One - The European Model of `Social' Capitalism: Can It Survive European Integration? 417 Chapter Twenty-Two - Two Challenges to European Citizenship 449 Chapter Twenty-Three - Europe Entrapped: Does the EU Have the Political Capacity to Overcome its Current Crisis? 471 Index 491