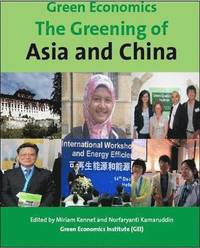 Format

Häftad (Paperback)

Språk

Engelska

Antal sidor

350

Utgivningsdatum

2012-03-27

Förlag

Illustratör/Fotograf

Illustrationer

20 photos

ISBN

9781907543234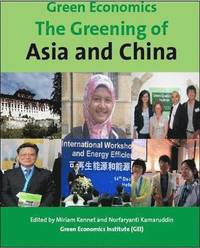 The Greening of China and Asia
Specialorder (osäker tillgång). Skickas inom 11-20 vardagar.
Fri frakt inom Sverige för privatpersoner.
This book charts the rise of Green ideas and green discourses around Asia and the moves for change and renaissance, from the Arab spring, through to all parts of China and India and Bangladesh and Malaysia and many others, written by people who live it everyday.
Passar bra ihop
+
Fler böcker av författarna
Bloggat om The Greening of China and Asia
Övrig information
Biographies of Editors: Miriam Kennet is CEO, director and co-founder of the Green Economics Institute and the founder and editor of the International Journal of Green Economics. She is a member of Mansfield College, Oxford University and the Environmental Change Institute, Oxford University. She is a UK government recommendation for the IPCC and has her own delegation to the Kyoto Climate Protocol Conferences and to the RIO +20 Conference. Her research at South Bank University, London and at Templeton College, Oxford University focused on green issues and strategic management. She is editor and author of 100s of articles, book chapters and books in many languages. Miriam recently was named as one of the 100 most powerful unseen women making change globally at a ceremony in London. She is the founder and Director of The Green Economics Institute and the International Journal of Green Economics and is credited with the development of the inclusive, academic discipline of green economics. Norfaryanti Kamaruddin is currently a Research Officer at Techno Economics and Policy Laboratory, Institute of Tropical Forestry and Forest Products, Universiti Putra Malaysia (UPM). Qualified in Agribusiness, she accumulated more than 5 years research experience with UPM. She researches and writes in the field of green economics. Contributors to the book: Miriam Kennet (UK),Norfayanti Kamaruddin (Malaysia), Ryota Koike ( Japan), Michelle S. Gale de Oliveira (Brazil and USA), Dr.Lu Wei (China), Marina Mangoni (Italy), Richard Sanders (China), Dr.Hans-Guenter Wagner (China and Germany), Dr. Natalie West Kharkongor (India), Shuhan Liu (China), Yujing Wang (China), Wei Ren(China and UK), Winston Ka-Ming Mak (Hong Kong), Bengi Yanik-Ilhan (Asia), Nursel Aydiner-Avsar (Asia), Seldag Ceylan(Turkey), Jigme Tashi Tsering(Bhuttan), Maria Delfina Rossi(Spain and Greece), Hayal Ayca Simsek (Turkey), Nevzat Simsek, Davide Bottos (Italy), Kristina Jociute (Lithuania), Katherine Kennet (UK), Soma Dey (Bangladesh), M.R.Sheriza(Asia), M.D.Zaidi(Asia),Zaiton Samdin(Asia), Juliane Goke (Germany and Indonesia), Professor Peter Yang (USA), Indira Dutta (India), Professor Immai (UK)
Innehållsförteckning
Part 1: Introduction: Dynamic, technological innovation and the greening of Asia and China: The social and environmental wealth paradox 1.1 Introduction to the Greening of Asia and China by Miriam Kennet and Ryota Koike 17 1.2 Green Economics: its recent development and background By Miriam Kennet and Michelle S. Gale de Oliveira 26 1.3 Good Jobs: the double dividend of green employment By Enrico Tezza 38 1.4 Tackling Poverty and Climate Change: an opportunity for China By Sandra Ries and Lu Wei 52 1.5 How China Greens its Economy By Professor Peter Yang 58 1.6 China is Getting Greener By Wei Lu and Wenjun Wang 87 1.7 Can Japan shift to a 'Green Economy' after Rio+20? By Katsushi S. Imai 91 Part 2: The Greening of Asian and Chinese Business, Green IT and Green Technology and Trade 2.1 Greening or Growing - Conflicting Paradigms in Chinese Business Ethics Dr. Hans-Guenter Wagner 103 2.2 Application of Green Economics in Business and Rural India: methods and tools By Dr. Natalie West Kharkongor 112 2.3 China and Asia at the Crossroads By Richard Sanders 124 2.4 Green Development: Modern Service Industry in Tianjin By Shuhan Liu 125 2.5 Greening China's Trade: Study on Trade and Environmental Quality 133 By Yujing Wang 2.6 Green Economics Model of Malaysia 138 By Norfayanti Kamaruddin Part 3: The Green Built Environment 3.1 The Green Economics Dialogue and the Green Built Environment By Miriam Kennet 143 3.2 Strategies for a Sustainable City, Thimphu, Bhutan By Jigme Tashi Tsering 162 Part 4: Climate Change and Energy 4.1 Climate Justice By Maria Delfina Rossi 181 4.2 Energy Efficiency policy implementations in Turkey By Hayal Ayca Simsek and Nevzat Simsek 191 4.3 Green Economics: Ten Key Points for avoiding further catastrophic runaway climate change By Miriam Kennet 208 4.4 Ten Key Points on reversing the trend of Climate Change By Davide Bottos 212 Part 5: Social Justice 5.1 Global Green Human Being: Concepts and Main Issues By Kristina Jociute 215 5.2 Maternal health in India By Katherine Kennet 227 5.3 Women in Bangladesh By Soma Dey 237 5.4 The Malaysian Quality of Life Index By Norfayanti Kamaruddin 239 5.5 Seeking a new paradigm for analysing poverty impact of climate change after Rio+ 20 By Katsushi S. Imai 245 Part 6: Gender as a core component of Green Economics in Asia 6.1 Women in china: the view from inside By Wei Ren 257 6.2 Gender Inequality and Education Gap in developing countries: Notes on Turkey By Bengi Yanik-Ilhan and Nursel Aydiner-Avsar 263 6.3 Gender and women in the workplace in Turkey By Seldag Ceylan 268 Part 7: Biodiversity and Species Extinction 7.1 Biodiversity of Malaysia By M.R. Sheriza and M.D. Zaidi 275 7.2 The Challenge of Eco Tourism in Malaysian National Parks by Zaiton Samdin 279 7.3 Deforestation in Indonesia By Juliane Goke 281 Part 8: Sustainable Development 8.1 Reducing Carbon Intensity: Effectiveness of China's Quantified Solution to it Sustainability Dilemma By Professor Peter Yang 284 8.2 A view of contemporary change from Japan after living through the Earthquake and Tsunami of 2011 By Tom O Sullivan 299 8.3 Green Gujarat in India: a blueprint for sustainable development By Indira Dutta 302