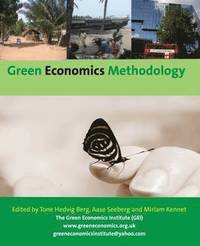 Fler böcker inom
Format

Häftad (Paperback / softback)

Språk

Engelska

Antal sidor

282

Utgivningsdatum

2012-11-02

Förlag

Illustrationer

20

Dimensioner

210 x 150 x 22 mm

Vikt

381 g

ISBN

9781907543357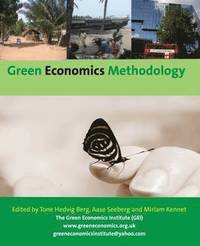 An Green Economics Methodology: An Introduction
Green Economics Methodology: Reform, Repair and Re-Shaping Economics
Specialorder (osäker tillgång). Skickas inom 11-20 vardagar.
Fri frakt inom Sverige för privatpersoner.
Were you aware that due to dangerous and runaway climate-change, much of humanity may be forced to migrate, towards the Polar Regions and to live together at a density previously unimaginable, as many of the other areas of the planet may become uninhabitable or unable to sustain our crops or our food? Scientists predict this is a realistic scenario if we do not change the way we treat our planet. HurricaneSandy is just the latest episode in this process. The cost of Sandy has been estimated up to US $60 billion, and this is, according to many scientists, only just the beginning of what they have predicted! We,human beings and our economy, are entirely dependent on benevolent climatic conditions, in which we can thrive and on which our entire " civilisation" has developed up to now. We don't really know what will happen under very different conditions! The New York Stock Exchange for example had to be shut down for the first time in years, because of the hurricane. Are you concerned about environmental problems, but always wondered how, for example, climate change will affect you and your society, and wondered what can be done?This book will introduce you to what Green Economics is, and how you can take a critical look at the mainstream economic modelswhich are used in today's economy. The book is an edited volume and a compilation of essays, views, speeches about Green Economics its the methodology. It includes a wide range of the background discourse of Green Economics and how it already has affected politics in different societies and challenges main stream assumptions. You will find discussions on how Green Economics questions and replaces basic economic ideas such asgrowth, mass consumption and savings, and also how Green Economics gives the reader knowledge ofhow we can meet the challenges of climate change and the degradation of biodiversity. Some articles discuss other environmental approaches for example sustainable development and the Stern Review. In the last few years, there has been a dramatic increase in interest in environmental problems and the transformation towards Green Jobs and a Green Economy.Inequalities between people, within and between nations, and between present and future generations as well as social and environmental destruction is threatening the human species, but today's global mainstream economy does not seem to take these risks into account (Kennet 2012). 15 Green Economics Methodology : An Introduction So, an important question is to ask is, what is Green economics? According to Jociute and Turk (2011) the world has changed, and Green Economics, as a discipline which inherently takes account of the long term effects of widespread population inequality, climate change and biodiversity loss, has been waiting to take the mantle. Its time has now arrived. Green economics looks at the current dualism between ecology and the economy, and argues that these two must go hand in hand together, because mass consumption in today's world leads to the exhaustion of natural resources and it risks even causing the extinction of the human species. Today's markets are correctly reflecting and indicating that traditional economic instruments and tools are no longer are working (Jociute and Turk 2011).Therefore new methods of creating a more natural "economics of abundance, " a truly green economics need to be urgently developed and implemented and this book tells its story so far and how to use it in your work and your activities and also how to nuture this small seed of hope which is doing the rounds of governments all over the planet. Green Economics is at once a beacon of hope for a more equitable planet and also one of the most exciting drivers of contemporary world economics innovation! 16
Passar bra ihop
+
Bloggat om An Green Economics Methodology: An Introd...
Övrig information
Editors: 1. Tone Hedvig Berg is a Norwegian economist qualified from Norwegian University of science and Technology (NTNU). She has a specialization in Business from Trondheim Business School (TA H). Her main field of interest are development economics, public and political economics. She is a member of the book team at the Green Economics Institute. (GEI). 2. Aase Seeberg is a Norwegian economist qualified from the University of Oslo (UiO) and University of Bergen (UiB). Her main field of interest are monetary policies, developing economics and fiscal policies. After high school she enrolled at the university of Bergen (UiB), where she obtained her first degree in August 2012 with presentation of a thesis on how the debt crises in the Euro Zone affects the Norwegian Monetary policies. She is a member of the bookteam at the Green Eonomics Institute (GEI). 3. Miriam Kennet is a specialist in Green Economics, she is the Co-Founder and is CEO of the Green Economics Institute. She also founded and edits the first Green Economics academic journal in the world, the International Journal of Green Economics, and she has been credited with creating the academic discipline of Green Economics. Green Economics has been recently described by the Bank of England as one of the most vibrant and healthy areas of economics at the moment. Having researched at Oxford University, Oxford Brookes and South Bank University, she is a member of Mansfield College, Oxford University and the Environmental Change Institute. She has taught, lectured and spoken at Universities and events all over Europe, from Alicante to Oxford and Bolzano, and to government officials from Montenegro and Kosovo to The UK Cabinet Office, Transport Department, National Government School and Treasury and spoken in Parliaments from Scotland to Austria and The French Senat and Estonia. She is also a regular and frequently speaks at public events of all kinds, and after dinner speaker, this week advising in the Uk Parliament and the Bank of England and in Brussels on the Eurozone crisis, the high speed rail and the general economics situation. She is also very active in spreading Green Economics in Asia, China, and all round Africa where people find it may be one of the beacons of hope at the moment in an age of Austerity and Cuts as it provides a completely new way of looking at the world. Her work is very practical and she worked in factories and engineering for many years in the past. Sje is on the Assembly of the 11 Green Economics Methodology : An Introduction Green European Foundation and also on the steering group of the European Network of Political Foundations. She studied Chinese and Japanese history at University and put in the ditigal telecoms backbone into the Chinese network and watched it evolve! She has a delegation to the UNFCC COP Kyoto Climate Change Conferences and and headed up a delegation to RIO + 20 Earth Summit: Greening the Economy in RIO Brazil where she is very active. She regularly speaks on TV around Europe, most recently in Belgium, and Estonia and this year the BBC has made a special programme about her life and work. She runs regular conferences at Oxford University about Green Economics and this year has run 8 events from Youth in Action for Young People from Egypt involved in the revolution, People from FYRO Macedonia, Italy and other countries, as well as the Green Built Environment, The Greening of China as the Chinese government is very interested in her work, Womens Unequal Pay and poverty, Green Economics and Methodology, truth,fact and reality with critical realism and several other events. Publishing regularly and having over 100 articles, papers and other publications, as well 4 book series, one with Ashgate Academic Press, one with Gower Management Publishers, as well as a Handbook series and a Green Economics Reader Series. This years edited volumes include Green Economics:Voices of Africa, The Green Economics Reader, Handbook of Gree
Innehållsförteckning
List of contributors 10 Introduction By Tone Hedvig Berg, Aase Seeberg and Miriam Kennet 15 Part 1: Introducing Green Economics 1.1 Green economics and what it means By Miriam Kennet 18 1.2 Green Economics: Its recent development and background By Miriam Kennet and Michelle S. Gale de Oliveira 22 1.3 The Ten Key Values of Green Economics By Miriam Kennet, Jeffrey Turk, Michelle S. Gale de Oliveira. 34 Part 2: Green Economics empirical 2.1 How China Greens its Economy By Professor Peter Yang 37 2.2 Strategies for a Sustainable City, Thimphu, Bhutam By Jigme Tashi Tsering 66 2.3 Green Development: Modern Service Industry in Tianjin. By Shuhan Liu 84 2.4 Application of Green Economics in Business and Rural India: methods and tools By Dr. Natalie West Kharkongor 92 2.5 Introduction Green-Economics: Protest and renaissance in social and environmental justice and gender. By Miriam Kennet and Michelle Gale de Olivieira 104 Part 3: Challengers in today's economic methodology 3.1 The Tragedy of the commons. Why we are not being careful enough By Clive Lord 116 3.2 How useful is econometrics for Green economics By Sophie Billington 126 3.3 Cost Benefit Analysis, superficially an elegant tool, but in reality a path t0 wrong decision making. 129 7 Green Economics Methodology : An Introduction By Juliane Goke 3.4 Rewriting Economics By Edward Goldsmith 132 3.5 What is Green Economics: a new discipline By Volker Heineman 134 3.6 Method, tools and Instruments By Volker Heineman, Miriam Kennet and Michele Gale de Oliveira. 136 Part 4: Criticism of the traditional theories of Growth 4.1 The Green Economy: Rethinking Growth, After RIO + 20 2012, By Volker Heinemann and Miriam Kennet 143 4.2 What do we mean by "growth" problems with growth and is a return to "growth" possible in the long term? By Steven Mandel 155 Part 5: How to deal with Climate Change and Energy 5.1 From Carbon Markets Towards Climate Social Justice By Maria Delfina Rossi 167 5.2 An Introduction to Climate Change By Alan Bouquet 177 Part 6: Sustainable development 6.1 Creating a sustainable future: transformational learning, ethical inquiry and social enterprise By Bronwen Rees 183 6.2 A thought Experiment: A cultural approach to achieving sustainability By Clive Lord 190 6.3 The South African Millennium Dilemma: Sustainable Development By Mzoxolo Elliot Mbiko 196 6.4 What is possible- precedents for a sustainable world By Clive Lord 205 6.5 Green Economics model and Sustainable Development: Challenges and Opportunities for the Initiation of Realistic Policy Responses By Chidi Magnus Onuoha 211 6.6 Toward a new understanding of sustainable development By Igor Makarow 221 8 Green Economics Methodology : An Introduction Part 7: How to avoid further catastrophic runaway climate change 7.1 Ten Key Points on reversing the trend of Climate Change By Davide Bottos 228 7.2 The Financial Crisis and New Welfare Approaches-Better Perspectives to Create Green Economics By Rosita Bujokaite 231 7.3 Global Green Human Being: Concepts and Main issues By Kristina Jociute 244 7.4 Introducing Green Economics: Renaissance, Reform and Methodology. Green Economics a global movement for Change By Miriam Kennet Responses 257 7.5 The Green Economics Responses to Economic and Environmental Crises By Miriam Kennet and Michelle S. Gale de Oliveira 260 7.6 Tackling Poverty and Climate Change: an opportunity for China By Sandra Ries, Miriam Kennet and Lu Wei 269 7.7 Health and Well Being in a Polluted Environment: A Case Study of Chronic Obstructive Pulmonary Diseases (COPDs) in Selected Citites in England and Wales. By Jeffery Sappor 274 9