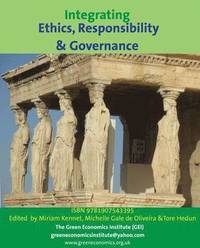 Fler böcker inom
Format

Häftad (Paperback / softback)

Språk

Engelska

Antal sidor

420

Utgivningsdatum

2013-11-04

Förlag

Medarbetare

Amaral, Sofia (förf)/Bhagaht, Kanupriya (förf)/Irvin, Sandy (red.)/De Oliveira, Michelle Gale (red.)/Hedin, Tore (red.)

Illustratör/Fotograf

Dimensioner

210 x 150 x 22 mm

Vikt

381 g

ISBN

9781907543395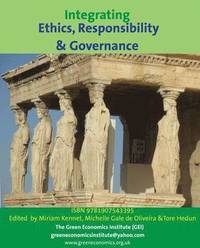 Integrating Ethics, Social Responsibility and Governance: A Green Economics Perspective
Towards Ethics, Philosophy & Culture for the 21st and 22nd Centuries
Specialorder (osäker tillgång). Skickas inom 11-20 vardagar.
Fri frakt inom Sverige för privatpersoner.
This book explores an Ethics, Philosophical and Governance for the the 21st Century building on Green Economics ideas, to incorporate environmentalism, feminism, inclusion and discussions about freedom and responsibilty into a new and evolving ethic which could underpin democractic process appropriately in th 21st century.
Passar bra ihop
+
Bloggat om Integrating Ethics, Social Responsibility...
Övrig information
Editorial team and writers -but about 40 other writers will be included:Professor Michael Benfield, Volker Heinemann Green Economics, Miriam Kennet Green Economics, Michelle Gale Human Rights Tore Hedin (Norway) Ethics and the corporation and integration of ethics Rose Blackett Ord PhilosophyDr Eyad Mohammed Atya (Egypt) is a Professor in the Economics Department of Zagazig University, Egypt. Professor Michael Benfield has been a delegate to UNCTAD for the Commonwealth Human Ecology Council, a Founder Member of the Community Land Trust, and advisor to the trustees of the Walter Segal Self-Build Trust, which promotes the use of timber frame structures for low-cost self-build housing and other community structures. As a member of the Faculty of Building's prestigious Low Cost Housing Committee he presaged many of the sustainable building issues now coming to the fore. He is one of the four co-founders of what is now the international Green Party and movement. Professor Benfield is a frequent speaker at environmental, timber, construction and housing-orientated events, nationally and internationally.He is former chair of the UK TFA's Construction Industry Training Committee and currently serves as a board member of the national New Homes Marketing Board, the Home Builder's Federation (Wales) executive, the Wales Forest Business Partnership and Wood Knowledge Wales, which he chairs. He is also managing director of the Benfield ATT Group (Advanced Timber-Frame Technology), Chartered Building Consultants and Chartered Surveyors, who design, manufactures and build engineered timber frame structures for housing, schools, leisure, hospitality, health care, etc. and provide 'one stop' professional services for timber-frame projects. Nadia Yusticka Bintoro is a recipient of the British Chevening Award 2010/2011, she holds an MA in International Multimedia Journalism from University of Newcastle upon Tyne, UK and Bachelor of Business (Marketing) from Swinburne University of Technology, Australia. She has worked with the Press Association and BBC World Service in London as a journalist and communication specialist. Currently, she is a contributing journalist for several English newspapers in Indonesia; specialising in culture, travel and social phenomena in Indonesia. She's also pursuing an active career as Head of Marketing Communication for Surfer Girl Indonesia - a lifestyle brand which was crowned as the biggest brand in social media in South East Asia by the Techinasia in 2012. Rose Blackett-Ord is a graduate of Oxford University and Le Cordon Bleu. She now works as a freelance chef and writer, and has a particular interest in rural and green issues relating to food. Her work includes local, seasonal and wild food recipes. Rose writes green and gourmet recipes for a number of publications, including for the Green Economics Institute, where she co-edited a number of books, including Green Economics: the Greening of Food, Farming and Agriculture and the Greening of Poetry and the Arts. Rose Bridger has written about aviation for several years for a range of publishers, and her first book about aviation, 'Plane Truth', was published in October 2013. She recently spoke at a conference at the House of Commons about aviation before the chair of the Transport Select Committee. Rose also has vast experience in food and the environment, on which she has produced a large volume of writing, and she has worked on the Local Agenda 21 and environmental policy in London and Kirklees. Dr Susan Canney has worked on a variety of nature conservation projects in Africa, Asia and Europe (living for several years in Niger and Tanzania) and as a research officer for Sir Crispin Tickell at the Green College Centre for Environmental Policy & Understanding. With MAs in Natural Sciences, Landscape Design, and Environmental Policy, and a Doctorate for understanding the drivers behind changing human land use and its impact on a protected area
Innehållsförteckning
List of Contributors Part 1A: Ethics and Moral Philosophy for Our Times 1.1 Introduction By Miriam Kennet and Michelle S. Gale de Oliveira 1.2 Ethics By Tore Hoie (Norway) 1.3 Questioning 'Environmental Sustainability': Toward a 'route map' for developing an ecologically orientated philosophy of 'Environmental Justice' By Professor Michael Benfield 1.4 Ecological Values and Bhuddism By Laszlo Zsolnai (Hungary) 1.5 Ethics and the Greening of China By Hans-Guenter Wagner (China and Germany) 1.6 The Pre-moral Problem in Environmental Ethics By W. Thomas Duncanson (Australia) 1.7 Ecology, Justice, and Equality: Green Ideas for Ethical change By Sandy Irvine Part 2: Section A Corporate Social Responsibility: The Ethics of Our Place in the World and Sharing with Other People - The Ethics of Poverty and Inequality 2.1 The Idea of Responsibility By Laszlo Zsolnai (Hungary) 2.2 Green Economics Perspective of Corporate Social Responsibility By Miriam Kennet 2.3 Denying Oil Exploitation and Corruption in the Nile Delta By Grimot Nane (Nigeria and UK) 2.4 Mineral Exploitation and Sustainable Development (case of Democratic Republic of Congo) By Freddy Tshibundu Shamwana (DRCongo and UK) 2.5 The Application of Green Economics in Business and Rural India: Methods and tools By Dr. Natalie West Kharkongor (India) 2.6 UK Retailers' Environmental Aspects of CSR Strategies: Evaluation and Criticisms on Their Performance By Ryota Koike (UK and Japan) Part 2 Secti0n B Poverty and Inequality: Social Responsiblity and Society 2. 7 Green Economics and the Poor By Don O'Neil (St. Vincent) 2..8 Is there a Relationship between Health and Wealth? Evidence from Egypt By Dr Doaa Mohamed Salman and Dr Eyad Mohammed Atya (Egypt) 2. 9 African Development: A New Light for The Next Millennia By Mahelet Alemayehu Mekonnen (Ethopia) 2.10 Global economic integration and urban inequality in Brazil, 1970-2010 By Jose Ricardo Barbosa Goncalves and Maria Alejandra Caporale Madi (Brazil) 2.11 The Food Crisis in Latin America By Carlos Francisco Restituyo Vassallo (Dominican Republic) Part 3: Social Responsibility Health Ethics & governance 3.1 How saving the planet will improve our health By David Flint 3.2 The Descent of Authority in Public Discourse on Environmental Health By W. Thomas Duncanson (Australia) 3.3 Health ethics of workers By Enrico Tezza (Italy) Part 4: Social Responsibility The Ethics of Our Current Food Systems and Governance 4.1 Genetically Modified Food By Bianca Madison-Vuleta 4.2 Global Food Security - Analysis And Solutions By Bianca Madison-Vuleta 4.3 The True Cost of Factory Pig Farming By Tracy Marchioness of Worcester 4.4 Introduction to Food Ethics By Rose Blackett-Ord Part 5: Social Responsibility Women and Inclusion 5.1 Women's unequal pay and poverty By Miriam Kennet and Michelle S. Gale de Oliveira 5.2 Women in the World Today: Women's Political and Economic Status. By Amana Winchester 5.3 Women Doctors at St. Mary's: A History By Dr. Katherine Kennet, MBBS BSC. 5.4 Indian Maternal Health and Welfare Outcomes By Dr. Katherine Kennet, MBBS BSC. Part 6: Social Responsibility, Energy and economics governance 6.1 From Carbon Markets Towards Climate Social Justice By Maria Delfina Rossi 6.2 10 Key Points for the Renewable Energy Society in the 21st Century By Ryota Koike 6.3 Agricultural Greening: Organic Production And Chernobyl Contaminated Areas By Vyacheslav Potapenko (Ukraine) Part 7: Social Responsibility, Transport, and Governance 7.1 How Transport and Access Really Affect Ethics Today By Richard Holcroft 7.2 Flying in the Face of Modern Aviation Rose Bridger 7.3 Bring on a Transport Revolution! By John Stewart 7.4 What Transport Is the World Using? By Richard Holcroft Part 8: Ethics, Social Responsibility, and the Intergenerational Oppression of Unfettered Population Growth. By Chit Chong Part 9: Surv