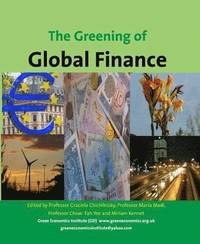 Fler böcker inom
Format

Häftad (Paperback / softback)

Språk

Engelska

Antal sidor

350

Utgivningsdatum

2013-06-01

Förlag

Illustrationer

20

Antal komponenter

1

ISBN

9781907543401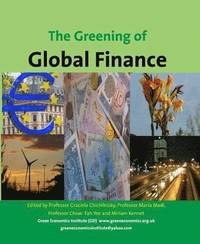 The Greening of Global Finance
Specialorder (osäker tillgång). Skickas inom 11-20 vardagar.
Fri frakt inom Sverige för privatpersoner.
This book Edited by 4 specialists from very different corners of the world- Professor Maria Madi from Brazil, Professor Graciela Chichilnisky from Columbia University and Nobel Prize winnning lead author of the IPCC report and Professor Chow Fah Ye from Malaysia with Miriam Kennet creator of the academic discipline of Green Economics with Michelle Gale de Oliveira come together to provide an outline and analysis to present the readers with the tools they need to understand the changing world of finance in the 21st century. A really useful book to keep on the shelf and to dive into the 20 chapters all written by diverse and different authors from around the world. Note that this book has four women editors quite unusual for an econonomics and finance book and reflecting a change in global finance towards more gender equity. The book also concentrates on solving the current crisis and understanding the Asian dynamic economies and finance and what is driving them and also the implications of global financial struggles and what is driving the changes and innovations today.It also examines the financial tools, instruments and products, as well as structures, institutions and effects on the rest of economics and politics as well as social and environmental well being. This book is a must read for anyone interested in understanding possibly the most pressing issue of our time.
Passar bra ihop
+
Recensioner i media
The authors are very distinguished, with one leading the IPCC team to a Nobel prize, one inventing the academic discipline of Green Economics and all of them having distinguished and unique careers from around the world spaning, the USA Argentina Malaysia, UK Brazil between them.
Bloggat om The Greening of Global Finance
Övrig information
List of ContributorsSumaya Abdi, University of Westminster, was born in The Netherlands to parentsfrom Somaliland and is passionately interested in helping the development in thecountry of her ancestors. She is an economist who regards economics and finance asthe key to solving some of the problems in Somaliland and discusses here some of thefeatures of finance and financial revenues in Somaliland today.Professor Dr Dzintra Atstaja, is associate professor, Doctor of Social Sciences inEconomy in BA School of Business and Finance (Latvia).Nursel Aydiner-Avsar, is in the Economics Department at Gediz University, Izmir,(Turkey)Kanupriya Bhagat, is currently pursuing Sustainable Development at the Universityof St Andrews. Originally, from Agra, India, she has been involved with organizationssuch as CRY (Child Rights and You), New Delhi, where she was part of the DigitalFundraising Department, and has a strong interest in publishing. She enjoys workingwith the Green Economics Institute in developing green economics into a globalinitiative.(India)Sophie Billington, is an economist and econometrician at Bristol University. Hermain areas of interest are developmental economics and econometrics. Sophie isinterested in applied econometrics, econometric theory and the wide ranging andchanging approaches to modelling economic problems. She has been instrumental inmethodology debates in Green Economics.Rafael Felipe Cardoso, holds a Bachelor Degree in Accounting from the Universityof Sao Paulo, Brazil. His graduate studies include a Specialization in Management withfocus on sustainability at Fundacao Dom Cabral. He was originally trained at PriceWaterhouse, getting a thorough grounding in working with banks in the areas of Auditand Taxation. After over 4 years in industrial companies, he currently holds a seniorfinance position in an international company that primarily works with eolic energy.Professor Dr Seldag Gunes Ceylan, is an associate professor at Gazi University,Faculty of Law, Ankara, (Turkey)Professor Dr Graciela Chichilnisky, (USA and Argentina) has worked extensivelyin the Kyoto Protocol process, creating and designing the carbon market that becameinternational law in 2005. She also acted as a lead author of the IntergovernmentalPanel on Climate Change, which received the 2007 Nobel Prize. A frequent keynotespeaker, special adviser to several UN organisations and heads of state, her pioneeringwork uses innovative market mechanisms to reduce carbon emissions, conservebiodiversity and ecosystem services and improve the lot of the poor. She is a Professorof Economics and Mathematical Statistics at Columbia University and the Sir LouisMatheson Distinguished Professor at Monash University.Gundega Dambe, is researching at the University of Latvia Education ManagementDoctoral Study Programme (Latvia),Juliane Goke, is a member of the editorial board for the International Journal ofGreen Economics and has studied International Business Management andGovernance at Paderborn, Hagen and Sheffield Universities. She worked in Germanyand Indonesia in the Consultancy sector. Her research interests are sustainablebusiness solutions and renewable energies in developing countries. For the latter sherecently participated in a renewable energy project in Sub-Saharan Africa.(Germany).Edward Goldsmith, was an Anglo-French environmentalist, writer and philosopher.A deep ecologist and systems theorist, Goldsmith was an early proponent of the Gaiahypothesis, having previously developed a similar cybernetic concept of a selfregulatingbiosphere. He was the founder and editor of the Ecologist Magazine. He coauthoredthe influential Blueprint for Survival with Robert Prescott-Allen, becoming afounding member of the political party "People" (later renamed the Green Party), itselflargely inspired by the Blueprint.Professor Dr Jose Ricardo Barbosa Goncalves, holds a PhD in EconomicHistory. Professor and researcher at the State University of Campinas,
Innehållsförteckning
ContentsPart 1: IntroductionSetting the Scene: The Economics of Resilience and Survivability1.1 The Greening of Global Finance: Re- Conceptualizing, Reforming andReclaiming finance for the 21st and 22nd CenturiesBy Miriam Kennet and Maria Alejandra Caporale Madi (Brazil)191.2 Global finance: banking dynamics, regulation and future challengesBy Maria Alejandra Caporale Madi (Brazil)301.3 The Global financial crisis, debt and austerityBy Maria Alejandra Caporale Madi (Brazil)38Part 2: Background to the Reform of Finance2.1 The Economics of the AnthropoceneBy Sir Crispin Tickell472.2 The shadow market: The powerhouse of the sovereign wealth funds and the neweconomic world orderBy Miriam Kennet512.3 Global finance and the euro: current challenges to sustainable economic growthMaria Alejandra Caporale Madi (Brazil)562.4 Reforming the Financial SystemBy Chow Fah Yee (Malaysia)702.5 Finance and instability: re-focusing the economic policy agendaBy Maria Alejandra Caporale Madi (Brazil)75Part 3: Features of the Global Finance System3.1 Financial Discrimination, Shadow Banking, ROSCAs and PawnbrokingBy Chow Fah Yee (Malaysia)843.2 Banks and Labor in Brazil: Recent Changes in Employment and Working ConditionsBy Maria Alejandra Caporale Madi and Ricardo Barbosa Goncalves (Brazil)893.3 How Theoretical Economics and the Practice of Financial Markets haveUnsustainability built into themBy Steven Mandel1013.4 Financial Crisis and the Real World: Modernization in Brazil beyond the Self-Regulated MarketsBy Jose Ricardo Barbosa Goncalves and Maria Alejandra Caporale Madi (Brazil)1087Part 4: Risk4.1 Risk and Risk InsuranceBy Aija Graudina (Latvia)1174.2 The Greening of Finance: Re-thinking Growth, Money and RiskBy Tomas Stockunas (Lithuania) and Carlos Francisco Restituyo Vassallo (DominicanRepublic)1234.3 Insurance as a Financial Tool of Private Well-Being in LatviaBy Aija Graudina and Stanislava Titova (Latvia)1294.4 Global Change Innovative - Green Economy Thinking Impact on the InsuranceIndustry By Aija Graudina (Latvia)1404.5 Understanding Environmental Degradation as a Cause of Conflict: patterns of Conflictand Cooperation By Max Marioni (Italy and Slovenia)1504.6 Agricultural Greening: Organic Production And Chernobyl Contaminated AreasBy Vyacheslav Potapenko (Ukraine)156Part 5: Geographies of Global Finance: The Developing World5.1 Federal Public Banks in Brazil: Their Role and Importance in Credit Expansion, 1952-2008By Jose Ricardo Barbosa Goncalves and Maria Alejandra Caporale Madi (Brazil)1675.2 Global economic integration and urban inequality in Brazil, 1970-2010By Jose Ricardo Barbosa Goncalves and Maria Alejandra Caporale Madi1795.3 Economic Growth and Cultural Change in Brazil: Challenges to Small Farmers inTourist-Oriented AreasBy Maria Alejandra Caporale Madi and Jose Ricardo Barbosa Goncalves (Brazil)1855.4 Opportunities in Latin America for a Green EconomyBy Carlos Restituyo (Dominican Republic)1925.5 The Caribbean Countries in the Global Economy: Economic Integration, Growth andInequalityBy Maria Alejandra Caporale Madi and Jose Ricardo Barbosa Goncalves1985.6 "Greening of the Economy -The Indian Perspective"By Kanupriya Bhagat (UK and India)2045.7 The Application of Green Economics in Business and Rural India: methods and toolsBy Dr. Natalie West Kharkongor (India)2095.8 Aspects of Green Economy in MalaysiaBy Chow Fah Yee (Malaysia)2205.9 A Survival Mechanism for the Poor and Equity in a Mutual Symbiosis:A Case Study of Street Food Vendors in Urban IndonesiaBy Tutik Rachmawati (Indonesia)22385.10 Financial Liberalization and Economic Policy - The Experience of IndonesiaBy Maria Alejandra Caporale Madi2285.11 Economic development in Somaliland, significant and surprising financialachievements opportunitiesBy Sumaya Abdi (UK The Netherlands and Somaliland)236Part 6: Micro-finance and Micro-credit6.1 Entrepreneurship and micro-credit in Brazil: social challenges in the context of theproductive reconfiguration, 1994-2