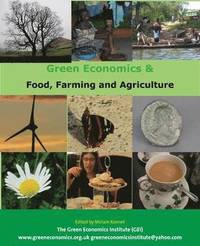 Fler böcker inom
Format

Häftad (Paperback / softback)

Språk

Engelska

Antal sidor

350

Utgivningsdatum

2013-05-01

Förlag

Illustratör/Fotograf

Illustrationer

40

Antal komponenter

1

Komponenter

1 Paperback / softback

ISBN

9781907543449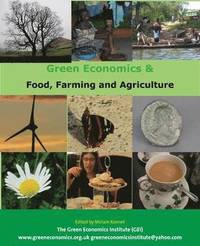 The Greening of Food, Farming and Agriculture
Green Economics
Specialorder (osäker tillgång). Skickas inom 11-20 vardagar.
Fri frakt inom Sverige för privatpersoner.
This innovative book charts the latest thoughts on food, farming and agriculture in a world of increasing inequality, climate instability and biodiversity loss. With a team of writers from around the world this book helps argue for change across the range of food issues, right from seeking alternatives to agribusiness and towards a more humane and human scale and also includes helpful receipies for the reader to try out from a well known food writer! combining economics, food, human rights, poverty and climate change -this book makes waves!
Passar bra ihop
+
Bloggat om The Greening of Food, Farming and Agricul...
Övrig information
Miriam Kennet, Rose Blackett -Ord, Anusha Mahendran (Australia) Michelle Gale de Oliveira,(Brazil) Contributions from: Cudecka Purin Natalija, Atstaja Dintra and Cudeckis Vladimirs(Latvia); Ana Elena Gheorghica (Romania);Henry Cox (UK); Dr Jeff Turk (Slovenia); Dr Sandra Gusta(Latvia); Kristina Jociute (Lithuania); Igor Makarov (Russia); L Maslovska and A Zelinska( Ukraine); R Michelle Gale de Oliveira (USA and Brazil), Miriam Kennet (UK) Volker Heinemann (UK and Germany).Helene Albrecht (Germany and UK) and Rose Blackett- Ord.(UK),Mahalet Mekonen, (Ethiopia),Isayanye Naicker (South Africa), Marian Wozniak (Poland), Therese Jefferson and Anusha Mahendran (Australia), Jose Goncalves and Professor Maria Madi (Brazil), Professor Doaa Salmon (Egypt), Alain Lipietz (MP)(France), Tutik Rachmawati (Indonesia),Elizabeth Vine (UK), Dr Holly Zheng(UK and China),Dr Katherine Kennet (UK),Professor Marie Louise Seeberg (Norway),Henry Cox (UK)Ryota Koike(Japan), Vacheslav Potapenko (Ukraine), Davide Bottos (Italy), Manan Jain (India),Edward Goldsmith ( UK), Michelle Wishardt (UK), Mark and Kym Prichard(UK and Australia), Nitty Kamarulzaman and Selva Vaiappuri(Malaysia), Birgit Weiss (Austria and Spain), KasalazlindaJamal (Malaysia), Daniel Scarfe (UK),Natalie Gandis (France),Timothy Luke( USA),Leslek Wozniak and Sylvia Dziedic( Poland), Philip Lymbery(UK), Modrite Pelse (Latvia)Clive Lord (UK), Kristina Jociute (Lithuania).
Innehållsförteckning
i) Foreword by Michelle Gale de Oliveira (Brazil and USA) Part 1: Introduction - Setting the Scene for Food, Farming, and Agriculture: From Field to Plate 1.1 Introduction By Rose Blackett-Ord (UK) 1.2 Compassionate Farming: Food Sense By Philip Lymbery (UK) 1.3 The Competition of the Cultivation of Food and Energy Crops By Modrite Pelse and Sandra Gusta (Latvia) 1.4 A Human History of Agriculture: Growing Plants on Land for Food By Henry Cox (UK) 1.5 Food and Farming in Africa Today: African Development: A New Light for the next Millennia By Mahalet Mekonen (Ethiopia), Isavanye Naicker ((South Africa and UK) & Miriam Kennet (UK) 1.6 The Tragedy of the commons. Why we are not being careful enough By Clive Lord (UK) Part 2: Green Economics Worldview for All People Everywhere -Nature, Other Species, the Planet and its Sytems. Ground-breaking Ideas to Implement in Food 2.1 How our Food Should Determine our Economy and Our Economy Should Follow our Basic Needs. Green Economics - an Economy for our Times. By Miriam Kennet (UK) 2.5 The Ten Key Values of Green Economics By Miriam Kennet, (UK) Jeffrey Turk, (Slovenia) Michelle S. Gale de Oliveira. (Brazil and USA) Part 3: Ending Inequalities 3.1 Global Green Human Being: concepts and main issues By Kristina Jociute (Lithuania) 3.2 Impact of the world economy to the global levels of poverty and deprivation By Marian Wozniak (Poland) 3.3 Measuring Women's Contribution(s) to Unpaid Household Production on Australian Farms By Therese Jefferson and Anusha Mahendran (Australia) 3.4 Global economic integration and urban inequality in Brazil, 1970-2010 By Jose Ricardo Barbosa Goncalves and Maria Alejandra Caporale Madi (Brazil) 3.5 Relation between Health and Wealth: Is it a Myth or a True Relationship? Evidence from Egypt By Doaa Salman (Egypt) 3.6 Maternal Health in India By Katherine Kennet (UK) 3.7 Unwavering Determination and a Shared Mission: Chinese Women Working for Social Equality and Justice - A Key Inequality in World Food Production By Holly Zheng (China and UK) Part 4: Delicious Experimental and Innovative Recipes to Implement Green Ideas 4.1 Recipes - Family Wisdom, Folklore, Human Stories, and Ancient and Wild Food Knowledge By Rose Blackett-Ord (UK) Part 5: Applying Green Ideas and Perspectives to Food and Drink Issues 5.1 Permaculture Practise in Kibbutz Lotan in Israel By Ryota Koike (Japan) 5.2 Organic, Necessary, but not Sufficient for Sustainability By Henry Cox (UK) 5.3 Green Economy in Agriculture, GM Problems, Social and Environmental Costs of GM, the Role of the State. By Leszek Wozniak and Sylwia Dziedzic (Poland) 5.4 Young Women: Closing the Gap on a Gendered Drinking Culture By Elizabeth Vine (UK) 5.5 A Survival Mechanism for the Poor and Equity in a Mutual Symbiosis: A Case Study of Street Food Vendors in Urban Indonesia by Tutik Rachmawati (Indonesia) 5.6 Hashing It Over: Green Governmentality and the Political Economy of Food By Timothy W. Luke (USA) 5.7 France: Epicentre of the "Malbouffe" Crisis (Horsemeat Crisis) By Alain Lipietz and Natalie Gandais (France) Part 6: Farming and Agriculture: Green Dilemmas? 6.1 The Local Agricultural Revolution By Daniel Scarfe (UK) 6.2 Small Farmers in Brazil By Maria Madi and Jose Goncalves (Brazil) 6.3 Paddy Farmers Perception Towards Sustainable Agriculture By Nawi, N. M., Zaiton, S. and Kamarulzaman, N. H. (Malaysia) 6.4 Fragrant Rice Farming in Malaysia By Nitty Hirawaty Kamarulzaman and Kasazlinda Jamal (Malaysia) 6.5 Organic Farming and Agricultural Movements in Spain By Birgit Weiss (Austria and Spain) Part 7: Nature, Biodiversity, and Other Species 7.1 Towards Sustainable Swiftlet Ranching In Malaysia By Nitty Hirawaty Kamarulzaman, and Selva K. N. Vaiappuri (Malaysia) 7.2 Sustainable Scale Family Farming By Tracy, Marchioness of Worcester (UK) 7.3 Bees on a Green Landscape By Mark and Kym Prichard (UK and Australia) Part 8: Changin