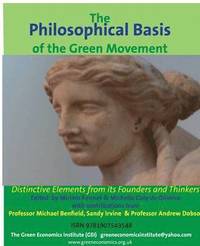 Fler böcker inom
Format

Häftad (Paperback / softback)

Språk

Engelska

Antal sidor

300

Utgivningsdatum

2013-10-01

Förlag

Illustrationer

20

ISBN

9781907543548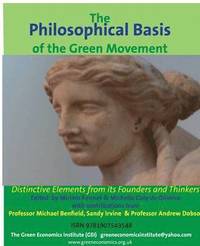 Philosophical Basis of the Green Movement
Distinctive Elements from the Founders of the Movement
Specialorder (osäker tillgång). Skickas inom 11-20 vardagar.
Fri frakt inom Sverige för privatpersoner.
After 50 years of materialist culture, people are desperately seeking answers to such questions as the proper sharing of the bounty of the planet and also the human economy. Who should have and who should have not and can inequality ever be justified. Should humans take every last benefit from the planet or do we need other species and do we need to learn to share and to respect nature. We are not alone on this planet but we might be a very short lived species if we dont get a grip on our proper role. This unique book brings texts and discussion from some of the founders of the green movement and makes todays' philosophy accessible and usable for everyone! The main features of philosophical possibilities for the 21st century and brings the light of Green Movement thinking to bear on todays issues. The Green Movements' original philosophical questions and conundrums in the light of todays' challenges.Shinning a very modern light on Classical texts This book introduces the philosophical basis and understanding of the Green Movements' amazingly accurate predictions on climate and global environmental physical and political change to a broader group of readers, students, policy makers, academics and campaigners in this ground breaking volume.
Passar bra ihop
+
Bloggat om Philosophical Basis of the Green Movement
Övrig information
Editor's Biographies Professor Michael Benfield is one of the four co-founders of the People Party which is what is now the international Green Party and movement. He has been a delegate to UNCTAD for the Commonwealth Human Ecology Council, a Founder Member of the Community Land Trust, and advisor to the trustees of the Walter Segal Self-Build Trust, which promotes the use of timber frame structures for low-cost self-build housing and other community structures. As a member of the Faculty of Building's prestigious Low Cost Housing Committee he presaged many of the sustainable building issues now coming to the fore.Professor Benfield is a frequent speaker at environmental, timber, construction and housing-orientated events, nationally and internationally.He is former chair of the UK TFA's Construction Industry Training Committee and currently serves as a board member of the national New Homes Marketing Board, the Home Builder's Federation (Wales) executive, the Wales Forest Business Partnership and Wood Knowledge Wales, which he chairs. He is also managing director of the Benfield ATT Group (Advanced Timber-Frame Technology), Chartered Building Consultants and Chartered Surveyors, who design, manufactures and build engineered timber frame structures for housing, schools, leisure, hospitality, health care, etc. and provide 'one stop' professional services for timber-frame projects. Miriam Kennet has just visited Athens on a fact finding visit. She is the Director and Co-founder of the Green Economics Institute. She is a graduate member of the Environmental Change Institute, Oxford University where she took courses on Ethics and Philosophy. She speaks on Ethics and Corporate Social Responsibility including at the Oxford Union and at Leeds University. She is the editor and author of 100s of articles, book chapters and books in many languages. Miriam recently was named as one of the 100 most powerful women making change globally by a leading poverty charity in London. She is the founder and Director of The Green Economics Institute and the International Journal of Green Economics and runs regular conferences on Green issues held at Oxford University. Michelle S. Gale de Oliveira (USA and Brazil) a Director of the Green Economics Institute, UK & a member of the Law School of the University of London School of Oriental and African Studies (SOAS), and a specialist in Human Rights Law, Peace-Building, and Developing Countries. Founder of the Gender Progress Consortium. Her writing has been featured in Europe's World, one of the foremost European policy magazines. She lectures and speaks regularly in Africa, Europe, and Latin America. She has led delegations to the Kyoto Climate Change Conference of Parties (COP15/16) in Copenhagen and Cancun and the RIO+20, United Nations Sustainable Development Conference, where she ran three popular side events on green economics. ---------------------------------------------------------------------- Other contributors Helene Albrecht (Germany and UK) is a musician and a teacher, and recently completed her studies with an LLB in Law at Westminster University and is now a specialist in 'Environmental Law and Policy'. In recent years, Helen has focussed on interactions between different legal regimes and contact points and gaps between international, regional and national legislation with particular focus on energy and food supply. She has published and given presentations for The Green Economics Institute and also the Westminster Law Review. Her continuous musical activities support Helen's search for people's own resources and capacities in addressing current economic-environmental shortcomings and re-shaping the organisation of our global community. Eyad Mohammed Atya is a Professor in the Economics Department of Zagazig University, Egypt. Professor Michael Benfield is a Founder of the Green Movement, Director of Benfield ATT Group, and is one of the four co-founders of the Inter
Innehållsförteckning
Forward By Prof. Michael Benfield (UK) Part 1: The Philosophical Basis of the Green Movement: Perspectives 1.1 Introduction: Questioning 'Environmental Sustainability': Toward a 'route map' for developing an ecologically orientated philosophy of 'Environmental Justice' By Professor Michael Benfield (UK) 1.2 The Frankfurt School: Critical Realism Some contemporary lessons By Professor Maria Madi (Brazil) 1.3 Ecology, Justice, and Equality: The Philosophical Basis for Green and Ethical change (A personal view) By Sandy Irvine (UK) 1.4 Green Shoots and Roots By Sandy Irvine (UK) 1.5 Green History of Modern Times: Key Influencers By Sandy Irvine (UK) 1.6 Mountain Eco-philosophy and Deep Ecology By Trude Blomseth Thy (Norway) 1.7 Marx and Heidegger on Modern Technique By Professor Maria Madi (Brazil) 1.8 How Do We Know? By Gillian Orwell (UK) 1.9 Re-thinking Green Politics and the 40th anniversary of the Greens in England and Wales By David Taylor (UK) 1.10 Embedded Philosophy: The Lessons of Radkau By Helene Albrecht (Germany & UK) 1.11 Building Ethics into the Built Environment By Professor John Whitelegg (UK) Part 2: Morality and Ethics 2.1 The Pre-moral Problem in Environmental Ethics By W. Thomas Duncanson (Australia) 2.2 The Idea of Responsibility By Laszlo Zsolnai (Hungary) 2.3 Ethics, Social Responsibility, and the Intergenerational Oppression of Unfettered Population Growth By Chit Chong (UK) 3 The Philosophical Basis of the Green Movement Part 3: The Role of Philosophy in Solving our Problems 3.1 Philosophy to the Rescue? By David Tyfield (UK) 3.2 Who Cares About Political Philosophy? By Tom Chance (UK) 3.3 Knowing Ourselves: The Core of Green Political Philosophy By David Flint (UK) Part 4: Green Philosophy of Economics 4.1 Towards a Philosophy of Green Economics: Questions and Paradoxes in the Green Position By Miriam Kennet (UK) 4.2 The Greening of Global Finance: Re-Conceptualizing, Reforming and Reclaiming Finance for Resilience, Survivability and Sustainability in the 21st and 22nd Centuries By Professor Maria Alejandra Madi (Brazil) and Miriam Kennet (UK) 4.3 The Shadow Market: The Powerhouse of the Sovereign Wealth Funds and the New Economic World Order By Miriam Kennet (UK) 4.4 The Latest Developments and Issues in Green Economics By Miriam Kennet (UK) and Michelle S. Gale de Oliveira (USA & Brazil) 4.5 How Philosophy Can Help the Green Movement: By Undercutting "Greenwashed" Economics By Dr Rupert Read (UK) Part 5: The Growth Dilemma 5.1 The Tragedy of the commons. Why we are not being careful enough By Clive Lord (UK) 5.2 The Green Economy: Rethinking Growth By Volker Heinemann (Germany & UK) and Miriam Kennet (UK) Part 6: Green Ideas, Models: The Learning Mix of East Meets West 6.1 Buddhism and Ecological Values By Professor Laszlo Zsolnai (Hungary) 6.2 Sustainable Economics in History: A Model for a Green Future By Professor Hans-Guenter Wagner (China & Germany) 6.3 Eastern Ethics By Dr Hans-Guenter Wagner (China & Germany) Part 7: Poverty, health and social well being 7.1 How Saving the Planet will Improve our Health By David Flint (UK) 7.2 Green Economics and the Poor By Don O'Neil (St. Vincent) 4 The Philosophical Basis of the Green Movement 7.3 Is there a Relationship between Health and Wealth? Evidence from Egypt By Dr Doaa Mohamed Salman and Dr Eyad Mohammed Atya (Egypt) 7.4 Low Carbon Pathways to Healthcare By Alan Cunningham (UK) Part 8: People, Other Species, or Planet? Green Economics Working for Elephants and People in the Sahel of Mali By Dr. Susan Canney (UK) Part 9: Farming and the Food Crisis 9.1 Genetically Modified Food By Bianca Madison-Vuleta (UK) 9.2 Global Food Security - Analysis And Solutions By Bianca Madison-Vuleta(UK) 9.3 The True Cost of Factory Pig Farming By Tracy Marchioness of Worcester (UK) Part 10: The Green Transport Revolution 10.1 Green Transport Revolution By John Stewart (UK) 10.2 An Ethics and Philosophy of Green Transport By Richard Holcr