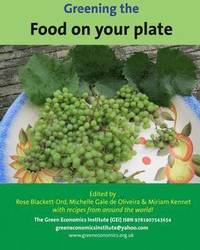 Fler böcker inom
Format

Häftad (Paperback / softback)

Språk

Engelska

Utgivningsdatum

2013-09-01

Förlag

Illustratör/Fotograf

Illustrationer

30

ISBN

9781907543654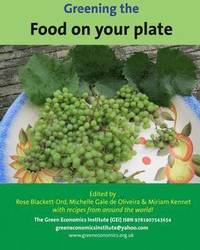 Greening the Food on Your Plate
Green Food and Farming Ideas with lovely receipes
Specialorder (osäker tillgång). Skickas inom 11-20 vardagar.
Fri frakt inom Sverige för privatpersoner.
With lovely recipes and pictures, this book shows you how to change your food to work with the planet and other people: We show you wild food, permaculture, organics and lots of ways to avoid waste and to share the planet with other people and nature.This book explores food farming and agriculture and how green economics can help build a fairer and more equal production and distribution and also much better and more healthy quality food both for everyone and everything involved in the supply chain, in the use of the food,nature, other species, the planet and its people.
Passar bra ihop
+
Bloggat om Greening the Food on Your Plate
Övrig information
Rose Blackett - Ord is a professional cookery writer and Cordon Bleu chef! Miriam Kennet and Michelle Gale are well known green economics writers and they have teamed up to write a wonderful illustrated cookery book showing you how to forage, gather and generally experience the gifts of the wild ! most inspiring !Helen Albrecht In recent years, Helen has focused on interactions between different legal regimes and contact points and gaps between international, regional and national legislation with particular focus on energy and food supply. Having published and given presentations for The Green Economics Institute and Westminster Law Review, her continuous musical activities support Helen's search for humans' very own resources and capacities in addressing current economic-environmental shortcomings and to re-shape order and organisation of our global community. She has lived in the UK since 2006. After a long-standing career in music and teaching, she completed her studies with an LLB in Law at Westminster University and since 2012 also holds a LLM specialist degree in 'Environmental Law and Policy' from University College London. Rose Blackett-Ord is a graduate of Oxford University and Le Cordon Bleu. She now works as a freelance chef and writer, and has a particular interest in rural and green issues relating to food. Her work includes local, seasonal and wild food recipes. Rose writes green and gourmet recipes for a number of publications, including for the Green Economics Institute, where she co-edited a number of books, including Green Economics: the Greening of Food, Farming and Agriculture andthe Greening of Poetry and the Arts. Henry Cox grew up while power in farming came from horses and humans, was taught nutrition in school when the wartime diet was enforced; and saw walled gardens while they were in use, not in tourism. Sometimes helping in gardens, and occasionally in farms. His paid work was in Electronics, often applied to the control of large systems, including those of infrastructure. Some of these systems were installed abroad, taking him to Australia and to NE India: so he saw tropical agriculture, and bananas wild in the jungle. Now long retired from paid work, he has continued to do non-money work for other households, on gardens and some house repairs, seeing a variety of social situations; as well as growing his own vegetables and fruit. With more time he has been active in the green movement, from the 1983 Green Gathering of some 3000 people. He has presented papers at the Green Economics Conferences since 2009. Michelle S. Gale de Oliveira is a Director of the Green Economics Institute, UK. She studied at International Relations Department at Richmond, the American International University in London (RAIUL), and at SOAS, London University and lives in the remote rainforest in Brazil. She has edited the Green Economics Institute's members' magazine, The Green Economist, and is a deputy editor for the International Journal of Green Economics. Her writing has been featured in Europe's World, one of the foremost European policy magazines. She lectures and speaks on Environmental and Social Justice, Gender Equity, and International Development from a Green Economics perspective. She is founder/ chair of the Gender Equity Forum. She organised a Green Economics conference on women's unequal pay and poverty in Reading, UK, and lectured on green economics in Berlin, Germany, at retreats in Glastonbury, UK, and and the American University in FYRO Macedonia. She is a regular speaker at international conferences, and was on the Green Economics Institute's Delegation to Copenhagen COP15 Kyoto Conference and headed up its delegation to Cancun Mexico COP16 Kyoto Conference. Sandra Gusta has a degree in engineering economics from Riga Technical University and has worked as a lecturer in Latvia at the University of Agriculture. In 1992 she earned a master's degree. Then she studied economics In Rig
Innehållsförteckning
Recipes for a Green Planet and a Happy Life From the hedgerow, from the sea, from all over the world, from the Himmalayas, from South America, from wild woods in Norway and lots more besides! i) Foreword by Michelle S. Gale de Oliveira (Brazil and USA) Part 1: Introduction - Setting the Scene for Food, Farming, and Agriculture: From Field to Plate 1.1 Introduction By Rose Blackett-Ord (UK) 1.2 Compassionate Farming: Food Sense By Philip Lymbery (UK) 1.3 The Competition of the Cultivation of Food and Energy Crops By Modrite Pelse and Sandra Gusta (Latvia) 1.4 A Human History of Agriculture: Growing Plants on Land for Food By Henry Cox (UK) 1.5 Food and Farming in Africa Today: African Development: A New Light for the next Millennia By Mahalet Mekonen (Ethiopia), Isavanye Naicker ((South Africa and UK) & Miriam Kennet (UK) 1.6 The Tragedy of the commons. Why we are not being careful enough By Clive Lord (UK) Part 2: Green Economics Worldview for All People Everywhere -Nature, Other Species, the Planet and its Sytems. Ground-breaking Ideas to Implement in Food 2.1 How our Food Should Determine our Economy and Our Economy Should Follow our Basic Needs. Green Economics - an Economy for our Times. By Miriam Kennet (UK) 2.2 The Ten Key Values of Green Economics By Miriam Kennet, (UK) Jeffrey Turk, (Slovenia) Michelle S. Gale de Oliveira. (Brazil and USA) Part 3: Ending Inequalities 3.1 Global Green Human Being: concepts and main issues By Kristina Jociute (Lithuania) 3.2 Impact of the world economy to the global levels of poverty and deprivation By Marian Wozniak (Poland) 3.3 Measuring Women's Contribution(s) to Unpaid Household Production on Australian Farms By Therese Jefferson and Anusha Mahendran (Australia) 3.4 Global economic integration and urban inequality in Brazil, 1970-2010 By Jose Ricardo Barbosa Goncalves and Maria Alejandra Caporale Madi (Brazil) 3.5 Maternal Health in India By Katherine Kennet (UK) 3.6 Positive Transformations: Chinese Women Workers, Rural and Urban Development, and Grassroots NGOs By Holly Zheng (China ) Part 4: Applying Green Ideas and Perspectives to Food and Drink Issues 4.1 Permaculture Practise in Kibbutz Lotan in Israel By Ryota Koike (Japan) and Eli Gregory 4.2 Organic, Necessary, but not Sufficient for Sustainability By Henry Cox (UK) 4.3 Green Economy in Agriculture, GM Problems, Social and Environmental Costs of GM, the Role of the State. By Leszek Wozniak and Sylwia Dziedzic (Poland) 4.4 Young Women: Closing the Gap on a Gendered Drinking Culture By Elizabeth Vine (UK) 4.5 A Survival Mechanism for the Poor and Equity in a Mutual Symbiosis: A Case Study of Street Food Vendors in Urban Indonesia by Tutik Rachmawati (Indonesia) 4.6 France: Epicentre of the "Malbouffe" Crisis (Horsemeat Crisis) By Alain Lipietz and Natalie Gandais (France) 4.7 Genetically Modified Food By Bianca Madison-Vuleta (UK) Part 5: Farming and Agriculture: Green Dilemmas? 5.1 The Local Agricultural Revolution By Daniel Scarfe (UK) 5.2 Small Farmers in Brazil By Maria Madi and Jose Goncalves (Brazil) 5.3 Paddy Farmers Perception Towards Sustainable Agriculture By Nawi, N. M., Zaiton, S. and Kamarulzaman, N. H. (Malaysia) 5.4 Organic Farming and Agricultural Movements in Spain By Birgit Weiss (Austria and Spain) Part 6: Nature, Biodiversity, and Other Species 6.1 Sustainable Scale Family Farming By Tracy, Marchioness of Worcester (UK) 6.2 Bees on a Green Landscape By Mark and Kym Prichard (UK) Part 7: Changing the Rules of Engagement: Food Sustainability, Trade and Land Use 7.1 Towards a New Understanding of Sustainable Development By Igor Makarov (Russia) 7.2 The WTO: Friend or Foe in the Process of Re-Greening? Its origins, mechanisms, and potential by Helen Albrecht (Germany and the UK) 7.3 Global Food Security - Analysis and Solutions By Bianca Madison-Vuleta (UK) 7.4 Learning to Re-Value Nature By Kristof and Stacia Nordin (Malawi) Part 8: Renewable Energy and Climate