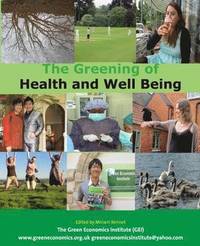 Fler böcker inom
Format

Häftad (Paperback / softback)

Språk

Engelska

Antal sidor

386

Utgivningsdatum

2013-05-05

Förlag

Illustrationer

20

Antal komponenter

1

Komponenter

1 Paperback / softback

ISBN

9781907543760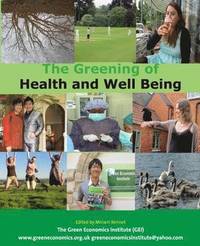 The Greening of Health and Well Being
Health and Health Care and Well Being in the Age of Green Economics
Specialorder (osäker tillgång). Skickas inom 11-20 vardagar.
Fri frakt inom Sverige för privatpersoner.
This book presents current thinking and opportunities in Health, care and the very topical subject of Well Being for the individual and for anyone interested in their own health, the health of other people and health improvements in future for the current Age of Green Economics.
Passar bra ihop
+
Recensioner i media
List of Contributors Sofia Amaral is at NOVA School of Business and Economics, Portugal. Her field of interests include green economics and sustainable management. She is the lead editor of the Green Economics series book Green Economics: Reforming and Transforming the Global Economy. She specialises in looking at alternatives from around the world and how to avoid the stress of debt and poverty in Southern European Countries. Kanupriya Bhagat, is at the University of St Andrews. Originally, from Agra, India, she has been involved with organizations such as CRY (Child Rights and You), New Delhi, where she was part of the Digital Fundraising Department, and has a strong interest in publishing to help in this work. She enjoys collaborating with the Green Economics Institute in developing green economics into a global initiative. She is also concerned with women's safety on public transport. Professor Dr Vinca Bigo (France and the UK) )qualified at Cambridge University and is a Professor of Gender, Ethics & Leadership at the Kedge Business School in Marseille in France. She has published regularly with the Green Economics Institute and in its academic journal and her work theorises dilemmas of care and how we can change our conventional understanding of it to a model with is more inclusive and beneficial to the whole community. Rose Blackett-Ord is a graduate of Oxford University and Le Cordon Bleu. She now works as a freelance chef and writer, and has a particular interest in rural and green issues relating to food. Her work includes local, seasonal and wild food recipes for health. Rose writes green and gourmet recipes for a number of publications, including for the Green Economics Institute, where she co-edited a number of books, including the Greening of Food, Farming and Agriculture and the Greening of Poetry and the Arts which looks at how to obtain health and well being. Alan Cunningham trained in Public Administration and has worked as an Administrative and an Information officer. Following early retirement for family reasons, he has served on two regional working parties for public health campaigning for local action on health inequalities, the better application of public health policy by NGOs, and for recognition of the links between Public Health Practice and Sustainable Living. He has developed a local area profiling system that has been praised by MPs and by Health Observatory staff. He is an associate member of the Faculty of Public Health and of IUHPE. Professor Dr Graciela Chichilnisky PhD has worked extensively in the Kyoto Protocol process, creating and designing the carbon market that became international law in 2005. She also acted as a lead author of the Intergovernmental Panel on Climate Change, which received the 2007 Nobel Prize. A frequent keynote speaker, special adviser to several UN organisations and heads of state, her pioneering work uses innovative market mechanisms to reduce carbon emissions, conserve biodiversity and ecosystem services and improve the lot of the poor. She is a Professor of Economics and Mathematical Statistics at Columbia University and the Sir Louis Matheson Distinguished Professor at Monash University. Chit Chong, has been an environmental campaigner and environmental professional for over two decades. He has been a member of the Green Economics Institute since it started. He was the first Green Councillor to be elected in London and is now a member of the Alliance for Future Generations which seeks to promote the representation of future generations in the decision making processes of today. He works as an environmental consultant helping organisations and individuals to reduce their emissions from their buildings. www.LowCarbonKnowHow.co.uk W. Thomas Duncanson, Ph.D.,(Australia) is an Associate Professor in the Department of Communication at Millikin University in Decatur, Illinois, USA. His research and writing has focused on the "speech thought" of Eugen Rosen
Bloggat om The Greening of Health and Well Being
Övrig information
The authors are experienced in Green Economics and their aim is to promote and create health rather than medicating people who become ill! One is Doctor to Prince Charles and Head of the College of Physicians and one is a Doctor specialising in Global Health from Imperial College, London one of the most prestigious colleges in the world, who has been working on health care in Nepal. The other is a well known speaker and who has just spoken at Manchester United Football Ground, and in the Scottish Parliament and in many governments and parliaments. She has been increasingly asked to speak about the impact of green economics on health, well being and care - and how it could seriously improve matters. So she has decided to put this book together after receiving many requests for it. She is a member of Mansfield College Oxford University and the Environmental Change Institute Oxford University and also founded the Green Economics Institute. She is founder and editor of the International Journal of Green Economics: one of the worlds only green academic journals which has been running for 8 years and she is author and or editor of 15 books and 100s of published articles,book chapters and papers and a regular speaker all over the world.
Innehållsförteckning
Green Economics and Health Health, Healthcare, Health Systems and Well Being List of Contributors Part 1 Health, Healthcare and Health Systems 1.1 Introduction By Dr Katherine Kennet and Miriam Kennet (UK) 1.2 Green Ways to Healthcare By David Flint (UK) 1.3 Low Carbon Pathways to Health By Alan Cunningham (UK) 1.4 The importance of .the physician in environmental healthcare Thomas Duncanson (Australia) 1.5 The intergenerational oppression of population pressure By Chit Chong (UK) 1.6 Retreats and alternative ideas By Miriam Kennet and David Taylor (UK) Part 2 Health, Pollution, and Environmental Justice 2.1 The Unsustainable Heaviness of Air. The Impact of Air Pollution on Workers' Health By Dr Enrico Tezza (Italy) 2.2 Agricultural Greening: Organic Production and Chernobyl contaminated areas By Vyacheslav Potapenko (Ukraine) 2.3 Heathrow's hidden health costs By Ryte Mamacuvite (Lithuania) 2.4 Heathrow: health and wellbeing in a polluted environment: a case study of chronic obstructive pulmonary diseases (COPDs) in selected cities in England and Wales By Lawrence Sappor (UK & Ghana) Part 3 Health, Wealth and Poverty - Social Justice 3.1 Global Green Human Being: concepts and main issues By Kristina Jociute (Lithuania) 3.2 Women doctors at St. Mary's: a history By Dr Katherine Kennet (UK) 3.3 Indian maternal health and welfare outcomes By Dr Katherine Kennet (UK) 3.4 GIS and Spatial Methodology used in solving AIDS in Ghana By Lawrence Sappor (UK & Ghana) 3.5 Green Economics and the Poor By Don O'Neil (St. Vincent) 3.6 Portugal and highly indebted countries By Sofia Amaral (Portugal) 3.7 Greening the Economy: An Indian Perspective By Kanupriya Bhagat (India) Part 4 Food and Health 4.1 Global Food Security - Analysis and Solutions By Bianca Madison-Vuleta (UK) 4.2 The Food Crisis in Latin America By Carlos Restituyo (Dominican Republic) 4.3 Greening Food Farming and Agriculture: Where Chefs and Greens Agree By Rose Blackett-Ord (UK) 4.4 Food street vendors By Tutik Rachmawati (Indonesia) 4.5 Genetically Modified Food By Bianca Madison-Vuleta (UK) Part 5 Health, Consciensciousness, and Nature 5.1 The true cost of factory pig farming By Tracy, Marchioness of Worchester (UK) 5.2 Compassion in world farming By Philip Lymbery (UK) 5.3 Learning to revalue nature By Kristof and Stacia Nordin (Malawi) Part 6 Green Economics - the Economics of Environmental Justice and Survivability 6.1 Economics of survival and resilience By Professor Graciela Chichilnisky (USA & Argentina) 6.2 Economics of the anthropocene By Sir Crispin Tickell (UK) 6.3 Happiness, Economics, and the Environment: Evidence from Australia By Dr Christopher L. Ambrey, Christopher M. Fleming, and Matthew Manning (Australia) Part 7 The Built Environment, Sanitation and Energy 7.1 Sanitation Strategies for a Sustainable City: Thimphu By Jigme Tashi Tsering (Bhuttan) 7,2 Urban Sprawl By Dr Michelle Wishardt (UK) 7.3 Kibbutz and a sense of community: Permaculture Practice in Kibbutz Lotan By Ryota Koike (Japan) and Eli Gregory (Israel) 7,4 10 Key Points for the Renewable Energy Society in the 21st Century By Ryota Koike (Japan) 7.5 Renewable Energy Development in Japan: Kuzumaki Town Local Innovation By Ryota Koike (Japan) Part 8 Theorising care and why this affects the approach we take in Green Ecnomics, the economics of caring, sharing and supporting each other 8.1 Dressed to Care, Locating Feminist Contributions to Care in the Economy By Professor Dr Vinca Bigo (UK and France) and Professor Virginie Martin (France) Part 9 Green Economics 9.1 The Ten Key Values of Green Economics By Miriam Kennet (UK), Jeffrey Turk (Slovenia), Michelle S. Gale de Oliveira (USA, UK, Brazil) 9.2 Green Economics: Its recent development and background By Miriam Kennet (UK) and Michelle S. Gale de Oliveira (USA, UK, Brazil) 9.3 Green economics and what it means By Miriam Kennet (UK