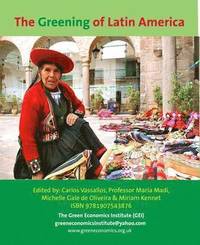 Fler böcker inom
Format

Häftad (Paperback / softback)

Språk

Engelska

Antal sidor

350

Utgivningsdatum

2013-09-01

Förlag

Illustratör/Fotograf

ISBN

9781907543876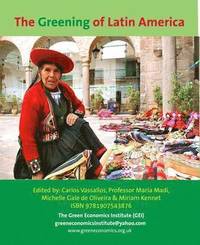 The Greening of Latin America and the Caribean
Specialorder (osäker tillgång). Skickas inom 11-20 vardagar.
Fri frakt inom Sverige för privatpersoner.
The area has a number of specific challenges- Brazil is one of the fastest growing economies in the world and also home to some of the worlds most important rainforests and biodiversity and housing the worlds largest potential guard against greenhouse gasses and climate change. It was host to the 2012 Rio + 20 green economics and sustainable development conference.It also has several island states which are extremely vulnerable to climate change and sea level rise. Its dynamism in todays world economy is charted and analysed and its editors are a mix of experienced professionals -professors, and also young innovative views from around the region - with papers and authors from and about 15 of the countries in this exciting and important and influential region.
Passar bra ihop
+
Bloggat om The Greening of Latin America and the Car...
Övrig information
Jose Ricardo Barbosa Goncalves holds a PhD in Economic History. Prof researcher at the State University of Campinas, Brazil. His recent publication Corporate social responsibility: credit and banking inclusion in Brazil and Priv investment and labor: faceless capital and the challenges to trade unions in currently works at the intersection between labor rights, social inclusion and development in a historical perspective. Davide Bottos is an Italian Master student of Economics at the Universita degli Stu in Italy. After high school he enrolled in the faculty of economics in Udine, where his first degree in January 2008 with a presentation of a thesis on the classical theo discrimination. In 2009 he studied for six months at the "Skarbek Graduate School o Economics" in Warsaw (Poland) as an Erasmus student. He became interested in Economy by reading news that concerned the environment, mobility, energy a change. His opinion is that we must act so that governments implement all the po drive economic activity to a lower waste of resources and greater sustainability. Rosita Bujokaite is macroeconomist. Her main areas of interest are related economic crisis phenomenon and crisis management, as well as the economic crisis politics. She is participating in the Lithuanian NGO Kaunas Club "The economists" and is a member of the Lithuanian Economic Association (LEA). associated member of GEI (Green Economics Institute) since July, 2010. Don Charles holds a MSc and a BSc in Economics from the University of the West I is currently a full time MPhil Economics student at the University of the West Augustine Campus. His work experience has been mainly in the public service in th project management, procurement, industrial relations, and economic research. His interests include but are not limited to international trade, health economics, energy e and renewable energy Graciela Chichilnisky is the author of the carbon market of the UN Kyoto Pro became international law in 2005. She also created the concept of Basic Needs vo nations at the 1993 UN Earth Summit to be the cornerstone of Sustainable Dev and in 1996 created the formal theory of Sustainable Development that is used created by Chichilnisky is a world renowned economist and mathematician that the Washin calls an "A-List Star" and appeared in the 2009 Time Magazine on "Hero Environment". Chichilnisky acted as a US Lead Author of the Intergovernmental Climate Change, which received the 2007 Nobel Prize. Michelle S. Gale de Oliveira is a Director of the Green Economics Institute, UK. S at International Relations Department at Richmond, the American International University London (RAIUL), is currently at the School of Oriental and African Studies (SOAS University and lives in the remote rainforest in Brazil. She has edited the Green Institute's members' magazine, The Green Economist, and is a deputy edito International Journal of Green Economics. Her writing has been featured in Europ one of the foremost European policy magazines. She lectures and speaks on Environ Social Justice, Gender Equity, and International Development from a Green perspective. She is founder/ chair of the Gender Equity Forum. She organised Economics conference on women's unequal pay and poverty in Reading, UK, and l green economics in Berlin, Germany, at retreats in Glastonbury, UK, and and the University in FYRO Macedeonia. She is a regular speaker at international conference on the Green Economics Institute's Delegation to Copenhagen COP15 Kyoto Confe headed up its delegation to Cancun Mexico COP16 Kyoto Conference. Edward Goldsmith was an Anglo-French environmentalist, writer and philosoph ecologist and systems theorist, Goldsmith was an early proponent of the Gaia hypothe previously developed a similar cybernetic conc
Innehållsförteckning
Part 1: Setting the Scene 1.1 Introduction By Michelle S. Gale de Oliveira 13 1.2 The state of the countries and economy in Latin America By Carlos Restituyo 15 1.3 Green Economics: Its recent development and background By Miriam Kennet and Michelle S. Gale de Oliveira 22 1.4 The Ten Key Values of Green Economics By Miriam Kennet, Jeffrey Turk, Michelle S. Gale de Oliveira. 25 Part 2: The Global Crisis 2.1 An Introduction to Climate Change By Alan Bouquet 38 2.2 The Food Crisis in Latin America By Carlos Francisco Restituyo Vassallo 43 2.3 From Carbon Markets Towards Climate Social Justice By Maria Delfina Rossi 50 2.4 Ten Key Points on reversing the trend of Climate Change By Davide Bottos 63 2.5 Human vs. Nature: Finding the Controversial Balance between Economic Survival and Ecological Preservation on the Galapagos Islands By Grit Silberstein 66 Part 3: Sustainability and Renewable Energy 3.1 Energy Policies and Economics By Maria Alejandra Caporale Madi 72 3.2 Successes of PES Scheme as a Model for Further Implementation in Latin America 78 5 The Greening of Latin America By Carlos Francisco Restituyo Vassallo 3.3 Economic Development Plan for the City of Rancharia, Sao Paulo State, Brazil, Centered on the Green Economy By Marcio Marucci 82 3.4 An examination of the energy sector of Trinidad and Tobago in the context of sustainable development By Don Charles Part 4: Development and Finance in the Latin American Context 4.1 Entrepreneurship and micro-credit in Brazil: social challenges in the context of the productive reconfiguration, 1994-2010 By Maria Alejandra Caporale Madi and Jose Ricardo Barbosa Goncalves 147 4.2 Global economic integration and urban inequality in Brazil, 1970-2010 By Jose Ricardo Barbosa Goncalves and Maria Alejandra Caporale Madi 160 4.3 Economic Growth and Cultural Change in Brazil: Challenges to Small Farmers in Tourist-Oriented Areas By Maria Alejandra Caporale Madi and Jose Ricardo Barbosa Goncalves (Brazil) 172 4.4 The Financial Crisis and New Welfare Approaches - Better Perspectives to Create Green Economics By Rosita Bujokaite 179 4.5 Gateway to Development? Landlessness, Law, and Human Rights in Brazil By Michelle S. Gale de Oliveira 193 4.6 The Caribbean Countries in the Global Economy: Economic Integration, Growth and Inequality Maria Alejandra Caporale Madi and Jose Ricardo Barbosa Goncalves 210 4.7 What does the EPA mean for Cariforum post global recession? By Don Charles 218 4.8 Historical Effects of the Great Depression on the Chilean economy 240 6 The Greening of Latin America By Alejandro Emilio Ramirez 4.9 Sex and the Ivy League By Graciela Chichilnisky 246 Part 5: Discovering Green Economics 5.1 The Green Economy: Rethinking Growth by Volker Heinemann and Miriam Kennet 5.2 Global Green Human Being: Concepts and Main issues By Kristina Jociute 292 5.3 Introducing Green Economics: Renaissance, Reform and Methodolgy. Green Economics a Global Movement for Change By Miriam Kennet