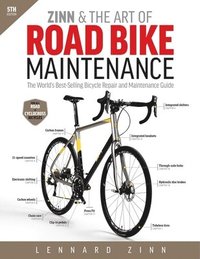 Fler böcker inom
Format

Häftad (Paperback / softback)

Språk

Engelska

Antal sidor

488

Utgivningsdatum

2016-01-15

Upplaga

5 Revised edition

Förlag

Illustratör/Fotograf

Illustrationer

black & white illustrations

Dimensioner

277 x 216 x 36 mm

Vikt

1362 g

Antal komponenter

1

ISBN

9781937715373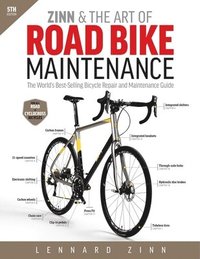 Zinn &; the Art of Road Bike Maintenance
The World's Best-Selling Bicycle Repair and Maintenance Guide
Skickas inom 7-10 vardagar.
Fri frakt inom Sverige för privatpersoner.
"Zinn & the Art of Road Bike Maintenance" is the world's best-selling guide to bicycle repair and maintenance. From basic repairs like how to fix a flat tire to advanced overhauls of drivetrains and brakes, Lennard Zinn's clearly illustrated guide makes every bicycle repair and maintenance job easy for everyone. Lennard Zinn is the world's leading expert on bike maintenance and repair. His friendly step-by-step guide explains the tools you'll need and how to know you've done the job right. The book's two-color interior is easy to read even in a dimly-lit garage or workshop. Hundreds of hand-drawn illustrations and exploded parts diagrams show just the right level of detail to lead you through every bicycle repair task. This smartly organized guide shows how to repair new and old bicycles from top to bottom.In over 500 pages, Zinn's guide includes simple instructions for hundreds of bike maintenance and repair jobs: Basics: How to fix a flat tire, lube a bicycle chain, adjust the brakesEmergency repairs: How to fix a broken chain, tighten loose spokes, repair a bent derailleurEasy shifting: How to adjust shifters, derailleurs, and cables for clean and smooth shiftingWheels: How to true a wheel, install a new tire, change a cassette, replace broken spokes, build your own wheelsOverhauls: How to service and replace pedals, chains and chainrings, saddles, handlebars, stems, headsets, forks, bottom bracketsNew tech: How to maintain 11-speed systems, electronic and wireless shifters, disc brakesCyclocross: How to set up a 'cross bike for racing, select the right components, and make quick repairsTroubleshooting: How to figure out what's wrong with any bike and fix it"Zinn & the Art of Road Bike Maintenance" makes bicycle repair and maintenance easy, quick, affordable, and fun. With Zinn at your side, you'll know how to keep your bicycling running smoothly for years.What's New in "Zinn & the Art of Road Bike Maintenance, 5th Ed." More than 700 comprehensive illustrations and exploded views.New chapter on electronic shifting covers maintenance, service, repair, and troubleshooting of all Shimano, SRAM, and Campagnolo electronic shifting groups. New chapter on disc brakes covers maintenance, service, and repair of all hydraulic and mechanical systems. New tech covered in depth: through-axle forks, SRAM eTap wireless shifting, second generation Shimano and Campagnolo electronic shifting, direct-mount sidepull brakes, SRAM X-Sync 1x11 cyclocross systems, tubular tire gluing tapes. New troubleshooting chartsNew master guide to press-fit bottom bracketsAlso covered in the 5th edition: All derailleur shifting systems (5-speed through 11-speed); all bottom bracket systems (cone-and-cup through press-fit); all brake systems (including caliper, V-brake, cantilever, and disc); all headset, stem, handlebar and fork systems; wheelbuilding for all bikes including cyclocross and disc-brake wheels; special sections on cyclocross throughout including troubleshooting, maintenance, service, repair, and equipment selection; updated and expanded torque tables; complete illustration index and complete subject index."
Passar bra ihop
+
Recensioner i media
"Zinn & the Art of Road Bike Maintenance" is a beast of a book and can help you remedy any problem that might arise while working on a road bike. It's packed with in-depth explanations and useful diagrams. Velo magazine "Zinn & the Art of Road Bike Maintenance" is the gold standard textbook for aspiring home mechanics. From simple tasks such as fixing a flat tire to advanced overhauls of drivetrains or brakes, this book's step-by-step guides explain the tasks and tools your newbie will need to get the job done right. RoadBikeReview.com This smartly organized guide shows how to repair new and old bicycles from top to bottom. "Zinn & the Art of Road Bike Maintenance" is essential cycling gear for all road and cyclocross riders. Crossbikereview.com Lennard Zinn is an institution in the bicycle world a legend. Legions of cyclists have learned to repair bikes from him, ridden bicycles he's built, or used his advice as guidance on how to better enjoy the world on two wheels. Bicycle Times magazine Today's bicycles are complicated machines that can be expensive to maintain and repair. Zinn has written this book to help both the leisure bike rider and expert mechanic handle almost any problem associated with road bikes. Library Journal Lennard Zinn really is the world's most helpful and comprehensive human when it comes to bicycle repair and maintenance. Bike magazine "Zinn & the Art of Road Bike Maintenance" has instructions on anything an aspiring wrench would want to know. What impresses most is Lennard's overall approach of simplifying a task and reminding us how rewarding it is to perform our own service. Podium Cafe Lennard Zinn is a veritable cycling Einstein and, as a naturally gifted teacher, he has the unique ability to explain even the most difficult mechanical task. So unless you currently ride on a high-profile pro team with your own mechanic (and maybe even then), "Zinn & the Art of Road Bike Maintenance" is an absolute must-have' book. Davis Phinney, Olympic medalist, national champion, and Tour de France stage winner "Zinn & the Art of Road Bike Maintenance" is simple, easy to follow and the illustrations are magnificent If you are looking for a bicycle repair manual, get this book. Cycloculture Lennard Zinn's book might be the work that launched a 1,000 repair projects. Or, at least, it placated many home mechanics when they started cursing skipped shifts or loose headsets. Canadian Cycling magazine If ever there was a classic text on bike maintenance, this has to be it Like its predecessors, it goes from super simple right through to complete re-builds. All are explained by a combination of Zinn's unique humour-filled, insightful and clear text, with Todd Telander's brilliant illustrations. 220 Triathlon"
Bloggat om Zinn &; the Art of Road Bike Maintenance
Övrig information
Lennard Zinn is a world-renowned bicycle technician, frame builder, and tech writer for VELO magazine and VeloNews.com. Zinn was a member of the U.S. national racing team and has been riding and fixing bikes for nearly 50 years. A professional frame builder and bike designer for his business Zinn Cycles, Lennard hosts the popular bike tech Q&A column on VeloNews.com. His other books include Zinn & the Art of Road Bike Maintenance, Zinn & the Art of Triathlon Bikes, Zinn's Cycling Primer, The Mountain Bike Performance Handbook, and The Mountain Bike Owner's Manual. He lives and works in Boulder, Colorado.
Innehållsförteckning
Acknowledgments Introduction Maintenance and Repair 1 Tools Basic, intermediate, and advanced tool kit recommendations Tools to carry on a ride and on multi-day tours Tools for cyclocross racing 2 Basic Stuff Preride inspection Wheel removal and installation Chain lubrication and cleaning Cyclocross race pit set-up and bike care General guide to tool usage and mechanical work Bike maintenance schedule 3 Emergency Repairs Flat tire prevention and repair Dealing with jammed chains, loose spokes, shifting problems, broken parts 4 The Chain Cleaning, lubricating, regular maintenance Checking wear, replacing the chain, choosing the right chain tool Troubleshooting chain problems (squeaking, skipping, jamming, dropping) 5 Cable-Actuated Shifting Systems Operating integrated shift/brake levers Installation and adjustment of derailleurs, shifters Installing new shift cables and housings Maintenance, repair, and troubleshooting of all parts How to get more gear range; mixing and matching components 6 Electronic Shifting Systems Complete coverage of all electronic systems (Shimano STI, Campagnolo EPS, SRAM eTap) Installation and adjustment of all shifters, derailleurs, batteries, wires, control units Battery charging, installation, troubleshooting 7 Tires Removing, installing, repairing all tire types Fixing flats, all tire types Tire sealants: how they work, which to choose, how to use Cyclocross tires: how to choose, set up, select tire pressure, maintain 8 Wheels Truing a wheel, fixing loose or broken spokes Adjusting and overhauling hubs Freehubs, freewheels, cogs and cassettes Lubrication, maintenance, parts replacement 9 Rim Brakes Coverage of all types of caliper, cantilever, direct-mount, and V-brakes Installation, adjustment, troubleshooting of all parts Cable and casing installation and adjustment Troubleshooting all rim brake problems 10 Disc Brakes Pad check and replacement Installation and adjustment of all disc brake types Truing bent brake rotors Cable replacement and adjustment Hydraulic installation, set-up, bleeding, overhaul, and maintenance Troubleshooting all disc brake types and problems 11 Cranks and Bottom Brackets Crankarm and chainring removal and installation Fixing bent or warped chainrings, crankarm spiders Threadless bottom bracket specifications and options Bottom bracket removal, installation, adjustment, overhaul, maintenance (all types) Cyclocross crank and chainring set-up Troubleshooting crank and bottom bracket problems (all types) 12 Stems, Handlebars, and Headsets Stem removal, installation, adjustment (all types) Removing stuck stems Handlebar removal, installation Aerobar installation and adjustment Wrapping handlebar tape Headset removal, installation, overhaul, adjustment (all types) Troubleshooting stem, handlebar, and headset problems (all types) 13 Pedals Removal and installation (all types) Setting up, installing, and adjusting pedal cleats (all types) Pedal overhaul and bearing replacement (all types) Troubleshooting pedal problems 14 Saddles and Seatposts Choosing, installing, adjusting a saddle Seatpost installation and adjustment Integrated seat masts Removing a stuck seatpost Troubleshooting saddle and seatpost problems (creaks, squeaks, slipping post, loose saddle) 15 Wheel Building Everything you need to know to build your own bicycle wheels Parts and tools Lacing a new wheel; spoke patterns explained Tensioning, truing, centering Radial, two-cross, three-cross, disc brake, cyclocross, and wheels for big riders 16 Forks Fork inspection and maintenance Checking and adjusting fork alignment Fork upgrades 17 Frames Frame design and materials Frame inspection; fixing bent derailleur hanger Checking frame alignment, adjusting dropout alignment Fixing damaged threads Correcting high-speed shimmy Appendixes A Troubleshooting Index Symptoms, causes, diagnosis and repair of all areas B Gear Chart Gear development for standard and compact cranksets C Road Bik