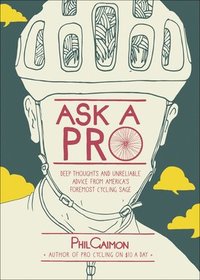 Fler böcker inom
Format

Inbunden (Hardback)

Språk

Engelska

Antal sidor

216

Utgivningsdatum

2017-04-20

Förlag

Illustratör/Fotograf

Illustrationer

Two-color interior with illustrations throughout.

Dimensioner

183 x 135 x 23 mm

Vikt

409 g

Antal komponenter

1

ISBN

9781937715724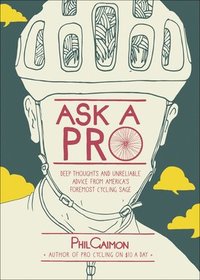 Ask a Pro
Deep Thoughts and Unreliable Advice from America's Foremost Cycling Sage
Skickas inom 5-8 vardagar.
Fri frakt inom Sverige för privatpersoner.
Phil Gaimon's Ask a Pro answers every question you've always wanted to ask about pro cycling...sort of. Gaimon gathers the best of his popular Q&A column-and pokes fun at his younger self. Despite the howling protests from his peers, no one's ever been more willing to spill the beans on what it's really like inside the pro cycling peloton than the sarcastic scribe Phil Gaimon. Building on the outrageous success of his hilarious 2014 debut, Pro Cycling on $10 a Day: From Fat Kid to Euro Pro, Gaimon gathers the absolute gems from his monthly Q&A feature column in VeloNews magazine into his new book, Ask a Pro: Deep Thoughts and Unreliable Advice from America's Foremost Cycling Sage, adding a dose of fresh commentary and even more acerbic and sharp-eyed insights. With six years of material to work with-including his incredible rise into the pro ranks, the devastating loss of his contract for 2015, and his bold return to the Big League-Gaimon covers every possible topic from the team dinner table to the toilet with plenty of stops along the way. Gaimon offers wise-ass (and sometimes earnest) answers to fan questions like: * How much chamois cream should I use? * I've started shaving my legs. How can I be accepted by my friends? * What do you do to protect yourself when you know you're about to crash? * How many bikes does my husband really need? * What's the best victory celebration? Do you practice yours? * In women's cycling, what is the proper definition of a pro? * What do you say to someone if they honk or almost hit you? * Do you name your bikes? * What do pros think when they see a recreational cyclist in a full pro kit or riding a pro-level bike? * Can you take your bike apart and put it back together? * How bad does the weather have to be to call off a training ride? * How do you know when it's time to change a tire? * When you're in a breakaway all day, do riders form a future friendship? * Riders keep complaining about "unsafe" weather at races. When did pro cyclists turn into such wussies? * How do the pros define a "crash"? Gaimon wields his outsider's wit to cast a cock-eyed gaze at the peculiar manners, mores, and traditions that make the medieval sport of cycling so irresistible to watch. Ask a Pro includes new resources from Gaimon, too, including his Cookie Map of America, dubious advice on winning the race buffet, a cautionary guide for host housing, Phil's pre-race warm-up routine, and a celebrity baker's recipe for The Phil Cookie.
Passar bra ihop
+
Fler böcker av Phil Gaimon
Recensioner i media
"Much of Pro Cycling on $10 a Day spins as pure pleasure-an inside account of what it's really like to race for a living and occasionally be among the sport's elite...The best parts read like an unpretentious insider's diary, full of the kind of wisecracks, gossip and advice traded on memorable long rides." - Wall Street Journal "At a time when pro cycling has struggled with its image, Phil Gaimon has emerged as a refreshing voice from the peloton - intelligent, humorous, articulate, and above all, transparent. As a college-educated latecomer to the sport, as an outsider who struggled to be given a chance, and as someone with the perspective to laugh at the absurdity of being paid to ride a bicycle for a living, Gaimon's insights into the pro cycling world resonate with a wide audience. His self-effacing humor, commitment to clean sport, and extraordinary talent have made him a bit of an everyman hero within pro cycling - a rider you want to hear from, and know more about, win or lose." - Velo magazine "In this age of tell-all memoirs from cyclists popped for doping, Pro Cycling on $10 a Day by Phil Gaimon is a refreshing change...It's a witty, revealing look at cycling that will make you want to quit your job and start training for the Tour." - Bicycling magazine "Having watched Phil race over the past few years we know he is a great, versatile rider with a huge amount of talent. Beyond that, he is also funny, smart and unique addition to the team. We think he'll be a great fit both on the road and off and we look forward to helping him take the next step in his career." - Jonathan Vaughters, CEO, Team Garmin-Sharp "An outspoken proponent of clean competition, Gaimon sports a tattoo of a bar of soap with the world 'clean' on his right bicep, and he was attracted to Garmin-Sharp for its ethical code." - CyclingNews.com "For anyone who's ever dreamed about having the glamorous life of a pro cyclist, Phil Gaimon's Pro Cycling on $10 a Day serves up some realistic-and hilarious-truths. From the uncertain process of finding a team, to dealing with performance setbacks and achievements, to the crazy stuff riders see while traveling, Gaimon provides an engaging portrait of life on the road as a domestic pro. The best part: Even through the toughest moments of his cycling career, Gaimon's dedication to and love for his sport shines through-which is something any rider can relate to, pro or not." - Bicycling.com "Pro Cycling on $10 a Day is the story we all want to hear: a regular guy who rides from overweight amateur to European pro in a short time, finding his way and making the best decisions from the resources he had. Phil's story inspires hope in up-and-comers about what hard work can produce. If you listen, pay attention and surround yourself with the best people you can, then no dream is out of touch." -Jeremy Powers, professional cyclist for Jelly Belly Cycling Team and Team Rapha-Focus and two-time U.S. Cyclocross National Champion "We have discovered a light-hearted, hard-working rider with strong convictions." -Podium Cafe "Pro Cycling on $10 a Day gives you an incredibly realistic and entertaining feel for what goes on in the minor leagues of pro cycling. It's also the best-by far-of the current crop of cycling autobiographies." - FatCyclist.com "I believed in Phil and he worked hard to make the best of his opportunity in racing. He lived out of his car, trained hard, drove hours to get to races, and always showed up ready to fight at each race. He didn't have it easy... I never knew what was going to come out of Phil's mouth but I always knew he would race himself into the ground to try and win for himself or the team." - Frankie Andreu, Team Director, 5-hour ENERGY presented by Kenda, 9-time Tour de France finisher, and 2-time Olympic cyclist "The truth is you should buy and read Pro Cycling on $10 a Day bec
Övrig information
Phil Gaimon is a cyclist, writer, and entrepreneur who retired from laziness and computer games in 2004 in favor of riding a bike to lose weight. On a whim, he started racing and soon discovered that he was a natural. Phil advanced rapidly through the amateur ranks and turned professional in his second full year, still ignorant of a century of cycling etiquette. He slowly learned the rules and clawed his way to the top of the American pro ranks, joining Garmin-Sharp in 2014, losing his contract, and getting re-signed. He retired from professional racing after the 2016 season. He maintains a website, Philthethrill.net, where he chronicles his ceaseless pursuit of the best cookies in America.
Innehållsförteckning
Phil's Cookie Map Introduction Part 1: Neo Pro Part 2: Continental Pro Part 3: WorldTour Pro Appendix A: How to Win the Race Buffet Appendix B: A Guide to Host Housing Appendix C: Race Warm-Up Routine Appendix D: Too Hot for VeloNews Acknowledgments The Phil Cookie