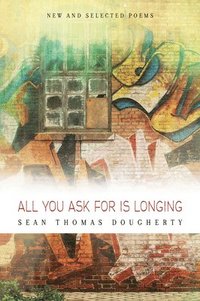 Fler böcker inom
Format

Häftad (Paperback / softback)

Språk

Engelska

Antal sidor

208

Utgivningsdatum

2014-05-13

Förlag

Dimensioner

228 x 158 x 19 mm

Vikt

317 g

Antal komponenter

1

ISBN

9781938160301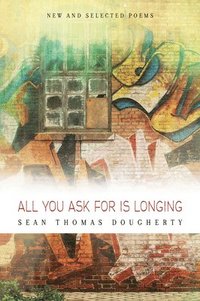 All You Ask For is Longing
New and Selected Poems
Skickas inom 3-6 vardagar.
Fri frakt inom Sverige för privatpersoner.
For over twenty years Sean Thomas Dougherty has negotiated between modernist and avant-garde writing and more populist traditions that extend back to Walt Whitman. His subject matter ranges from basketball to Bjork, from blue collar workers to Biggie Smalls, from Luciano Pavarotti to women waiting at a diner outside a prison in Upstate New York. Selecting from the best of eight previous collections, this New and Selected reveals the powerful arc and development of Dougherty's writing and establishes him as a voice of dissent for the future. A former Fulbright fellow, Sean Thomas Dougherty works at Gold Crown Billiards in Erie, Pennsylvania.
Passar bra ihop
+
Recensioner i media
"[Dougherty] wears his heart on both sleeves--he is not for everyone: but readers in search of socially conscious vigor, of street energy and "something to hold onto," may find that Dougherty is just what they need." --Publishers Weekly "Dougerty has been a staple of the underground poetry scene for nearly 30 years. He's come up the hard way--no overnight successes, no long-term university positions--and his poetry is as honest and ALIVE as any you'll read. When people talk about the poetry scene going soft or the scourge of 'workshopped poems' or, God forbid, the death of poetry--it's because they haven't read Dougherty's work. This New and Selected volume covers his full career-to-date and should wake us all up to the underground sound that's throbbing like a bass drum in the heart of contemporary poetry. Poetry ain't dead. It's working in a pool hall in Erie, Pennsylvania." --BUSTLE "There is unflinching realism in his work that the astute reader soon realizes that his poetry and his humanitarianism are among the most worthy American literary descendants of Walt Whitman and Emily Dickinson, whom Dougherty refers to as the father and mother of American poetry." --Utah Review "Dougherty celebrates a pivotal (if symbolic) touchstone. For more than two decades Dougherty has maintained a unique place in contemporary poetry by honoring the ghost notes of our everyday life. The breadth of this selected collection charts the development of Dougherty's career and examines our conflated assumptions of race, class, and the urban experience... His work, however personal, can also serve as a kind of historical record; the heart inside the heart of urban America. The political realities of our time are evoked on every page, whether or not Dougherty calls them out by name. Rather, it is the canvas backdrop of an extended portrait spanning two decades of indelible poetry." -Pleiades
Bloggat om All You Ask For is Longing
Övrig information
Sean Thomas Dougherty is the author of Nightshift Belonging to Lorca, a finalist for the Paterson Poetry Prize; Except by Falling, winner of the 2000 Pinyon Press Poetry Prize from Mesa State College; and BOA titles Broken Hallelujahs, Sasha Sings the Laundry on the Line, and All You Ask For is Longing: New and Selected Poems. His awards include two Pennsylvania Council for the Arts Fellowships in Poetry. Known for his electrifying performances, he has toured extensively across North America and Europe. He received an MFA in poetry from Syracuse University and lives in Erie, PA where he teaches writing workshops.
Innehållsförteckning
DISCOGRAPHY New Poems Long Like a River Dear L, Am I Another Exchanged for Yes The Blues is a Verb Dear L, The Choruses We Lost Along the Coast Poem To Be Put in A Drawer After Telling The Spanish Poet Tries to Explain Song for my Father Poem Written on a Chain-Link Fence Against Economics What Singing Left We Wrote Was What Was Sung Dear L, I Don't Know How Across the Grass Our Daughter Runs Balancing Life (a ball a blade a) Most of my Life is Gnawing the Most Remarkable Lies Our Limping When the Sirens Shriek At the Toss of a Coin A Dream Like a Jaguar Walked into Jorge's Cue Double It Jorge's Uncle Dear You Who Never Returned More Alone Than Lonlieness Deserted Parking Lots with Faded Lines We Once Were Stolen Skateboards A Weight What Is Lost Is Never Said Waiting to be Shot in the Back Searching for a Shallow Vein Decateur Chevy Dear L, Dizzy Dear L, I Cannot Spell Anything That Can Be Misread Dear L,I Am Your Scar The Voice I Pretend I Am Sometime Dear L, The Door Shuts the Rain Everyway Our Lungs Tattered ~ The Mercy of Sleep 1994 Tears for Saint Catherine Tears of Saint Catherine The Staircase of the Body On her Journey to Avignon to Argue the Fate of the Church with the Pope Like the Wings of White Moths on Moonless Nights Wounds of Blood and Light ~ Love Song of the Young Couple, The Dumb Job 1994 At Mike's Pub and Grub Tiny Griefs Danger Flammable The Sweeper I'm Looking for Lorca in your Letters I Open my Eyes to the Wind at the Corner ~ The Body's Precarious Balance 1997 Beyond the Chain-Link Fence Poem for Anthony Otherwise Known as Head Days of 1984 Long Coats with Deep Pockets Insert Your Name Here An Iron Spiral Cocoons Moon-Grief Utterance The Coat Alba on the Second Floor Clay ~ Except by Falling 2000 Spoken Blind to a Break Beat While Drinking Untitled at Hong Fats The Somnambulist Waltz Hungry There is Nothing to Offer my Breath Lamentation The Body is the Water Nine Innings to Go ~ The Biography of Broken Things 2003 In the Biography of Broken Things Prisons Them At a Certain Hour. On a Certain Day Spread Your Wings In the Rain ~ Nightshift Belonging to Lorca 2004 Invocation Erotic Poem Oranges Fuck Me Like Being Born (after Ruth Schwartz) Sean Thomas Dougherty Bus Stop at 12th Street Rimas Dissolutas Against Green Snowglobe In the Gloaming ~ Broken Hallelujahs 2007 Dear Pistachio The Sky Inside All You Ask for is Longing My Father's Fro in the Mode of Romare Bearden Oberek for Etheridge Knight The Day Biggie Smalls Died (AKA Christopher Wallace, March 7, 1997) Embraceable You Kowalski: A Historiography What We Keep After the Election ~ Sasha Sings the Laundry on the Line 2010 Arias The Opposite of Elegy Dear Tiara Our Love as an Origami Crane Raphael Shell Untitled on Someone Else's Anniversary Duet