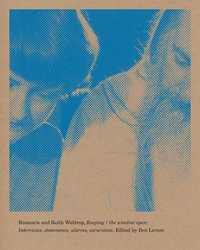 Fler böcker inom
Format

Häftad (Paperback / softback)

Språk

Engelska

Antal sidor

392

Utgivningsdatum

2019-05-23

Förlag

Medarbetare

Kunin, Aaron (introd.)

Illustrationer

Includes photographs, artwork, covers, and facsimiles; 138 Illustrations, unspecified

Dimensioner

254 x 203 x 25 mm

Vikt

952 g

ISBN

9781940696690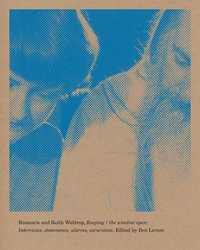 Keeping / the window open
Interviews, Statements, Alarms, Excursions
Skickas inom 3-6 vardagar.
Fri frakt inom Sverige för privatpersoner.
One of the most thorough accounts of the Waldrops' life and work ever published. The Waldrop's are a model for independent artists and thinkers, and the reflections, stories, and creative works assembled here should easily inspire many young writers and artists. As with the previous book in the series on Joanne Kyger, this book offers a wide array of materials that readers can read through cover to cover or browse, including poems, plays, essays, interviews, and more. This republishes some complete books, including the Waldrop's autobiography Ceci N'est Pas Keith, Ceci N'est Pas Rosmarie. Many of these pieces were published and distributed in limited editions by the Waldrops themselves and are now hard to find. Several pieces, including an interview with Keith Waldrop by Peter Gizzi and an interview with Rosmarie Waldrop by Ben Lerner, are previously unpublished. It is generously illustrated with numerous facsimiles of texts, posters, and artworks-including many of Keith's collages. It is edited by well-known poet and novelist Ben Lerner, with an introduction by well-known poet and scholar Aaron Kunin. Brown University maintains an archive of the Waldrop's work
Passar bra ihop
+
Fler böcker av författarna
Recensioner i media
"One of the leading voices in contemporary American poetry. Waldrop's nimble poetics of 'gap gardening' provides the emotional and ethical center."--Boston Review "A wonderful mix of philosophical conversation, erotic questions and astrophysical speculation--defiantly brilliant speculations."--Publishers Weekly "With this collection, it is evident that Waldrop's universe begins where Einstein's ends. Nearly fifty years of lyric riffs, meditations, and collages, using as source material the works of physicists, philosophers, explorers, historians, and critics, from Columbus to Wittgenstein, seek to simultaneously define, deconstruct, and, finally, re-construct a mind in motion."--Music & Literature "These poems demand a certain reverence."--Bookforum
Bloggat om Keeping / the window open
Övrig information
Rosmarie Waldrop is the author of numerous books of poetry, fiction, and essays, including Gap Gardening: Selected Poems and the trilogy Curves to the Apple. She has translated many works by writers such as Edmond Jabes, Jacques Roubaud, Friederike Mayroecker, Elke Erb, and others. She has taught at universities such as Wesleyan, Tufts, and Brown, and she is the recipient of many awards and fellowships from institutions such as the National Endowment for the Arts and the Fund for Poetry. In 2006 she was elected to the American Academy of Arts and Sciences. Keith Waldrop is the author of many books, including Transcendental Studies: A Trilogy, which won a 2009 National Book Award in Poetry. He has also translated many works by writers such as Claude Royet-Journoud, Anne-Marie Albiach, and Charles Baudelaire. He taught at Brown University from 1968 until his retirement and is the recipient of many awards and fellowships from institutions such as the National Endowment for the Arts and the Fund for Poetry. Together, Rosmarie and Keith Waldrop are the founders and editors of Burning Deck Press, which operated for fifty-six years, from 1961 to 2017. Ben Lerner is the author of three books of poetry (The Lichtenberg Figures, Angle of Yaw, and Mean Free Path), two novels (Leaving the Atocha Station and 10:04) and a work of criticism (The Hatred of Poetry). The recipient of fellowships from the Fulbright, Guggenheim, and MacArthur Foundations, Lerner is a Distinguished Professor of English at Brooklyn College.
Innehållsförteckning
Introduction, Aaron Kunin Light Travels Ceci n'est pas Keith, Ceci n'est pas Rosmarie from The Wolgamot Interstice (1961) from Aesthetic Uses of Obscenity, Keith Waldrop (graduate thesis, U Michigan) from Against Language?, Rosmarie Waldrop (graduate thesis, U Michigan) Change of Address (1968, cover photo by Walt Odets) "Paris" from The Form of a City Changes Faster Alas Than the Human Heart (Jacques Roubaud, tr. Keith and Rosmarie Waldrop, 2006) photo from Jabes house, Jabes drawing from The Book of Questions (Edmond Jabes, tr. Rosmarie Waldrop, 1976) from Lavish Absence: Recalling and Rereading Edmond Jabes from Etat (Anne-Marie Albiach, tr. Keith Waldrop) Claude Royet-Journoud: translation and letters from "An Interview with Claude Royet-Journoud by Keith & Rosmarie Waldrop" (1985) Translation as Collaboration (KW) "XXIV" and "XXV" from A Test of Solitude (Emmanuel Hocquard, tr. Rosmarie Waldrop, Serie d'Ecriture #12, 2000) Irreducible Strangeness (2001) "1st Weather" from Heiligenastalt (Friederike Mayrocker, tr. Rosmarie Waldrop, Dicten= #1, 1994) from "Music Is an Oversimplification of the Situation We Are In (in memory of John Cage)" from A Dark Octave (Burning Deck, 1967) author photo and poems from Aggressive Ways of the Casual Stranger (1972) from When They Have Senses (1980) photo (Paol Keineg) Thinking of Follows (1996) from Differences for Four Hands (1984) Why I Write Prose Poems (1987) from Reproduction of Profiles (1987) photo (Mangoldt, 1995) from Interview with Matthew Cooperman from A Key into The Language of America (1994) from A Form / Of Taking / It All (1990) Alarms and Excursions (1988) from Hanky of Pippin's Daughter (1986) from Interview with Joan Retallack Cut With the Kitchen Knife (2016) Rosmarie Waldrop, Interview with Ben Lerner (2017) poster from Wastepaper Theater The Resemblance Begins, play by Keith Waldrop (1976/1994) from Tank Line (1966) "Connecticut Elegy" (Burning Deck,1969) DO NOT DISTURB (song) from Songs from the Decline of the West (1970) from My Nodebook in December (1971) "To Rosmarie in Bad Kissingen" from the New Yorker (October 30, 1971) "Concept of Through" (from The Garden of Effort, 1976, written 1971) from The Quest for Mount Misery "Statement on Collage" (from A Grammar of Collage, edited by Francois Hugot, 1993) Collage(s) by Keith Waldrop (unpublished) from Shipwreck in Haven/Transcendental Studies Peter Gizzi and Keith Waldrop, REAL SHADOWS: INTERVIEW (1993-1997) stills from The Logical Structure of the World (film by Keith Waldrop) from Light While There Is Light Photo of Keith and Rosmarie Waldrop at printer [year, photographer] selections from Burning Deck magazine, issues one through four (1962-1965) Introduction to A Century in Two Decades: A Burning Deck Anthology, 1961-1981 Introduction to Burning Deck: One Score More (2002) "W" from Flat with No Key **** Rosmarie Waldrop bibliography Keith Waldrop bibliography Acknowledgments