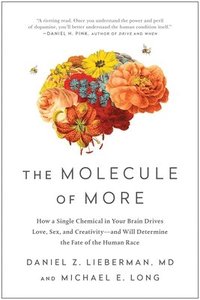 Fler böcker inom
Format

Häftad (Paperback / softback)

Språk

Engelska

Antal sidor

240

Utgivningsdatum

2019-09-03

Förlag

Dimensioner

226 x 147 x 20 mm

Vikt

272 g

Antal komponenter

1

ISBN

9781948836586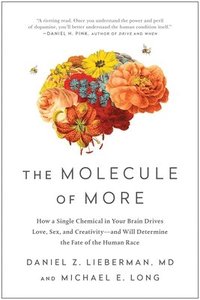 The Molecule of More
How a Single Chemical in Your Brain Drives Love, Sex, and Creativity--and Will Determine the Fate of the Human Race
Skickas från oss inom 3-6 vardagar.

Fri frakt över 249 kr för privatkunder i Sverige.
2020 Next Generation Indie Book Awards Winner - Science Category 2018 Forward Indies Finalist - Psychology Category Why are we obsessed with the things we want only to be bored when we get them? Why is addiction perfectly logical to an addict? Why does love change so quickly from passion to indifference? Why are some people die-hard liberals and others hardcore conservatives? Why are we always hopeful for solutions even in the darkest timesand so good at figuring them out? The answer is found in a single chemical in your brain: dopamine. Dopamine ensured the survival of early man. Thousands of years later, it is the source of our most basic behaviors and cultural ideasand progress itself. Dopamine is the chemical of desire that always asks for moremore stuff, more stimulation, and more surprises. In pursuit of these things, it is undeterred by emotion, fear, or morality. Dopamine is the source of our every urge, that little bit of biology that makes an ambitious business professional sacrifice everything in pursuit of success, or that drives a satisfied spouse to risk it all for the thrill of someone new. Simply put, it is why we seek and succeed; it is why we discover and prosper. Yet, at the same time, it's why we gamble and squander. From dopamine's point of view, it's not the having that matters. It's getting somethinganythingthat's new. From this understandingthe difference between possessing something versus anticipating itwe can understand in a revolutionary new way why we behave as we do in love, business, addiction, politics, religionand we can even predict those behaviors in ourselves and others. In The Molecule of More: How a Single Chemical in Your Brain Drives Love, Sex, and Creativityand will Determine the Fate of the Human Race, George Washington University professor and psychiatrist Daniel Z. Lieberman, MD, and Georgetown University lecturer Michael E. Long present a potentially life-changing proposal: Much of human life has an unconsidered component that explains an array of behaviors previously thought to be unrelated, including why winners cheat, why geniuses often suffer with mental illness, why nearly all diets fail, and why the brains of liberals and conservatives really are different.
Passar bra ihop
+
Fler böcker av författarna
Daniel Z Lieberman

The conscious mind, the part of your mental life you experience directly, is responsible for only a tiny sliver of what science says is going on inside your brain. Most of what you experience, your moods, and the things you like or dislike - most ...

Daniel Z Lieberman, Michael E Long

Warum wollen wir wie besessen bestimmte Dinge haben, sind aber gelangweilt, wenn wir sie bekommen? Warum verwandelt sich die Leidenschaft von Verliebten so schnell in Desinteresse? Die Antwort liegt in einem Hormon in unserem Gehirn: Dopamin. Es i...
Recensioner i media
"Daniel Lieberman and Michael Long have pulled off an amazing feat. They have made a biography of a neurotransmitter a riveting read. Once you understand the power and peril of dopamine, you'll better understand the human condition itself." Daniel H. Pink, author of Drive and When "Meet a molecule whose fingerprint rests upon every aspect of human naturefrom desire and drugs to politics and progress. Lieberman and Long tell the epic saga of dopamine as a page-turner that you simply can't put down." David Eagleman, PhD, neuroscientist at Stanford and New York Times bestselling author "I've worked as an artist for forty years, and the question Why am I like this?' has been a puzzle, a mystery, a plea, and an occasional cry to the heavens. Lieberman and Long have created a road map for all those wrestling between insatiable longing and the here and now." Thomas F. Wilson, actor and comedian "Why do we crave what we don't have rather than feel good about what we doand why do fools fall in love? Haunting questions of human biology are answered by The Molecule of More, a must-read about the human condition." Gregg Easterbrook, author of It's Better Than It Looks "As a guy who creates musical stuff for a living and reads science books for kicks, I was doubly hooked by The Molecule of More. Lieberman and Long lay out the astoundingly wide-ranging effects of dopamine with nimble metaphors and fat-free sentences. And the research linking creativity and madness, with dopamine as the hidden culpritlet's just say it hit home. Reading each chapter, I felt myself fitting a key smoothly into a locked door, opening onto a fresh-yet-familiar room." Robbie Fulks, Grammy-nominated recording artist "Jim Watson, who deciphered the genetic code, famously said, There are only molecules; the rest is sociology,' adding fuel to C. P. Snow's complaint that Science and the humanities are two fundamentally different "cultures" which will never meet. The authors argue provocatively, yet convincingly, that the molecule that allows us to bridge the chasm between them is dopamine. Though written for ordinary people, the narrative is sprinkled throughout with dazzling new insights that will appeal equally to specialists." V.S. Ramachandran, PhD, professor at the University of California, San Diego, and at Salk Institute and author of TheEmerging Mind
Övrig information
Daniel Z. Lieberman, MD, is a clinical professor of Psychiatry and Behavioral Sciences at George Washington University and SVP of mental health at Hims & Hers Health. Dr. Lieberman is a Distinguished Fellow of the American Psychiatric Association, a recipient of the Caron Foundation Research Award, and he has published over 50 scientific reports on behavioral science. He has provided insight on psychiatric issues for the U.S. Department of Health and Human Services, the US Department of Commerce, and the Office of Drug and Alcohol Policy, and has discussed mental health in interviews on CNN, C-SPAN, and PBS. Dr. Lieberman studied the Great Books at St. John's College. He received his medical degree and completed his psychiatric training at New York University. Trained as a physicist, Michael E. Long is an award-winning speechwriter, screenwriter, and playwright. As a playwright, more than 20 of his shows have been produced, most on New York stages. As a screenwriter, his honors include finalist for the grand prize in screenwriting at the Slamdance Film Festival. As a speechwriter, Mr. Long has written for members of Congress, U.S. cabinet secretaries, governors, diplomats, business executives, and presidential candidates. A popular speaker and educator, Mr. Long has addressed audiences around the world, including in a keynote at Oxford University. He teaches writing at Georgetown University, where he is a former director of writing. Mr. Long pursued undergraduate studies at Murray State University and graduate studies at Vanderbilt University.
Innehållsförteckning
Table of Contents Acknowledgements Introduction: Up Versus Down......................................................................................... 5 Chapter 1: Love............................................................................................................... 10 Chapter 2: Drugs............................................................................................................. 45 Chapter 3: Domination.................................................................................................... 89 Chapter 4: Creativity and Madness............................................................................... 152 Chapter 5: Politics......................................................................................................... 197 Chapter 6: Progress....................................................................................................... 246 Chapter 7: Harmony...................................................................................................... 283 Index