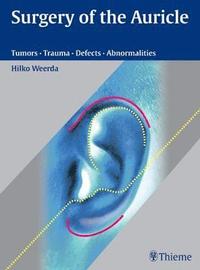 Fler böcker inom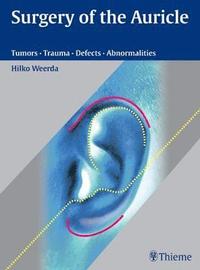 Surgery of the Auricle: Tumors-Trauma-Defects-Abnormalities
Tumors - Trauma - Defects - Abnormalities
Skickas inom 3-6 vardagar.
Fri frakt inom Sverige för privatpersoner.
Winner of the First Prize in ENT at the 2008 BMA (British Medical Association) Medical Book Competition This book is a comprehensive guide to the delicate and complex reconstructive procedures for the external ear. Featuring concise descriptions, step-by-step instructions, and numerous beforeand after photos, this book provides surgeons with the essential knowledge that successful surgery in this difficult field demands. The book opens with an overview of the anatomy and anthropometry of the external ear, aesthetic principles of auricular reconstruction, and the basic principles of plastic surgery. Separate sections of the book provide in-depth discussion of the techniques for managing tumors, trauma and non-inflammatory processes, auricular defects, and abnormalities. Features: -More than 1,300 illustrations and photographs that aid comprehension of auricular problems and surgical steps -Detailed discussion of classification of auricular defects and abnormalities -Coverage of the radiologic examination of malformations of the petrous temporal bone An incomparable reference for all surgeons specializing in treating defects and disorders of the external ear, this volume succeeds beautifully in capturing the myriad creative, scientific, and technical facets of auricular reconstruction.
Passar bra ihop
+
Fler böcker av Hilko Weerda
Recensioner i media
A considerable tour de force in surgical writing.--The Journal of Laryngology & OtologyA valuable, comprehensive reference...It is clear that many contributors to this volume are true authorities in this field...excellent...required reading for all serious auricular reconstruction and congenital ear surgeons.--The LaryngoscopeHilko Weerda is indeed one of the gifted few, applying his impressive...artistic skills in the operating theater...Dr. Weerda has produced an outstanding comprehensive text dedicated to the surgical management of auricular deformity, addressing congenital malformations and acquired defects, as well as purely aesthetic otoplasty...There are wonderful photographic examples of every type of congenital auricular defect imaginable with corresponding drawings that show which of the six embryologic hillocks are responsible for the configuration mishap...In summary, Weerda's "Surgery of the Auricle" is an outstanding text on the ear, certainly the finest ever published.--American Journal of Plastic and Reconstructive SurgeryThe best feature of the book is its comprehensive approach...exquisitely detailed figures...There is no similar book on the market...a high quality book...covers all aspects of auricular reconstruction.--Doody's Book Reviews
Bloggat om Surgery of the Auricle: Tumors-Trauma-Def...
Innehållsförteckning
1 Basic Principles
1.1 Anatomy of the External Ear
1.2 Anthropometry of the Auricle
1.3 Esthetic Principles of Auricular Reconstruction
1.4 Basic Principles of Plastic Surgery
2 Tumors of the External Ear
3 Trauma and Noninflammatory Processes
4 Classification and Surgery of Auricular Defects
5 Anomalies
5.1 Epidemiology
5.2 Embryology and Classification of Auricular Malformations
5.3 Classification and Surgery of Malformations Involving Excess Tissue*
5.4 Surgical Classification of Auricular Dysplasias
5.4.1 Grade 1 Dysplasias
5.4.2 Grade 2 Dysplasias
5.4.3 Grade 3 Dysplasias
5.4.4 Meatal Stenoses and Atresias
5.4.5 Skin Expansion in Preparation for Auricular (Re)construction
5.5 Unilateral and Bilateral Congenital Aural Atresia
5.5.1 Imaging of Petrous Bone Malformations
5.5.2 Treatment of Middle Ear Malformations: Technique and Results
5.5.3 Surgery of the Middle Ear for Grade 3 Microtia with Congenital Aural Atresia
5.5.4 Hearing Aids in the Treatment of Congenital Aural Atresia
5.6 Bone-Anchored Systems for Hearing Aids (BAHA) and Epithesis Attachment
5.7 Auricular Epitheses
5.7.1 Development of Auricular Epitheses
5.7.2 Epitheses in the Treatment of Auricular Defects
5.8 Maxillofacial Surgical Treatment of Hemifacial Microsomias
5.9 Methods of Epilation
5.10 Tissue Engineering of Human Cartilage
6 Afterword
7 Bibliography
8 Appendix
9 Subject Index