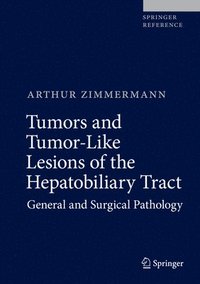 Fler böcker inom
Format

Inbunden (Hardback)

Språk

Engelska

Antal sidor

3559

Utgivningsdatum

2016-10-20

Upplaga

1st ed. 2017

Förlag

Illustrationer

879 Tables, color; 879 Illustrations, color; 1 Illustrations, black and white; XXXIII, 3559 p. 880 i

Antal komponenter

4

Komponenter

4 Hardbacks

ISBN

9783319269542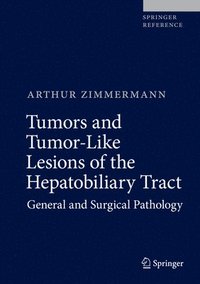 Tumors and Tumor-Like Lesions of the Hepatobiliary Tract
General and Surgical Pathology
Skickas inom 5-8 vardagar.
Fri frakt inom Sverige för privatpersoner.
Beställ boken senast idag 12 december kl. 11:30 för leverans innan julafton
Finns även som
Skickas inom 11-20 vardagar (specialorder)
This book covers all liver tumors and lesions that clinically and radiologically mimic liver tumors. It provides readers with a comprehensive overview of this complex and rapidly evolving field. All aspects of surgical pathology are addressed, supplemented by detailed presentations of the lesions' cell-biologic and molecular features. In addition, the methods employed for diagnosis and diagnostic algorithms are discussed. It appeals to pathologists and hepatologists and serves as an invaluable aid to diagnosis.The field of liver tumors and tumor-like lesions in adults and children has experienced tremendous advances in recent years. Specifically, the recognition of novel entities, deepened insights into known tumors, and refinement of classifications have necessitated continual updates and reappraisals. In addition, previous understanding of hepatic carcinogenesis and tumor progression has been transformed by the very rapid evolution of our understanding of cell biology, genomics, signaling pathways, cell interactions, and mechanisms of invasion and spread of hepatic tumor cells. These general pathology issues must be combined with surgical pathology if a comprehensive understanding of liver tumor pathology is to be achieved.
Passar bra ihop
+
Bloggat om Tumors and Tumor-Like Lesions of the Hepa...
Övrig information
Professor Arthur Zimmermann is an internationally known specialist in hepatobiliary tumor pathology. After his training as pathologist at the University of Berne, he worked in basic research for several years, focusing on tumor cell growth regulation, tumor cell locomotion and protein kinase signaling. As acting director of the Institute of Pathology of the University of Berne (more than 150 persons work in diagnostics, basic research and student teaching), he implemented the most modern methods of cell biology and genome studies. Professor Zimmermann analyzed more than 20'000 liver specimens, detected several new tumor entities, and was an author or coauthor of more than 500 publications in this field. Furthermore, he was one of the editors of the very successful book Pediatric Liver Tumor (Pediatric Oncology Series Book, Springer, 2011).As chapter author, he participated in several well-known books, including Blumgart's Surgery of the Liver and Biliary tract, the Oxford Textbook of Oncology (2nd ed., Oxford Univ.Press, 2002), Felix Lee's Liver Cancer : New Research (Nova Publishers, 2006), Bleyer and Barr's Cancer in Adolescents and Young Adults (Springer, 2007), Rodes's Textbook of Hepatology (Blackwell, 2007), the WHO Classification of Tumors of the Digestive System (2010 edition), Saxena's Practical Hepatic Pathology (Elsevier, 2011 ), and Pizo and Poplack's Principles and Practice of Pediatric Oncology ( Lippincott, Williams and Wilkins, 2011 ). Professor Zimmermann developed the world pathology review center for the multinational SIOPEL liver cancer treatment studies. Together with COG, SIOPEL is the largest Study Group for liver cancer in children, and many hundreds of patients are currently taken care of worldwide. In his function as head of the review and consulting center, Professor Zimmermann developed a new classification of pediatric liver tumors (the SIOPEL Classification).
Innehållsförteckning
Tumors of the Hepatocyte Lineage and its Precursors.-Tumors of the Cholangiocyte Lineage.-Hepatobiliary Tumors Derived From Other Epithelial Lineages.-Mixed Epithelial-Mesenchymal Tumors of the Hepatobiliary Tract (Tumors With Epithelial-Mesenchymal Transition).-Vascular Tumors of the Hepatobiliary Tract.-Tumors and Tumor-Like Lesions of Lymph Vessels of the Hepatobiliary Tract.-Solitary Fibrous Tumor and Tumors With a Hemangiopericytoma-Like Pattern.-Mesenchymal Tumors of the Hepatobiliary Tract.-Tumors of the Mesothelial Lineage.-Tumors of the Perivascular Epithelioid Cell (PEC) System.-Hepatobiliary Tumors of Neuroendocrine Lineages.-Hepatobiliary Tumors With a Small Cell Undifferentiated Lineage.-Hepatobiliary Melanotic Tumors.-Hepatobiliary Tumors With a Rhabdoid Cell Lineage.-Hepatobiliary Germ Cell Tumors.-Hepatobiliary Myeloid Neoplasms.-Hepatobiliary Hodgkin's Disease.-Hepatobiliary Non-Hodgkin's Lymphomas, Other Lymphoproliferative Disorders, and Neoplasms /Proliferations of the Dendritic and Histiocytic Systems.-Mesenchymal Hamartoma and Related Neoplasma.-Metastatic Liver Disease.-Tumors and Tumor-Like Lesions of the Hepatic Ligaments.-Nodular Hyperplastic Lesions of the Liver.-Hepatobiliary Pseudotumors.-Non-Neoplastic Mass Lesions of the Hepatobiliary Tract.-Reactive Cystic Lesions of the Liver.-Hepatobiliary Mass Lesions Caused by non-Infectious Granulomas.-Hepatobiliary Mass Lesions Caused by Fibrosclerotic Lesions.-Reactive Bile Duct Alterations Mimicking Biliary Tumors.-Tumors and Pseudotumors of the Gallbladder.-Peritoneal Tumors and Tumor-Like Lesions.-General Pathology of Hepatobiliary Tumors: Etiology and Pathogenesis of Hepatocellular Carcinoma.-General Pathology of Hepatobiliary Tumors: Structural and Functional Changes of Nuclei.-General Pathology of Hepatobiliary Tumors: Mitochondrial Biology.-General Pathology of Hepatobiliary Tumors: Growth and its Regulation.-General Pathology of Hepatobiliary Tumors: Necrobiology of Liver Cancer.-General Pathology of Hepatobiliary Tumors: Invasion and Metastasis.-General Pathology of Hepatobiliary Tumors: Tumor Stroma.-General Pathology of Hepatobiliary Tumors: Angiogenesis.-Staging of Liver Cancer.-