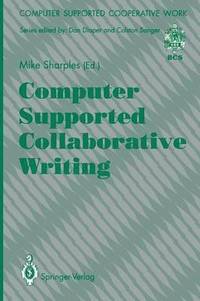 Fler böcker inom
Format

Häftad (Paperback / softback)

Språk

Engelska

Antal sidor

222

Utgivningsdatum

1993-02-01

Upplaga

Edition. ed.

Förlag

Medarbetare

Sharples, Mike (ed.)

Illustrationer

8 Illustrations, black and white; XV, 222 p. 8 illus.

Dimensioner

234 x 156 x 13 mm

Vikt

340 g

Antal komponenter

1

Komponenter

1 Paperback / softback

ISBN

9783540197829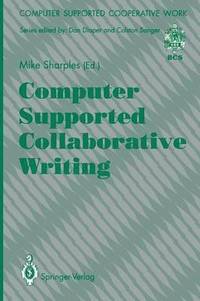 Computer Supported Collaborative Writing
Skickas inom 10-15 vardagar.
Fri frakt inom Sverige för privatpersoner.
M. Sharples 1. 1 The Collaborative Tradition Collaborative writing is nothing new. The description below is from the introduction to a book published in 1911: Every page, however, has been debated and passed by the three of us. Our usual method has been, first to pick up a subject that interested us, perhaps a subject we had been talking about for a long while, then to discuss it and argue over it, ashore and afloat, in company and by ourselves, till we came to our joint conclusion. Then on a rough day, in a set-to discussion, I would take down notes, which frequently amounted in length to more than half the finished article. From the notes I would make a rough draft, which, after more discussion, would be re written, and again, after revision, typewritten. We would go through the printer's proofs together and finally, after reading the matter in print, we have once more revised it for book publication. Collaboration could not be more thorough. (Reynolds, et al. 1911, p. x) The book, Seems So! A Working-class View of Politics, was written by an aca demic working closely with two fishermen.
Passar bra ihop
+
Bloggat om Computer Supported Collaborative Writing
Innehållsförteckning
1 Introduction.- 1.1 The Collaborative Tradition.- 1.2 New Ways of Working Together.- 1.3 Grand Plans or Small Tools.- 2 Research Issues in the Study of Computer Supported Collaborative Writing.- 2.1 Introduction.- 2.2 Background.- 2.3 Writing and Group Working.- 2.3.1 Single-Author Writing.- 2.3.2 Small-Group Working.- 2.3.3 Collaborative Writing.- 2.4 Research Issues.- 2.5 Task Issues.- 2.5.1 Strategies for Partitioning and Coordination.- 2.5.2 Interleaving Tasks.- 2.6 Group Issues.- 2.6.1 Substitutability and Interdependence Between Group Members.- 2.6.2 Roles.- 2.6.3 Management of Conflict.- 2.6.4 Sub-Groups.- 2.7 Communication Issues.- 2.7.1 Identifying the Purpose of a Communicated Representation.- 2.7.2 Communication in Context.- 2.7.3 Deindividuation and Media Effects.- 2.7.4 Structured Communication.- 2.8 External Representation Issues.- 2.8.1 What To Represent?.- 2.8.2 Constraints.- 2.8.3 Communication of Representations.- 2.8.4 Effects of Media on Representations.- 2.8.5 Version Management.- 2.9 Conclusion.- 3 Social Writing: Premises and Practices in Computerized Contexts.- 3.1 Introduction.- 3.2 Background.- 3.2.1 Perspectives.- 3.2.2 Technology.- 3.3 Case Studies.- 3.3.1 Case Study 1: A Specification.- 3.3.2 Case Study 2: A Document to Support Budget Allocation Decisions.- 3.4 Conclusions.- 4 Computer Networking for Development of Distance Education Courses.- 4.1 Introduction.- 4.2 Issues in Course Team Collaboration.- 4.2.1 Models of Course Development.- 4.2.2 Course Team Work: An Instrumental Perspective..- 4.2.3 Course Team Work: What it's Really Like.- 4.3 Technology Support for Course Team Work.- 4.3.1 Networked Groupware.- 4.3.2 Three Success Stories.- 4.3.3 Factors Affecting Successful Implementation.- 4.4 Conclusion.- 5 How Collaborative is Collaborative Writing? An Analysis of the Production of Two Technical Reports.- 5.1 Introduction.- 5.2 Background and Method.- 5.3 Document 1: The Consultancy Report.- 5.3.1 Authors.- 5.3.2 Document and Facilities.- 5.3.3 Design and Procedure.- 5.3.4 Results for Document 1.- 5.4 Document 2: The Project Document.- 5.4.1 Authors.- 5.4.2 Document and Facilities.- 5.4.3 Design and Procedure.- 5.4.4 Results for Document 2.- 5.5 General Discussion.- 5.6 Conclusion.- 6 A Survey of Experiences of Collaborative Writing.- 6.1 Introduction.- 6.2 Method.- 6.3 Results.- 6.3.1 Document.- 6.3.2 Organization of Work.- 6.3.3 Group.- 6.3.4 Orientation.- 6.4 Discussion.- 6.4.1 Results.- 6.4.2 Coverage.- 7 Multimedia Conferencing as a Tool for Collaborative Writing: A Case Study.- 7.1 Introduction.- 7.1.1 Collaborative Writing.- 7.1.2 Multimedia Conferencing.- 7.1.3 Collaborative Writing with Multimedia Conferencing Support.- 7.1.4 Case Study.- 7.2 Supporting Mechanism.- 7.2.1 CAR Multimedia Conferencing System.- 7.2.2 Electronic Mail.- 7.2.3 Shared Filestore.- 7.2.4 Consistency and Concurrency Control.- 7.3 Document Evolution.- 7.3.1 Generating Ideas.- 7.3.2 Managing the Development.- 7.3.3 Review and Commenting.- 7.3.4 Integration.- 7.3.5 Decision Making and Conflict Resolution.- 7.4 Assessment and Evaluation.- 7.4.1 Using Synchronous and Asynchronous Modes of Communication.- 7.4.2 SCCS.- 7.4.3 Sharing Applications.- 7.5 Conclusions.- 8 Reviewing Designs for a Synchronous-Asynchronous Group Editing Environment.- 8.1 Introduction.- 8.2 Cooperative Work.- 8.2.1 Direct Communication.- 8.2.2 Shared Artefacts.- 8.2.3 Broad-Based Requirements.- 8.3 Issues in Computer Support for Direct Communication.- 8.3.1 Some Ideas for Conversation Space Design.- 8.4 Issues in Shared Editor Design.- 8.4.1 Some Ideas for Shared Editor Design.- 8.5 Design Ideas for Integrating Conversation Spaces and Shared Editor.- 8.5.1 Establishing Referential Identity.- 8.5.2 Providing a "Global" Conversation Space.- 8.5.3 Playback Facilities.- 8.6 Discussion.- 9 A Case Study in Task Analysis for the Design of a Collaborative Document Production System.- 9.1 Introduction.- 9.2 Context of the Design.- 9.2.1 IBC