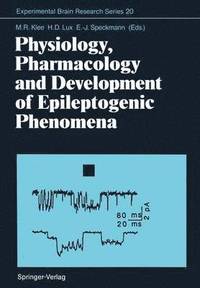 Fler böcker inom
Format

Häftad (Paperback / softback)

Språk

Engelska

Antal sidor

265

Utgivningsdatum

2012-03-10

Upplaga

Softcover reprint of the original 1st ed. 1991

Förlag

Medarbetare

Klee, Manfred R. (ed.), Lux, Hans D. (ed.), Speckmann, Erwin-Josef (ed.)

Illustrationer

23 Tables, black and white; XIV, 265 p.

Antal komponenter

1

Komponenter

1 Paperback / softback

ISBN

9783642467349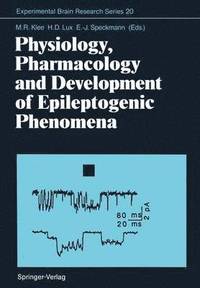 Physiology, Pharmacology and Development of Epileptogenic Phenomena
Skickas inom 5-8 vardagar.
Fri frakt inom Sverige för privatpersoner.
In July of 1989 the 31. International Congress of Physiological Sciences was held in Helsinki. This event in Finland gave us a chance to organize and maintain a satellite symposium on problems of epilepsy from July 4th to 8th, 1989, in Frankfurt-Main. In order to reduce the number of satellite symposia outside of Finland, the president of the IUPS asked different national committees to organize joint meetings. Previously, Dr. Mare~ and Dr. Rokyta had planned to organize a symposium on developmental aspects of epilepsy in Prague, while a meeting in Frankfurt had been planned as an update of a former satellite symposium on physiology and pharmacology of epileptogenic phenomena, held here in 1980. However we were able to combine our efforts by organizing one satellite symposium in Frankfurt entitled: 'PHYSIOLOGY, PHARMACOLOGY and DEVELOPMENT of EPILEPTOGENIC PHENOMENA'. Scientists are generally disappointed about the slow progress in knowledge of their field. We found that by comparing the outcome of the two symposia in 1980 and 1989 a remarkable progress in different, some completely new aspects of the field of experimental epileptogenesis could be realized. Also the new interest in the development of the brain contributed enormously to our understanding of the mechanisms underlying epileptogenic phenomena. We would like to thank all of our colleagues who accepted our invitation to present their recent data and for sending us their manuscripts.
Passar bra ihop
+
Bloggat om Physiology, Pharmacology and Development ...
Innehållsförteckning
I Biophysical Mechanisms of Epileptogenic Activity.- Do Proton-Activated Transient Sodium Currents Contribute to Paroxysmal Depolarization?.- Synaptic Synchronized Burst Activity in a Hypothalamic Network..- Synaptic Inhibition, Intrinsically Bursting Neurons and Synchronization in Neocortex..- Nonsynaptic Spread of Epileptiform Activity in Rat Hippocampal Slices..- Interictal Discharges: Changes in Size of Extracellular Space in Relation to Changes in Extracellular K+ and Na+ Concentration..- Convulsant Hydroxybenzenes Differentially Modulate A-Currents in Molluscan Neurons..- Analysis of the Slow Inward Current Induced by Pentylenetetrazol..- Potassium Homeostasis in the Extracellular Space Surrounding Squid Axons during Repetitive Activity..- Properties of the Low-Threshold Calcium Current in Thalamic Relay Neurons:Recovery from Inactivation in Relation to the Control of Repetitive Burst Generation..- Free Calcium Transient and Oscillations in Nerve Cells..- Intracellular Calcium Regulation and Neuronal Modulation..- Dendritic Ca2+ Channels of Rat Purkinje Cells Maintained in Culture..- Characterization of Chloride Channels in Pituitary Intermediate Lobe Cells: Sensitivity to Internal Calcium..- Sprouting and Degeneration of Dendrites of the Identified Neuron B3 in the Buccal Ganglia of Helix Pomatia after Epileptic Activity..- Temporal Coupling of Epileptic Discharges in the Buccal Ganglia of Helix Pomatia..- II Biochemical Mechanisms of Epileptogenic Activity.- Mechanisms Underlying Enhanced Synaptic Activation of NMDA Receptors During Hippocampal Seizures..- Release of Intracellularly Stored Ca2+ in Hippocampal Neurons by NMDA Receptor Activation..- NMDA Receptor-Mediated EPSP in Developing Rat Neocortex..- Role of Glutamate Receptors in Potassium-Induced Paroxysms in Rat Hippocampal Slices..- Excitatory Amino Acids-Induced Synaptic Plasticity in Hippocampus: Relation to the Age of Animals..- Increase in Glutamate Responses by GABA in Neocortical and Archicortical Structures..- The Action of Neuropeptides on Transmitter Release at the Neuromuscular Synapse..- Cholecystokinin and Epileptogenesis in the Hippocampal CA3 Region..- In Vivo and In Vitro Studies of the Epileptic Focus Induced by the Interruption of a Cortical GABA Infusion..- Serotonergic Attenuation of Low Ca2+ Induced Bursting in the CA1 Region of the Rat Hippocampus..- Excitability Changes Induced in Rat Neocortical Neurons by the Selective Blockade of a Low Km, Ca2+/Calmodulin - Independent cAMP - Phosphodiesterase..- Action of a Phorbol Ester in the Presence of Two PKC Blockers..- Genetically Determined Seizure Susceptibility in the Rat..- The Role of the Dentate Gyrus in Transmission of Epileptiform Activity from the Entorhinal Cortex to the Hippocampus..- Changes in Parvalbumin and Calbindin D28K Immunoreactivity in Rat Brain Following Pilocarpine-Induced Seizures..- III Developmental Aspects of Epileptogenesis.- Developmental Alternations in NMDA-Mediated Excitation in Rat Visual and Somatosensory Cortex..- Consequences of Epileptic Seizures in the Developing Brain..- Epileptogenesis and the Immature Brain. I. Cortical Mechanisms..- Epileptogenesis and the Immature Brain. II. Subcortical Mechanisms..- Involvement of Excitatory Amino Acid Receptors in Epileptiform Activity in the Immature Neocortex..- Susceptibility to Bicuculline-Induced Seizures after Neonatal Hypoxia..- Cortico-Cortical Transfer During Initial Phases of Kindling in the Rat: A Developmental Study.- Plasma Levels and Anticonvulsant Action of Phenytoin and Carbamazepine in Immature Rats..- Effect of Hypoxia on Hippocampal Afterdischarges in Young Rats..- Epileptiform Activity as Dependent and Independent Variables in Brain Maturation: A Comparison of the Effects of Chronic Tetrodotoxin and Picrotoxin Treatment on Developing Rat Neocortex Neurons Cultured in Vitro.- Motor Seizures in Immature Rats..- Increased Epileptogenesis in the Immature Hippocampus..- Changes in Lipid Metabolism in E