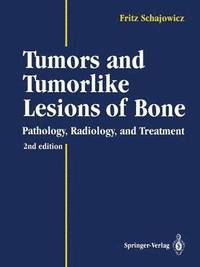 Fler böcker inom
Format

Häftad (Paperback / softback)

Språk

Engelska

Antal sidor

649

Utgivningsdatum

2012-07-26

Upplaga

Softcover reprint of the original 2nd ed. 1994

Förlag

Medarbetare

Sundaram, Murali (ass. by)/Gitelis, Steven (ass. by)/McDonald, D.J. (ass. by)/Sundaram, Murali (ass. by)/Gitelis, Steven (ass. by)/McDonald, D.J. (ass. by)/Sundaram, Murali (ass. by)/Gitelis, Steven (ass. by)/McDonald, D.J. (ass. by)

Illustrationer

XXII, 649 p.

Antal komponenter

1

Komponenter

1 Paperback / softback

ISBN

9783642499562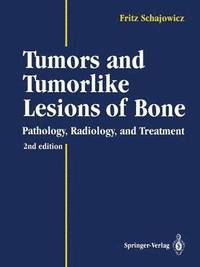 Tumors and Tumorlike Lesions of Bone
Pathology, Radiology, and Treatment
Skickas inom 10-15 vardagar.
Fri frakt inom Sverige för privatpersoner.
Boken kan tyvärr inte levereras innan julafton.
More than ten years have elapsed since the publication of the first edition of Tumors and Tumorlike Lesions of Bone and Joints in 1981. During this period significant progress has been made in diagnosis, and particularly in staging and treatment of bone tumors. In most centers, limb-sparing surgery has replaced the more radical ablative surgery, with or without preoperative chemotherapy. This became possible due to the introduction and increased application of newer high-quality imaging techniques (CT and MRI) and in particular the use of new cytomorphologic methods of diagnosis, especially immunohisto chemistry. These advances in diagnosis and treatment have been reflected by the publication of new editions of several important text books, since their authors - pathologists, orthopedic surgeons, and radiologists - felt the necessity of updating their works in recent years. However, in these publications different criteria of classification were adopted. The number of cases compiled at the Latin American Registry of Bone Pathology increased from 4913 primary bone tumors and more than 1100 tumorlike lesions at the time of publication of the first edition of this book, to 5274 bone tumors and 1665 tumorlike lesions by the end of December 1985, when I finished my work as head of the Registry and occupied the positions of Professor of Orthopedic Pathology at St. Louis University Medical Center and Distinguished Visiting Professor at Rush-Presbyterian-St. Luke's Medical Center in Chicago.
Passar bra ihop
+
Fler böcker av Fritz Schajowicz
Histological Typing of Bone Tumours

Fritz Schajowicz

During the two decades since the publication of the first edition of Histological Typing of Bone Tumours, new methods of diagnosis, es- pecially radiological imaging techniques (computed tomography and magnetic resonance imaging), associated with ...
Recensioner i media
"The first edition received outstanding reviews... This beautifully illustrated edition takes that success and improves on it...Those involved in the treatment of bone tumors are aware of Schajowiczs vast experience and the esteem in which the first edition was held, and they will certainly want a copy of the current edition." Jnl. of Bone and Joint Surgery
Bloggat om Tumors and Tumorlike Lesions of Bone
Innehållsförteckning
Diagnosis of Bone Tumors.- The Role of Imaging. Murali Sundaram.- The Role of Pathology.- Classification of Bone Tumors.- I Bone-Forming Tumors.- A. Benign.- 1. Osteoma.- 2. Osteoid Osteoma and Osteoblastoma.- B. Intermediate.- 1. Aggressive (Malignant) Osteoblastoma.- C. Malignant.- 1. Osteosarcoma.- II Cartilage-Forming Tumors.- A. Benign.- 1. Chondroma.- 2. Osteochondroma (Osteocartilaginous Exostosis).- 3. Chondroblastoma (Epiphyseal Chondroblastoma, Benign Chondroblastoma).- 4. Chondromyxoid Fibroma (Fibromyxoid Chondroma).- B. Malignant.- 1. Chondrosarcoma.- 2. Juxtacortical (Periosteal) Chondrosarcoma.- 3. Mesenchymal Chondrosarcoma.- 4. Clear-Cell Chondrosarcoma.- III Giant-Cell Tumor (Osteoclastoma).- Giant-Cell Tumor in Paget Disease.- IV Marrow Tumors (Round-Cell Tumors).- 1. Ewing Sarcoma.- 2. Primary Neuroectodermal Tumor of Bone.- 3. Malignant Lymphoma of Bone (Non-Hodgkin Lymphoma).- 4. Myeloma.- Myeloma and Amyloidosis.- "Solitary" (Localized) Myeloma.- V Vascular Tumors.- A. Benign.- 1. Hemangioma.- 2. Lymphangioma.- 3. Glomus Tumor (Glomangioma).- B. Intermediate or Indeterminate.- 1. Hemangioendothelioma.- 2. Hemangiopericytoma.- C. Malignant.- 1. Angiosarcoma.- VI Other Connective Tissue Tumors.- A. Benign.- 1. Benign Fibrous Histiocytoma.- 2. Lipoma.- B. Intermediate.- 1. Desmoplastic Fibroma.- C. Malignant.- 1. Fibrosarcoma.- 2. Malignant Fibrous Histiocytoma.- 3. Liposarcoma.- 4. Malignant Mesenchymoma.- 5. Primary Leiomyosarcoma of Bone.- 6. Undifferentiated Sarcoma.- VII Other Tumors.- A. Benign.- 1. Neurilemoma (Schwannoma, Neurinoma).- 2. Neurofibroma.- B. Malignant.- 1. Chordoma.- 2. "Adamantinoma" of Long Bones (Adamantinoma of the Appendicular Skeleton).- VIII Tumors Arising at Site of Preexisting Bone Lesions.- 1. Sarcoma Developing in Paget Disease of Bone.- 2. Postradiation Sarcoma of Bone.- IX Tumorlike Lesions.- 1. Solitary Bone Cyst (Simple or Unicameral Bone Cyst).- 2. Aneurysmal Bone Cyst (Multilocular Hematic Bone Cyst).- 3. Juxta-articular Bone Cyst (Intraosseous Ganglion).- 4. Metaphyseal Fibrous Defect (Nonossifying Fibroma, Histiocytic Xanthogranuloma).- 5. Eosinophilic Granuloma (Histiocytosis X, Langerhans Cell Granulomatosis).- 6. Fibrous Dysplasia and Osteofibrous Dysplasia.- 7. "Myositis Ossificans" (Heterotopic Ossification).- 8. "Brown Tumor" of Hyperparathyroidism.- 9. Intraosseous Epidermoid Cyst.- 10. Giant-Cell (Reparative) Granuloma (Giant-Cell Reaction).- X Current Concepts of Treatment of Bone Tumors.- 1. Giant-Cell Tumor: Staging and Treatment.- 2. Chondrosarcoma.- 3. Osteosarcoma.- 4. Ewing Sarcoma.