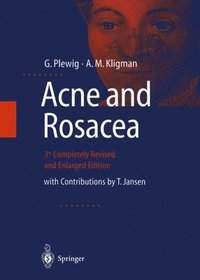 Fler böcker inom
Format

Häftad (Paperback / softback)

Språk

Engelska

Antal sidor

744

Utgivningsdatum

2011-12-23

Upplaga

3rd ed. 2000. Softcover reprint of the original 3rd ed. 2000

Förlag

Medarbetare

Jansen, T. (contributions)

Illustrationer

24 Tables, black and white; 547 Illustrations, color; 31 Illustrations, black and white; XIV, 744 p.

Antal komponenter

1

Komponenter

1 Paperback / softback

ISBN

9783642640964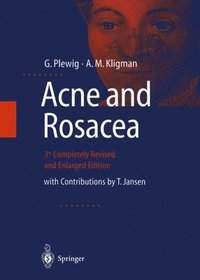 ACNE and ROSACEA
Skickas inom 10-15 vardagar.
Fri frakt inom Sverige för privatpersoner.
The third, revised edition of this lavishly illustrated book covers all aspects of acne, acne-like disorders and rosacea, including its physiology, pathology, bacteriology, and endocrinology, with special emphasis placed on the histopathology. The text is supplemented by selected references and a richly illustrated portfolio of histopathological pictures. The authors critically examine the spectrum of pharmacological and physical methods of controlling acne, acne-like diseases, and rosacea, and go on to present in detail their personal strategies for successful treatment.
Passar bra ihop
+
Bloggat om ACNE and ROSACEA
Innehållsförteckning
History of Acne and Rosacea Acne.- History of Acne and Rosacea Acne.- Acne.- Etiology, Pathophysiology, and Nosology of Acne.- Prevalence.- A Precis of Pathogenesis.- Anatomy of Follicles.- Epidermal Lipids.- Sebaceous Glands.- Anatomy of Sebaceous Glands.- Physiology of Sebaceous Glands.- Micro-organisms.- Cocci.- Yeasts.- Propionibacteria.- Endocrinology of Acne.- The Evolution of the Comedo.- Dynamics of Primary Comedo Formation.- Dynamics of Secondary Comedo Formation.- Cysts.- Fistuled Polyporous Comedones.- Draining Sinuses.- Dynamics of Inflammation.- Inflammatory Lesions and Sequels.- Pustules.- Papules.- Nodules.- Draining Sinuses.- Scope of Scars.- Pitted, Crateriform, and Ice-Pick Scars.- Atrophic Scars.- Hypertrophic Scars.- Perifollicular Papular Scars.- Calcified Scars.- Keloids.- Fistulated Scars (Polyporous Comedones).- Draining Sinus.- Classification of Acne.- Models of Acne.- Acne in Animals: Canine and Feline Acne.- Animal Models.- Syrian Hamster.- Rabbit Ear.- Rhino Mouse.- Human Sebocyte Cultures.- The Acnes.- Acne in Childhood.- Acne Neonatorum.- Acne Infantum.- Acne Conglobata Infantum.- Acne Venenata Infantum.- Steroid Acne in Infants.- Hippie Acne, Lip Balm Acne, McDonald Acne, and Kelp-Acne.- Chloracne in Children.- Fetal Hydantoin Syndrome.- Androluteoma Syndrome of Pregnancy.- Acne in Puberty and Adulthood.- Acne Comedonica (Comedonal Acne).- Acne Papulopustulosa (Papulopustular Acne).- Acne Conglobata.- Acne Inversa.- Acne Fulminans.- SAPHO Syndrome.- Solid Facial Persistent Edema in Acne.- Acne Mechanica.- Back Acne.- Acne Tropicalis (Tropical Acne).- Postadolescent Acne in Women.- Premenstrual Acne.- Perimenopausal and Postmenopausal Acne.- Polycystic Ovary Syndrome and SAHA Syndrome.- Congenital Adrenal Hyperplasia.- Cushing Syndrome.- Androgen Excess.- XYY Acne Conglobata.- Body-Building Acne (Doping Acne).- Excoriations.- Acne Venenata.- Occupational Acnes.- Lip Balm Acne.- Acne Cosmetica.- Pomade Acne.- Chloracne.- Solar Comedones (Favre-Racouchot Disease).- Acne Aestivalis (Mallorca Acne).- Radiation-induced Comedones.- Genetic Syndromes Associated with Acne or Acne-like Disorders.- PAPA Syndrome.- Ectrodactyly, Soft-tissue Syndactyly, and Nodulocystic Acne.- Apert Syndrome.- Familial Dyskeratotic Comedones.- Haber Syndrome.- Acne-free Nevus and Clonal Acne.- Atrophodermia Vermiculata.- Acneiform Diseases.- Acneiform Eruptions.- Steroid Acne.- Amineptine Acne.- Ecstasy Pimples.- Rosacea.- Rosacea.- Prevalence.- Etiology and Pathogenesis.- Clinical Findings.- Histopathology.- Laboratory Findings.- Differential Diagnosis.- Treatment.- Topical.- Systemic.- Miscellaneous.- Special Treatment Cases.- Acne-like Disorders.- Perioral Dermatitis.- Demodex folliculorum.- Gram-negative Folliculitis.- Necrotizing Lymphocytic Folliculitis (Acne Necrotica).- Sebaceous Gland Hyperplasia.- Steatocystoma Multiplex.- Steatocystoma Simplex.- Eruptive Vellus Hair Cysts.- Nevus Comedonicus.- Dilated Pore.- Pilar Sheath Acanthoma.- Omphalolith: The Ugly Navel Stone.- Keratosis Pilaris.- Pseudofolliculitis Barbae.- Osteoma Cutis.- Minocycline-induced Hyperpigmentation.- Treatment of Acne.- History of Therapy: Post, Present and Future.- Strategic Approaches to the Treatment of Acne.- Diet.- Cleanliness.- Scalp Care.- External Contactants.- Emotions and Psychosomatic Factors.- How to Approach Acne.- Selection of Therapy.- Appraisal of Efficacy.- Topical Treatment.- Tretinoin (all-frans-Retinoic Acid, Vitamin A Acid).- Other Topical Retinoids.- Benzoyl Peroxide.- Topical Antibacterial Agents.- AzelaicAcid.- FusidicAcid.- Nicotinamide.- Salicylic Acid.- Systemic Treatment.- Antibiotics: Tetracyclines and Macrolides.- Isotretinoin (13-ds-Retinoic Acid).- Vitamin A (Retinol).- Sulfonamides.- Sulfones.- Estrogens and Oral Contraceptives.- Antiandrogens and Aldosterone Antagonists.- 5?-Reductase Inhibitors.- Corticosteroids.- Zinc.- Physical Therapy.- Ultraviolet Radiation.- Cryotherapy.- Abrasives.- Chemical Peels.- Laser