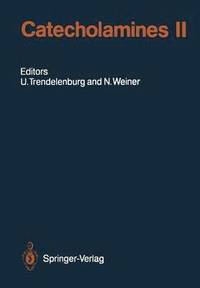 Format

Häftad (Paperback / softback)

Språk

Engelska

Antal sidor

487

Utgivningsdatum

2011-12-06

Upplaga

Softcover reprint of the original 1st ed. 1989

Förlag

Medarbetare

Arnold, M.A. (contributions)/Koob, G.F. (contributions)/Bartholini, G. (contributions)/Black, I.B. (contributions)/Bloom, F.E. (contributions)/Brownstein, M.J. (contributions)/Conolly, M.E. (contributions)/Jonakait, G.M. (contributions)/Arnold, M.A. (contributions)/Koob, G.F. (contributions)/Barthol

Illustrationer

XXII, 487 p.

Antal komponenter

1

Komponenter

1 Paperback / softback

ISBN

9783642735530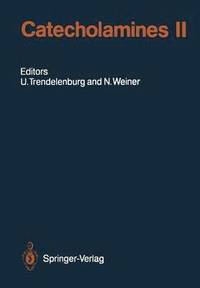 Catecholamines II
Skickas inom 10-15 vardagar.
Fri frakt inom Sverige för privatpersoner.
Catecholamines are important transmitter substances in the autonomic and central nervous systems. These two volumes provide a comprehensive presentation of the state-of-the-art of catecholamine research and development in the past 15 years. The volumes present in-depth reviews of topical areas of catecholamine research in which substantial progress has been made and which are of current interest to various theoretical and clinical disciplines. Each topic has been dealt with by an established expert. Clinical subjects of relevant importance are included. Catecholamines are of interest in pharmacology, physiology, biochemistry, as well as in neurology, psychiatry, internal medicine (cardiology, hypertension, asthma), ophthalmology and anesthesiology.
Passar bra ihop
+
Bloggat om Catecholamines II
Innehållsförteckning
10 Catecholamines in the Central Nervous System.- A. Central Catecholamine-Containing Neuronal Systems.- I. Introduction.- 1. Dopaminergic Systems.- a. Tuberoinfundibular Dopamine System.- b. Mesocoritcal Dopamine System.- c. Mesostriatal Dopamine System.- d. Mesolimbic Dopamine System.- e. Incerto-Hypothalamic Dopamine System.- f. Periventricular Dopamine System.- g. Descending Spinal Dopaminergic Fibers.- h. Olfactory Dopamine System.- 2. The Noradrenergic System.- a. Ventral Noradrenergic Bundle (also called the ventral tegmental tract).- b. Dorsal Noradrenergic Bundle.- c. Dorsal Perventricular Noradrenergic System.- d. Ventral Periventricular Noradrenergic System.- e. Cerebellar Noradrenergic Pathway.- f. Bulbospinal Noradrenergic Pathways.- 3. The Adrenergic System.- B. Regional Concentrations of Catecholamines in the Brain.- I. Dopamine.- II. Noradrenaline.- III. Adrenaline.- C. Biochemical Studies on the Neuronal Projections of the Catecholaminergic Cells.- I. Dopamine.- II. Noradrenaline.- III. Adrenaline.- D. Regional Turnover of Catecholamines.- E. References.- 11 Catecholamines and Behaviour.- A. Introduction.- I. Catecholamine Hypotheses of Behaviors.- II. Theoretical Constructions Linking Catecholamines and Behavior.- B. Dopamine Systems.- I. Nigrostriatal System.- 1. Anatomical Foundations.- 2. Cellular Actions.- a. Iontophoretic Actions.- b. Intracellular Recordings of Dopamine Action.- c. Actions of the Pathways.- d. Functional Inferences from Lesion Studies.- e. Functional Implications from Behavioral Correlations of Dopamine Neuron Firing Patterns.- 3. Neuropsychopharmacology.- a. Motor Behavior.- b. Sensory-Motor Integration.- II. Mesocortical and Mesolimbic Systems.- 1. Anatomical Foundations.- 2. Cellular Actions.- 3. Neuropsychopharmacology.- a. Motor Behavior.- b. Motivational Effects.- III. General Behavioral Correlations: Dopamine and Reward.- a. Anatomical Studies.- b. Pharmacological Studies.- IV. Dopamine and Learning.- V. Summary and Conclusions.- C. Noradrenergic Systems.- I. Anatomical Foundations.- II. Cellular Interactions Between Central Catecholamine Systems and Other Synaptic Systems.- III. Molecular Mechanisms of Central Noradrenergic Synapses: Role of Cyclic AMP.- IV. Cerebellar Synaptic Systems as a Model for Noradrenergic Integrative Actions.- V. Hypotheses of Noradrenergic Cellular Integration: Enabling.- VI. Behavioral Correlates of Central Catecholamine Neurons.- 1. Anatomy of Afferents to Locus Coeruleus.- 2. Firing Patterns in Anesthetized Paralyzed Preparations.- 3. Firing Patterns in Unanesthetized Behaving Animals.- 4. A Behavioral Hypothesis of Locus Coeruleus Firing Correlates.- VII. Neuropsychopharmaeology.- 1. The Locus Coeruleus and Dorsal Noradrenergic Bundle.- a. The "Stress" Connection.- b. Reward and Learning.- c. Anxiety.- 2. Ventral Noradrenergic Bundle.- a. Feeding Behavior.- b. Sexual Behavior.- 3. Summary and Conclusions.- D. Overall Conclusions.- E. References.- 12 Central Control of Anterior Pituitary Function.- A. Introduction.- B. Growth Hormone.- I. Normal Patterns of Growth Hormone (GH) Secretion.- II. Hypothalamic Regulation of GH Secretion.- III. Hypothalamic Factors Involved in GH Regulation.- IV. Monoaminergic Control of GH Secretion.- V. Conclusions.- C. Prolactin.- I. Normal Patterns of Prolactin Secretion.- II. Hypothalamic Influence on Prolactin Secretion.- III. Hypothalamic Factors Involved in Prolactin Regulation.- 1. Prolactin Release-Inhibiting Factor (PIF).- 2. Prolactin Releasing Factor (PRF).- 3. Thyrotropin Releasing Hormone (TRH).- 4. Estrogens.- 5. Opioid Peptides.- IV. Monoaminergic Control of Prolactin Secretion.- V. Conclusions.- D. Thyrotropin.- I. Normal Patterns of Thyrotropin (TSH) Secretion.- II. Hypothalamic Regulation of TSH Release.- III. Hypothalamic Factors Involved in TSH Regulation.- 1. TRH.- 2. Somatostatin.- IV. Pituitary-Thyroid Feedback.- V. Monoaminergic Control of TSH Secretion.- VI. Conclusions.- E. Gonadotrop