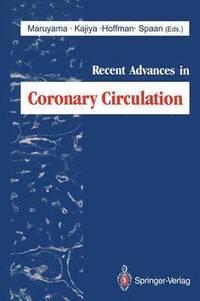 Fler böcker inom
Format

Häftad (Paperback / softback)

Språk

Engelska

Antal sidor

322

Utgivningsdatum

2012-03-01

Upplaga

Softcover reprint of the original 1st ed. 1993

Förlag

Medarbetare

Maruyama, Yukio (ed.), Kajiya, Fumihiko (ed.), Hoffman, Julien I. E. (ed.), Spaan, Jos A. E. (ed.)

Illustrationer

XIV, 322 p.

Dimensioner

234 x 156 x 18 mm

Vikt

477 g

Antal komponenter

1

Komponenter

1 Paperback / softback

ISBN

9784431682516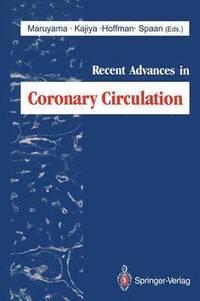 Recent Advances in Coronary Circulation
Skickas inom 10-15 vardagar.
Fri frakt inom Sverige för privatpersoner.
Coronary circulation research is advancing at a rapid rate. Not only are inno vative techniques for studying myocardial perfusion being developed, new mechanisms related to coronary blood flow control and mechanics are also being discovered. The progress in this field justifies an update in the form of this new monograph. The book is divided into the following sections: "Measurement of Coronary Blood Flow and Assessment of Myocardial Per fusion" discusses advances in perfusion measurements in humans as well as nonradioactive microsphere methods. . "Coronary Flow Dynamics" elucidates the effect of heart contraction on coronary flow, perfusion, and reserve distribution as well as systolic-diastolic interaction. Models-a frequent topic of debate-are used to quantify hypotheses. "Models of Coronary Circulation" attempts to elucidate the concept of tissue pressure. "Regulatory Mechanisms of Coronary circulation and its Clinical Relevance": N u.merous mechanisms affecting coronary flow have been defined and studied at the level of isolated vessels and whole organs. The chapters in this section provide an in-depth analysis of a selection of these mechanisms and their inter actions. "Pathophysiology of Coronary Circulation in Ischemic Heart Disease" considers important aspects of factors which restrict perfusion of the myocardium in ischemic heart disease. An understanding these factors is of crucial importance in the management of patients. "Small Vessel Disorder in Coronary Circulation" describes circulatory flow and how it can be influenced by drugs.
Passar bra ihop
+
Bloggat om Recent Advances in Coronary Circulation
Innehållsförteckning
A. Measurement of Coronary Blood Flow and Assessment of Myocardial Perfusion.- Evaluation of Coronary Perfusion by Positron Emission Tomography.- Regional Blood Flow Measurement with Non-Radioactive Microspheres by X-ray Fluorescence Spectrometry.- Optimum Use of PET and SPECT for the Detection of Coronary Artery Disease.- Abstract.- Uridine is a Marker of Viability in Myocardial Ischemia.- B. Coronary Flow Dynamics.- Transmural Distribution and Heterogeneity of Coronary Flow and Flow Reserve.- Effect of Vasomotor Tone on Coronary Flow Impediment in Systole.- Heart Contraction and Coronary Blood Flow.- Blood Velocity Profiles Along Poststenotic Coronary Artery and Stenotic Intramyocardial Flow.- Morphometric Measurement of Subendocardial Vessel Dimensions in Systolic and Diastolic Arrested Rat Heart.- Evaluation of Dynamic Mechanical Properties of Coronary Arterial System Using Multi-Channel Random Noise Technique.- Myogenic and Flow-Induced Responses in Coronary Arterioles.- Effects of Coronary Collateral Circulation and Outflow Pressure Elevation on Coronary Pressure-Flow Relationships in The Beating and Non-Beating States.- Abstract.- Effect of Cardiac Contraction on Regional Myocardial Blood Flow.- C. Models of Coronary Circulation.- Theoretical Relationship among Myocardial Tissue and Cavity Pressures, Contractility, and Vascular Volume Change.- Concepts and Controversies in Modelling the Coronary Circulation.- Simple vs Complex Models of the Coronary Circulation-The Tradeoffs.- D. Regulatory Mechanism of Coronary Circulation and Its Clinical Relevance.- Pulsatile Flow, Arterial Chaos, and EDRF Activity.- Effects of Endogenous Nitric Oxide on Basal Vasomotor Tone and Stimulated Endothelium-Dependent Responses in the Coronary Arterial Circulation.- Mechanical Properties of Coronary Arterioles under Pulsation.- Regulation of Coronary Circulation During Rigid and Pliable Coronary Stenosis.- Abstracts.- Coronary Pressure-flow Relationship below the Range of Autoregulation.- Modulation by Aging of the Coronary Vascular Response to Endothelin-1 in the Isolated Perfused Rat Heart.- Contraction and Relaxation Responses to fMLP in Isolated Human Coronary Arteries.- Coronary Arterial Branching Structure is Highly Variable.- The Inhibition of Endothelium-Dependent Vasorelaxation by Oxidized Low Density Lipoprotein and Lysophosphatidylcholine.- E. Pathophysiology of Coronary Circulation in Ischemic Heart Disease.- Beneficial Role of Alpha-Adrenoceptor Activity in Myocardial Ischemic and Reperfusion Injury.- Ischemic Preconditioning of Myocardium: Effect of Adenosine.- Cardioprotective Actions of Adenosine in the Heart: New Strategy for the Treatment of Ischemic Heart Diseases.- Potentiation of Collateral Development in Ischemic Patients with Heparin Treatment.- Abstracts.- Effects of Vasodilators on Coronary Vasospasm Induced by Ergonovine Malate.- Comparison of Intracoronary Injection of Acetylcholine and Ergonovine in All Vessel Segments in Patients with and without Vasospastic Angina Pectoris.- Inhibitory Effect of Free Radical Scavengers on Cyclic Flow Variations in Unsedated Dogs with Coronary Stenosis and Endothelial Injury.- Microcirculation and Alternating Transmural Flow Patterns in the Ischemic Left Ventricular Vascular Bed.- Can Aminophylline Improve Exercise Capacity in Patients with Coronary Artery Disease?.- Decreased Aortic Compliance Aggravates Myocardial Ischemia with Impaired Coronary Reserve Flow.- Inability of Left Ventricular Decompression to Limit Myocardial Infarct Size.- Altered Metabolic Response Accounts for Reduced ST-Elevation to Subsequent Coronary Occlusion in Ischemia-Sensitized Myocardium.- F. Small Vessel Disorder in Coronary Circulation.- Segmental Distribution and Control of Coronary Microvascular Resistance.- Characteristics and Possible Cause of Instantaneous Velocity Waveforms in Small Coronary Arteries and Veins.- The Coronary Circulation in Hypertrophy and in Syndrome X.- Coronary Hemodynamic C