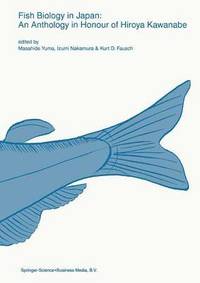 Fler böcker inom
Format

Häftad (Paperback / softback)

Språk

Engelska

Antal sidor

405

Utgivningsdatum

2010-12-07

Upplaga

Softcover reprint of the original 1st ed. 1998

Förlag

Medarbetare

Yuma, Masahide (ed.), Fausch, Kurt D. (ed.), Nakamura, Izumi (ed.)

Illustrationer

199 Illustrations, black and white; 405 p. 199 illus.

Antal komponenter

1

Komponenter

1 Paperback / softback

ISBN

9789048150489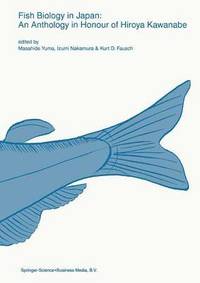 Fish biology in Japan: an anthology in honour of Hiroya Kawanabe
Skickas inom 5-8 vardagar.
Fri frakt inom Sverige för privatpersoner.
Finns även som
Skickas inom 5-8 vardagar
Hiroya Kawanabe (HK) was born in Kyoto on 10 May 1932. His father, Osamu Kawanabe, was a teacher of Japanese literature and also a Buddhist priest, who died in 1934 at an early age. His mother, Tsuya Fujii-Kawanabe, was a teacher of the tea cer- emony and of flower arrangement, and had given birth to him at age 38. He attended elementary school from 1938 to 1945, junior high school from 1945 to 1948, and Kyoto City's Ohki High School, from 1948 to 1951. In March 1945, military requisi- tion of the Kawanabe property, which was situated in downtown Kyoto, and the subsequent demolition of the family home necessitated the tearful and hasty removal of only a fraction of the family's be- longings in a cart (HK 490; numbers refer to the subsequent 'Lifetime list of publications by Hiroya Kawanabe'). He and his mother were able to save only a portion of his father's books; his passion for reading may be due to the influence of his father. Interestingly enough, during his junior high school and high school years, Kawanabe tried to improve the method used to catalogue the books in his school libraries, though he subsequently learned Figure 1. Hiroya Kawanabe during his convocation address on that the NDC (Nihon Decimal Classification) was the occassion of receiving Doctor of Science honoris causa at the the most convenient cataloguing method in com- University of Guelph, 5 October 1995. Photograph by M. mon use. Schwalbe.
Passar bra ihop
+
Fler böcker av författarna
For the Love of Rivers

Kurt D Fausch

Rivers and streams supply our water and capture our imaginations. We seek the more pristine ones to fish or paddle, to hike along or simply sit and watch. But what is it we are seeing? What is essential about streams and rivers for us as humans? I...
Recensioner i media
`The book is well edited and...it is not only useful to the Japanese fish biologists but is also a stimulating book to read for zoologists, fish biologists as well as aquatic ecologists.' Aquatic Ecology, 33 (1999)
Bloggat om Fish biology in Japan: an anthology in ho...
Innehållsförteckning
Prelude; M. Yuma, et al. Part 1: Biography, Bibliography and Interview. The Life and Work of Hiroya Kawanabe: the Priest Ecologist; M. Yuma, E. Harada. Lifetime List of Publications by Hiroya Kawanabe; M. Yuma. An Interview with Hiroya Kawanabe; E. Harada. Part 2: Invited Reviews. Research on Fish Ecology in Japan: A Brief History and Selected Review; K.D. Fausch, S. Nakano. Distribution of the Freshwater Fishes of Japan: An Historical Overview; M. Yuma, et al. New Aspects of Sex Change Among Reef Fishes: Recent Studies in Japan; T. Kuwamura, Y. Nakashima. Part 3: Full Papers and Brief Communications. Evolution of Freshwater Eels of the Genus Anguilla: A Probable Scenario; K. Tsukamoto, J. Aoyama. Genetic Structure and Differentiation of Four Lethenteron Taxa from the Far East, Deduced from Allozyme Analysis; Y. Yamazaki, A. Goto. Osteology of Zacco pachycephalus, sensu Jordan & Evermann (1903), with Special Reference to Its Systematic Position; H. Ashiwa, K. Hosoya. A Study of the Systematics of Cyprinid Fishes by Two-Dimensional Gel Electrophoresis; J.-I. Miyazaki, et al. Fertilization Environment of the Non-Copulating Marine Sculpin; Hemilepidotus gilberti; Y. Hayakawa, H. Munehara. Comparison of Laboratory-Reared Eggs, Embryos and Larvae of Five Labrid Fishes; S. Kimura, et al. Life-History Variations in the Fluvial Sculpin, Cottus nozawae (Cottidae), Along the Course of a Small Mountain Stream; A. Goto. Spawning Ecology of Japanese Surf Smelt, Hypomesus pretiosus japonicus (Osmeridae), in Otsuchi Bay, Northeastern Japan; T. Hirose, K. Kawaguchi. Timing and Sites of Parturition of the Viviparous Scorpionfish, Sebastiscus marmoratus; H. Fujita, M. Kohda. Coexistence of Permanently Territorial Cichlids of the genus Petrochromis through Male-Mating Attack; M. Kohda. Dyadic Relationships in Nesting Males of the Three-Spined Stickleback, Gasterosteus aculeatus; S. Mori. Sex Determination System of the Rosy Bitterling, Rhodeus ocellatus ocellatus; K. Kawamura. Reproductive Success in Female Neolamprologus mondabu (Cichlidae): Influence of Substrate Types; Takemon, K. Kakanishi. Parental Care and Social Organization of the Spiny Eel; Aethiomastacembelus platysoma, in Lake Tanganyika; N. Abe. Daily Spawning and Development of Sensitivity to Gonadotropin and Maturation-Inducing Steroid in the Oocytes of the Bambooleaf Wrasse, Pseudolabrus japonicus; M. Matsuyama, et al. Effects of Sandy Substrate and Light on Hypermelanosis of the Blind Side in Cultured Japanese Flounder Paralichthys olivaceus; N. Iwata, K. Kikuchi. Factors Influencing Otolith Strontium/Calcium Ratios in Anguilla japonica Elvers; Y. Kawakami, et al. Growth of Dark Chub, Zacco temmincki (Cyprinidae), with a Discussion of Sexual Size Differences; O. Katano. Analyses of Growth Processes of Pond Smelt, Hypomesus nipponensis, in Lake Ogawara, Japan, through the use of Daily Otolith Increments; S. Katayama, et al. Starvation of Drifting Goby Larvae Due to Retention of the Free Embryos in Upstream Reaches; A. Moriyama, et al. Feeding of a Benthic Goby in a River Where Nektonic Fishes are Absent; T. Osugi, et al. Competitive Interactions for Foraging Microhabitat among Introduced Brook Charr, Salvelinus fontinalis, and Native Bull Charr, S. confluentus, and Westslope Cutthroat Trout, Oncorhynchus clarki lewisi, in a Montana Stream; S. Nakano, et