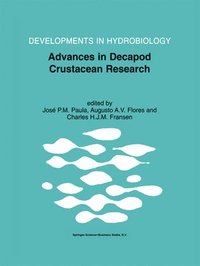 Fler böcker inom
Format

Häftad (Paperback / softback)

Språk

Engelska

Antal sidor

305

Utgivningsdatum

2010-12-01

Upplaga

Softcover reprint of hardcover 1st ed. 2001

Förlag

Medarbetare

Paula, José P. M. (ed.), Fransen, Charles H. J. M. (ed.), Flores, Augusto A. V. (ed.)

Illustrationer

3 Illustrations, color; 55 Illustrations, black and white; IX, 305 p. 58 illus., 3 illus. in color.

Antal komponenter

1

Komponenter

1 Paperback / softback

ISBN

9789048156887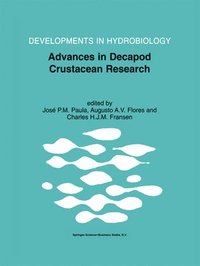 Advances in Decapod Crustacean Research
Proceedings of the 7th Colloquium Crustacea Decapoda Mediterranea, held at the Faculty of Sciences of the University of Lisbon, Portugal, 6-9 September 1999
Skickas inom 10-15 vardagar.
Fri frakt inom Sverige för privatpersoner.
Decapod crustaceans are a particularly important animal group in a variety of aquatic environments, such as freshwater, estuaries, and oceans. Research on this group has increased during recent decades, and relates to their economic and ecological importance. The papers included reflect current trends in decapod crustacean research, and present results on a diversity of specific research fields, grouped into the major themes: a) Systematics, Phylogeny, and Biogeography, b) Growth, Morphology, and Development, c) Ecology and Behaviour, d) Reproduction, and e) Fisheries and Culture. The Colloquia Crustacea Decapoda Mediterranea are devoted to decapod crustacean research, and organised on a 3-year basis by institutions of the Mediterranean geographical area. The scope of these meetings has progressively widened throughout the sequence of events, and presently welcomes contributions from crustacean research world-wide.
Passar bra ihop
+
Bloggat om Advances in Decapod Crustacean Research
Innehållsförteckning
Preface. 1: Systematics, Phylogeny and Biogeography. Phylogeny of decapods: moving towards a consensus; F.R. Schram. Notes on the position of the true freshwater crabs within the Brachyrhynchan Eubrachyura (Crustacea: Decapoda: Brachyura); R.V. Sternberg, N. Cumberlidge. Molecular phylogeny of the crab genus (Brachyura: Varunidae) based on the 16S rRNA gene; C.D. Schubart, et al. A new genus in the Upogebidae and rediagnosis of its close relative, Gebiacantha Ngoc-Ho, 1989 (Crustacea: Decapoda: Thalassinidea); N. Ngoc-Ho. Recent samples of mainly rare decapod Crustacea taken from the deep-sea floor of the southern West Europe Basin; L. Tiefenbacher. Data on the family Pandalidae around the Canary Islands, with first record of Plesionika antigai (Caridea); J.A. Gonzalez, et al. Crustacea Decapoda of Paripe River Estuary, Pernambuco, Brazil; M.A. Coelho dos Santos, P.A. Coelho. Decapod fauna of intertidal habitats on Socotra Island, Yemen; F. Simoes, et al. The crab species found on the coasts of Goekceada (Imbroz) Island in the Aegean Sea; H. Balkis, et al. Evidence of paraphyly in the neotropical Porcellanid genus Neopisosoma (Crustacea: Anomura: Porcellanidae) based on molecular characters; B. Werding, et al. 2: Growth Morphology and Development. Growth in Crustacea - twenty years on; R.G. Hartnoll. Sex-related variability of rostrum morphometry of Aristeus antennatus (Decapoda: Aristeidae) from the Ionian Sea (Eastern Mediterranean, Greece); K. Kapiris, M. Thessalou-Legaki. Influence of diet on sex differentiation of Hippolyte inermis Leach (Decapoda: Natantia) in the field; V. Zupo. Combined effects of temperature and salinity on the larval development of the estuarine mud prawnUpogebia africana (Decapoda, Thalassinidea); J. Paula, et al. Mitotic and meiotic chromosomes of the American lobster Homarus americanus (Nephropidae, Decapoda); E. Coluccia, et al. 3: Ecology and Behaviour. Larval abundance and recruitment of Carcinus maenas L. close to its southern geographical limit: a case of match and mismatch; M. Sprung. Choice of prey size and species in Carcinus maenas (L.) feeding on four bivalves of contrasting shell morphology; M. Mascaro, R. Seed. Intertidal distribution and species composition of brachyuran crabs at two rocky shores in central Portugal; A.V.V. Flores, J. Paula. Morphometric comparison between Mediterranean and Atlantic populations of Pontophilus norvegicus (Decapoda, Crangonidae); S. De Grave, D. Diaz. Notes on the distribution and biology of the deep-sea crab Bathynectes maravigna (Brachyura: Portunidae) in the Mediterranean Sea; P. Abello, et al. Notes on the biology of Cancer bellianus (Brachyura, Cancridae) around the Canary islands; J.A. Quiles, et al. Comparative suitability of binocular observation, burrow counting and excavation for the quantification of the mangrove fiddler crab Uca annulipes (H. Milne Edwards); M.W. Skov, R.G. Hartnoll. A comparison of alternative methods for estimating population density of the fiddler crab Uca annulipes at Saco mangrove, Inhaca Island (Mozambique); A. Macia, et al. Aspects of the population dynamics of Neosarmatium meinerti at Mgazana, a warm temperate mangrove swamp in the East Cape, South Africa, investigated using an indirect method; W.D. Emmerson. Seasonal abundance and recruitment in an estuarine population of mud crabs, Scylla paramamosain, in the Mekong Delta, Vietnam; L. Le