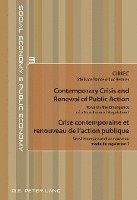 Fler böcker inom
Format

Häftad (Paperback / softback)

Språk

Engelska

Antal sidor

333

Utgivningsdatum

2011-07-08

Upplaga

New ed

Förlag

Medarbetare

Ciriec (ed.)

Illustratör/Fotograf

Illustrationer

99, tables and graphs

Dimensioner

215 x 146 x 19 mm

Vikt

476 g

Antal komponenter

1

Komponenter

,

ISSN

2030-3408

ISBN

9789052017419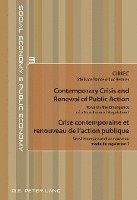 Contemporary Crisis and Renewal of Public Action / Crise contemporaine et renouveau de l'action publique
Towards the Emergence of a New Form of Regulation? / Vers l'emergence d'un nouveau mode de regulation ?
Skickas inom 3-6 vardagar.
Fri frakt inom Sverige för privatpersoner.
Is the major crisis that began in 2008 nearing the end? Governments and analysts have time and again announced that. Yet this diagnosis remains very premature even now. The level of unemployment is still high in many countries. While the massive aids provided by the States to the economy have allowed them to avoid the collapse of the economic system, they have paradoxically exposed the States to their own failure. Many countries in Europe are in precarious situations. Far beyond Europe the role played by the State is in question. Which measures must be taken by the public authorities in order to remedy the economic crisis? Are we witnessing the emergence of a new form of regulation? How will the general interest be carried and defended in future? How have the relations between the State and citizens changed? What are the national or continental variations on these themes? Through international comparisons, specialists from Europe, Africa and the Americas linked to CIRIEC International bring new answers to these important questions. La crise majeure debutee en 2008 est-elle terminee ? Gouvernements et analystes l'ont annonce a maintes reprises. Pourtant, ce diagnostic reste aujourd'hui encore tres premature. Le taux de chomage demeure eleve dans de nombreux pays. Car, si les aides massives apportees par les Etats a l'economie ont permis d'eviter l'effondrement du systeme economique, elles ont paradoxalement expose les Etats a leur propre faillite. Plusieurs pays d'Europe sont dans des situations precaires. Bien au-dela de l'Europe, le role joue par l'Etat est en question. Quelles mesures doivent etre prises par les autorites publiques pour remedier a la crise economique ? Assiste-t-on a l'emergence d'un nouveau mode de regulation ? Comment est desormais porte et defendu l'interet general ? Comment les rapports entre l'Etat et les citoyens sont-ils transformes ? Quelles sont les variations nationales ou continentales sur ces themes ? C'est a ces questions communes que differents specialistes d'Europe, d'Afrique et des Ameriques lies au CIRIEC international repondent dans cet ouvrage dans une perspective comparee.
Passar bra ihop
+
Bloggat om Contemporary Crisis and Renewal of Public...
Övrig information
CIRIEC (International Centre of Research and Information on the Public, Social and Cooperative Economy) is a non-governmental international scientific organization. Its objectives are to undertake and promote the collection of information, scientific research, and the publication of works on economic sectors and activities oriented towards the service of the general and collective interest. Philippe Bance is teacher and researcher at the university of Rouen (France) and scientific delegate to the Evaluation Agency for Research and Higher Education (AERES). He leads the Scientific Commission "Public Economy" of CIRIEC-France. His work focuses on services of general interest, European economy and public policies. Luc Bernier is president of the International Scientific Council of CIRIEC. He is tenured professor at the Ecole nationale d'administration publique (ENAP), where he teaches since 1991, and director of the Research Centre on Governance. His research focuses on public enterprises, administrative reforms and the evolution of the State. Le CIRIEC (Centre international de recherches et d'information sur l'economie publique, sociale et cooperative) est une organisation scientifique internationale non gouvernementale. Ses objectifs sont d'assurer et de promouvoir la collecte d'informations, la recherche scientifique et la publication de travaux concernant les secteurs economiques et les activites orientes vers le service de l'interet general et collectif. Philippe Bance est Enseignant-Chercheur a l'Universite de Rouen (France) et Delegue Scientifique a l'Agence d'Evaluation de la Recherche et de l'Enseignement Superieur (AERES). Il anime la Commission scientifique " Economie Publique " du CIRIEC-France. Ses travaux portent sur les services d'interet general, l'economie europeenne et les politiques publiques. Luc Bernier est president du Conseil scientifique international du CIRIEC. Il est professeur titulaire a l'Ecole nationale d'administration publique ou il enseigne depuis 1991 et directeur du Centre de recherche sur la gouvernance. Ses recherches portent sur les entreprises publiques, les reformes administratives et l'evolution de l'Etat.
Innehållsförteckning
Contents/Contenu : Philippe Bance/Luc Bernier : Introduction - Philippe Bance : L'interet general dans la crise. Vers une " globalisation " de l'interet general ? - Pierre Bauby : Les racines d'un nouveau mode de regulation - Jean-Claude Boual : Peut-on reguler le capitalisme par des politiques publiques ? - Luc Bernier: The 2008 Economic Crisis and the Rebirth of Public Enterprises - David Hall: Contesting the Future of Public Finance? - Ludwig Theuvsen: Citizen Preferences for Public Services. Empirical Results and Managerial Implications - Angelique Chassy : L'evaluation par l'approche participative. Un remede a la crise des services publics ? - Judith Clifton/Daniel Diaz-Fuentes/Marcos Fernandez-Gutierrez/Julio Revuelta: Bringing Citizens Back In. Renewing Public Service Regulation - Malika Ahmed Zaid-Chertouk : Le renouveau de l'action publique en Algerie dans le contexte de crise economique mondiale - Francois Despres : Institutions du developpement durable de la France face a la crise ou un nouveau cadre d'action publique a long terme ? - Moktar Lamari/Louis Cote : Crise economique et politiques contre-cycliques en contexte de petites economies. Apprendre de l'experience quebecoise - Landry Signe : L'Etat et l'administration publique face aux crises economiques et financieres en Afrique - Carmen Rosa Schaposnik/Eugenia Candelaria Pardo: Bank of the South, a Possible Alternative for Funding South American Development - Luc Bernier/Philippe Bance: Conclusion. The Economic Crisis and the Renewal of the Public Sector.