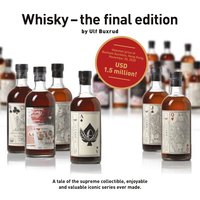 Fler böcker inom
Format

Inbunden

Språk

Engelska

Antal sidor

170

Utgivningsdatum

2022-03-15

Upplaga

1

Förlag

Dimensioner

290 x 290 x 10 mm

Vikt

1300 g

ISBN

9789152709528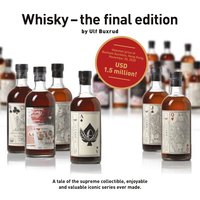 Whisky - the final edition
Finns i lager! Skickas inom 1-3 vardagar.

Gratis frakt inom Sverige över 199 kr för privatpersoner.
Text on dustbinder regarding Author:

Ulf"s first contact with alcohol, in general, was at the European Club in the city of Abadan in Persia (now Iran), at the age of 15. It was the then famous blend whisky 'Black & White', which now is a bit hard to find. His infatuation was instant and intensive, and life lasting. And he had begun an un-systematic journey through the realm of whiskies over time, and around the globe.
During a string of years his libation was the usual, traditional whisky blends, with an ice cube or a dash of soda water. Suddenly, around 1970, he found his salvation and his road. The Savoir was the Macallan. And the road was not for Mandalay, but for Speyside and their single malt whiskies. Later in life, he de facto made a pilgrimage to Mandalay to fetch a bottle of a locally produced malt whisky. Other whisky paths he followed brought him to Japan and its rich whisky culture.
In the early 80's when swamped with Single Malts he not only bought in a hotchpotch fashion but also in quantities larger than possible to consume. Several bottles were just slowly evaporating and dust collecting. No orderly investigation was applied like the subjects for his prime passion then, sampling wines and taking tasting notes. At one of these wine tasting exercises, he was struck by the idea of utilizing the technique and the descriptive wine lingo to systematically explore his accumulated heap of Single Malts.
At the end of the '80s his Swedish wine-freak friends asked him to escort them through what they described as the 'jungle' of whiskies. It forced him to work out a lecture and a tasting scheme. During the period of 1989-2004, a large number of whisky enthusiasts absorbed Single Malts and, hopefully, knowledge under his pro bono tutorship. This activity was recognized and by that he received an invitation to join the illustrious 'Keeper of the Quaich', in 1995. John Grant of Glenfarclas was his mentor.
The local, Swedish, interest in whisky underpinned by himself and other 'evangelists' led to an inflation in organized societies, circles and groups centered around not only the fluid, its history, geography, sociology and methods of production but also to organize own group travels but also under the auspices of Chaine des Rotisseurs to visit the birthplaces of whiskies. And, not to forget, advise in cask investment matters. Today, Sweden harbors the highest density of such special interest groups in relation to its population. For instance, on the web only, there are 80+ whisky clubs to be found. All listing and reporting their scheduled activities regularly. Ulf happens to be a member of honor at some and member of the board at others. It is now a large subculture not only in Sweden but globally.
Ulf"s previous book "Rare Malts" was awarded the title 'Best book about Spirits in the world 2006" at the 'Book Oscar" ceremony held in Beijing in April 2007.
Ulf"s second book 'Japanese whisky" was awarded the title 'The second best book about Spirits in the world 2009" at the 'Book Oscar" ceremony held in Paris in February 2010.
He also contributed to the Asian segment of DK"s Eyewitness Companion 'Whisky".
Besides organizing themed, structured whisky tastings, Ulf"s special interest lies in collecting volumes dealing with the subject 'whisky", and his extensive library includes 200+ titles spanning from mid-1700 to today.
Ulf is married and a father to two daughters. Since years back the family spend a large part of the year in their second home on Marco Island in Florida. He spent the years 1962-1982 as an IT entrepreneur then retired.
Passar bra ihop
+