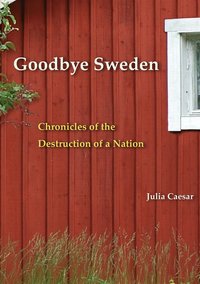 Fler böcker inom
Format

E-bok

Filformat

PDF med vattenmärke (1.3 MB)
Om vattenmärkning

PDF-böcker lämpar sig inte för läsning på små skärmar, t ex mobiler.

Språk

Engelska

Utgivningsdatum

2016-10-25

Förlag

ISBN

9789177450252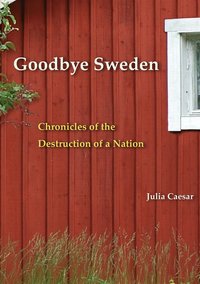 Goodbye Sweden : Chronicles of the Destruction of a Nation
(e-bok)
Laddas ned direkt
Läs i vår app för iPhone, iPad och Android
Julia Caesar in English:
Goodbye Sweden

Little Sweden, with fewer than 10 million inhabitants, is committing suicide through mass immigration. Since 1980, this little country has granted residence permits or rights to around 2 million foreigners. The number of those born overseas is increasing at ten times the rate of the Swedish-born population. If immigration continues at the same pace, Swedes will be a minority in the largest Swedish towns by around 2025. What is happening is outright population replacement.

During the autumn of 2015, up to 10,000 foreigners sought asylum in Sweden - every week. The total of asylum seekers for the whole year was 162,877. Of these 35,369 were so-called "unaccompanied children," who were in fact overwhelmingly young Afghan men who insisted that they were under 18.

Now Sweden is buckling under the burden. After decades of misrule, Sweden is a severely damaged country. The welfare system, for which Sweden was renowned throughout the world, is bleeding. The Social Democratic government is borrowing money and saddling our children and grandchildren with debt, so as to be able to pay the enormous costs of immigration, running to hundreds of billions of kronor. Many of the mechanisms for ensuring security lie in ruins. The destruction has generally involved all spheres of society.

It took only one generation for the political and media elite to destroy Sweden. In that short time, politicians and the media have jointly succeeded in bringing a small, smoothly functioning democratic and ethnically homogenous land into multicultural meltdown.

The Swedish journalist Julia Caesar (pseudonym) describes the loss of her country in 19 politically incorrect and personal chronicles, focusing on a turbulent period between two Parliamentary elections, from 2010 to 2014, and thereafter.

Julia Caesar is a former journalist on one of Sweden"s leading dailies, Dagens Nyheter. Since 2010 she has been a columnist on the Danish website Snaphanen.
Bloggat om Goodbye Sweden : Chronicles of the Destru...