Fler böcker inom
Format

E-bok

Filformat

EPUB med vattenmärke (0.6 MB)
Om vattenmärkning

Språk

Engelska

Utgivningsdatum

2017-03-23

Förlag

ISBN

9789177650591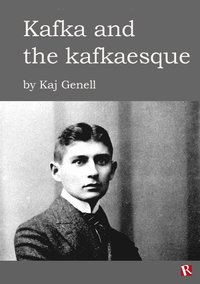 Kafka and the kafkaesque
(e-bok)
Laddas ned direkt
Läs i vår app för iPhone, iPad och Android
The uniqueness of the works of Franz Kafka and the perplexing historical accuracy of the concept of the Kafkaesque are both phenomena that over the years have been noticed by many readers and scholars. This book sets out to unravel the enigma of this very concept, by reference to the process of creation, and to Kafka's implicit use of two unconscious levels within the universe of discourse of his most important works. Through the years a fruitful explanation of the uniqueness of these works has been missing. Scholars have ever since the 1930s been noticing the extraordinary qualities of the Kafka text. Strange - Kafkaesque - features have been attributed to the short stories and the novels of Kafka. The Kafka hero has - rightly - been seen as a mere figure, and the "dream-like" landscape-universe has been seen as characteristic, and one has frequently been looking upon these entities, together with a few stylistic features, as technical dominants in the shaping of the concept of the Kafkaesque. This small book displays a model, together with a biographical survey and a historical perspective on possible influences, that, quite reversely, forms a hermeneutic explanation to these features, as well as to what is denoted by the concept. This is achieved from the perspective of a dynamic contextual center, explained in a model containing three levels, levels steadily forming the discourse, typical of Kafka. The veil of mystery may never be lifted when it comes to Kafka's classics of Modernity. It might be essential to know about the technique behind the Kafkaesque to be able to reflect upon the Self-consciousness of Modern Man of the 20th century, a century so intensely marked by a dialogue between society and the works and ideas of Sigmund Freud. Self-consciousness of Man, as it appeared with St. Augustine, the great Italian Renaissance writers, Erasmus, Shakespeare, Montaigne, the German secular Romantics and Hegel, swiftly developed into something even much more complex with the appearance of Freud and the publication of his Traumdeutung in the year of 1900, and, more so, with the creation of the Kafkaesque, with the works of Kafka, around 1912.
Fler böcker av Kaj Genell
Splittringar

Kaj Genell

"Splittringar" är en samling korta prosatexter och aforistiska reflektioner. Texterna handlar om frihet och längtan, förståelse och missförståelse, närvaro och frånvaro, om varat och intet, skrivare och läsare, frågor och svar. Och om sj...
Bloggat om Kafka and the kafkaesque