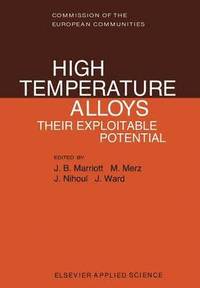 Fler böcker inom
Format

Häftad (Paperback / softback)

Språk

Engelska

Antal sidor

536

Utgivningsdatum

2011-10-19

Upplaga

Softcover reprint of the original 1st ed. 1987

Förlag

Medarbetare

Marriott, J. B. (ed.), Merz, M. (ed.), Nihoul, J. (ed.), Ward, J. (ed.)

Illustrationer

536 p.

Antal komponenter

1

Komponenter

1 Paperback / softback

ISBN

9789401070997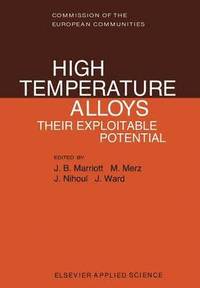 High Temperature Alloys
Their Exploitable Potential
Skickas inom 5-8 vardagar.
Fri frakt inom Sverige för privatpersoner.
Advances in industrial technologies and improved performance of constructional materials are interdependent and have become of increasing concern in recent years. This Conference aimed to - provoke discussion of the limits towards which high temperature alloys properties can, ultimately, be developed, identify the resulting R&D requirements and design developments. Following a key-note paper concerning the relation of current capabilities to requirements for gas turbines the conference was structured into 3 sessions which examined: * the theoretical?ldpracticallimits for HT Alloys, * the potential for development in alloys and processing, * engineering considerations. Finally, feeling perhaps the approaching "wind of change"??1s Conference on remaining alloy potential was wound up with a paper entit1ed "The potential?ld problems ofEngineering Ceramics". The different sessions each included a number of invited papers followed by a series of posters and were concluded by a presentation of a "synthesis" by a sess10n rapporteur and general discussion. This structure is retained in the proceedings, including the discussion points in those cases where?le authors have provided written answers to questions raised.
Passar bra ihop
+
Bloggat om High Temperature Alloys
Innehållsförteckning
List of Contents.- Preface.- Opening Session.- Chairman: M. Van de Voorde, C.E.C., Joint Research Centre, Petten Establishment, Petten, NL..- Welcome and Opening of the Conference:.- Opening Thoughts - the Future of High Temperature Materials.- E.D. Hondros, Director of the Joint Research Centre, Petten Establishment, Petten, NL..- Keynote paper:.- The Capability of Current Materials in Relation to Future gas Turbine Needs.- G. Meetham, Rolls Royce Ltd., Derby, UK..- Session 1: Theoretical and Practical Limits of HT Alloys. Sub-session 1.1.: Chairman: S. Amelinckx, SCK-CEN, Mol, B..- Mechanical Properties of Nickel Base Alloys in Relation with their Microstructure (Abstract).- Modelling Creep and Fracture in Engineering Alloys.- High Temperature Creep Mechanisms in Single Crystals of Some High Performance Nickel-Base Superalloys.- Dislocation Microstructure in PM Astroloy and Ma6000 after HTLCF.- Ferritic Fe-Ni-Al Alloys for High Temperature Applications.- Metallographic Indication of Methane in Steel Cavities.- Rapporteur's synthesis.- Sub-session 1.2.: Chairman: G. Sainfort, CEA, Grenoble, F..- The Corrosion Behaviour of Alloys in High Temperature Gaseous Environments.- The Limits to the Protective Effect of Oxide Scales on High Temperature Materials Which are Subjected to Strain.- Relaxation of the Mechanical Stresses Developed Through Oxide Scales During Oxidation of Metals.- The Effects of Cerium and Cerium Oxide on the High Temperature Oxidation of Iron-Chromium Alloys at Iooo DegreesC in 100 Torr O2.- The Carburisation Behaviour of Steels for Petrochemical Plant.- An Evaluation of Fe-Cr-Al Alloys in Simulated Coal Gasifier Environments from 850-1050 DegreesC.- Environmental Resistance oF Incoloy alloy Ma956.- Identification of Oxide and Sulphide Corrosion Products Using Raman Microscopy.- The Sulphidation Behaviour of Vanadium, Niobium and Molybdenum.- The Influence of Alloy Composition Upon The Corrosion Behaviour of 25Cr-35Ni-Fe Alloys Exposed to Mixed Gaseous Oxidising/Sulphidising/Carburising Atmospheres.- High Temperature Sulphidation of Aluminised Alloys: Protective Properties of Alumina Layers.- The Laser Raman Microprobe - A New Technique for the Identification of Corrosion Scale Constituents.- Rapporteur's Synthesis.- Session 2: Potential for Development in Alloys and Processing. Sub-session 2.1.: Chairman: J. Levy, Ecole des Mines, Paris, F..- Steel and Nickel Base Alloys.- Production and Properties of Large Nimonic Alloy 901 Discs for Land-Based gas Turbines.- Development of 12Cr-1Mo-1W-V-Nb Steel for Elevated Temperature Applications.- Service Experiences of 12Cr-1Mo-W-V-Nb Steel and 9Cr-2Mo Steel in a Power Boiler.- An Austenitic Heat Resisting Steel Tube Developed for Advanced Fossil-fired Steam Plants.- Hot Working of Duplex Stainless Steels and Nickel-Iron Superalloys.- Development of a Duplex Structure 12Cr-1.5Mo-1W Steel for Elevated Temperature Applications.- The Influence of Powder Processing Variables on the Structure and Properties of Hiped Low Carbon Astroloy.- Sensitivity of Mechanical Properties of Nickel Base Alloys to Cooling rates.- Effects of Cobalt on the Microstructures and Mechanical Properties of the Fe-Ni-Co Base Superalloy Refractoloy 26.- Properties and Applications of Hot Formed O.D.S. Alloys.- Influence of Regeneration Treatments on Creep Rupture Lifes of Turbine Blades.- Rapporteur's Synthesis.- Sub-session 2.2.: Chairman: J.F. Conde, Admiralty Marine Technology, Poole, UK..- Coatings - their Potential and Limits (Abstract).- Diffusion Phenomena Between Coating and Base Material in Ni-Base Superalloy.- The High Temperature Oxidation Behaviour of the Single Crystal Ni-Base alloy M002 Mod. with and without Protective Coatings.- Rapporteur's Synthesis.- Session 3: Engineering Considerations. Sub-session 3.1.: Chairman: J. Schijve, Technical University, Delft, NL..- Thermo-Mechanical Loading Constraints (Abstract).- Fatigue and Microstructure.- Low Cycle Fatigue Behaviour of Inconel Al