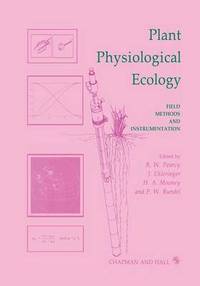 Fler böcker inom
Format

Häftad (Paperback / softback)

Språk

Engelska

Antal sidor

458

Utgivningsdatum

2011-09-26

Upplaga

Softcover reprint of the original 1st ed. 1989

Förlag

Medarbetare

Pearcy, Robert W. (ed.), Ehleringer, James R. (ed.), Mooney, Harold A. (ed.), Rundel, Philip W. (ed.)

Illustrationer

XX, 458 p.

Antal komponenter

1

Komponenter

1 Paperback / softback

ISBN

9789401074964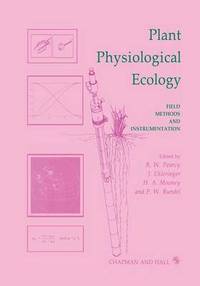 Plant Physiological Ecology
Field methods and instrumentation
Skickas inom 5-8 vardagar.
Fri frakt inom Sverige för privatpersoner.
Physiological plant ecology is primarily concerned with the function and performance of plants in their environment. Within this broad focus, attempts are made on one hand to understand the underlying physiological, biochemical and molecular attributes of plants with respect to performance under the constraints imposed by the environment. On the other hand physiological ecology is also concerned with a more synthetic view which attempts to under stand the distribution and success of plants measured in terms of the factors that promote long-term survival and reproduction in the environment. These concerns are not mutually exclusive but rather represent a continuum of research approaches. Osmond et al. (1980) have elegantly pointed this out in a space-time scale showing that the concerns of physiological ecology range from biochemical and organelle-scale events with time constants of a second or minutes to succession and evolutionary-scale events involving communities and ecosystems and thousands, if not millions, of years. The focus of physiological ecology is typically at the single leaf or root system level extending up to the whole plant. The time scale is on the order of minutes to a year. The activities of individual physiological ecologists extend in one direction or the other, but few if any are directly concerned with the whole space-time scale. In their work, however, they must be cognizant both of the underlying mechanisms as well as the consequences to ecological and evolutionary processes.
Passar bra ihop
+
Bloggat om Plant Physiological Ecology
Innehållsförteckning
1 Principles of instrumentation for physiological ecology.- 1.1 Introduction.- 1.2 Measurement and measurement errors.- 1.3 Instrument organization.- 1.4 Instrument initiation.- 1.5 Postscript.- 2 Field data acquisition.- 2.1 Introduction.- 2.2 Analog recorders.- 2.3 Digital recorders.- 2.4 Integrators.- 2.5 Sampling considerations.- 3 Water in the environment.- 3.1 Soil moisture.- 3.2 Atmospheric moisture.- 3.3 Moisture flux.- 4 Measurement of wind speed near vegetation.- 4.1 Introduction.- 4.2 Flow in wind tunnels, growth cabinets and ducts.- 4.3 Weather stations and field survey.- 4.4 Wind profiles above vegetation.- 4.5 Boundary layer resistance.- 4.6 Calibration.- 4.7 Aerodynamic influence by masts.- 4.8 Visualization.- 4.9 Pressure measurements.- 4.10 Some applications.- 5 Soil nutrient availability.- 5.1 Introduction.- 5.2 Difficulties in measuring nutrient availability.- 5.3 Nitrogen availability.- 5.4 Phosphorus availability.- 5.5 Sulfur availability.- 5.6 Availability of essential cations.- 5.7 Micronutrient availability.- 5.8 Soil classification.- 5.9 Bioassay of nutrient availability.- 5.10 Soil acidity.- 5.11 Soil salinity.- 5.12 Soil redox potential.- 5.13 Comments on sampling.- 5.14 Index units.- 6 Radiation and light measurements.- 6.1 Introduction.- 6.2 Definitions and units.- 6.3 Energy versus photons as a measure of PAR.- 6.4 Radiation sensors: general characteristics.- 6.5 Determination of the diffuse and direct components of radiation.- 6.6 Calibration of radiation sensors.- 6.7 Sampling considerations.- 6.8 Photographic estimations of light climate.- 6.9 Spectral radiometry.- 7 Temperature and energy budgets.- 7.1 Introduction.- 7.2 Energy budget approach.- 7.3 Variations in air and leaf temperatures with height.- 7.4 Temperature and its measurement.- 7.5 Orientation and its measurement.- 7.6 Calculation of incident solar radiation on different surfaces.- 7.7 Leaf absorptance and its measurement.- 7.8 Boundary layer considerations.- 8 Measurement of transpiration and leaf conductance.- 8.1 Introduction.- 8.2 Leaf transpiration rate.- 8.3 Leaf conductance to water vapor.- 8.4 Instrumentation for transpiration measurements.- 8.5 Calibration of water vapor sensors.- 8.6 Systems for measuring transpiration and leaf conductance.- 8.7 Whole-plant measurements of transpiration.- 9 Plant water status, hydraulic resistance and capacitance.- 9.1 Introduction.- 9.2 Water potential and its components.- 9.3 Water content.- 9.4 Hydraulic resistance and capacitance.- 9.5 Conclusion.- 10 Approaches to studying nutrient uptake, use and loss in plants.- 10.1 Introduction.- 10.2 Nutrient uptake.- 10.3 Nutrient use and nutrient status.- 10.4 Chemical analysis.- 10.5 Nutrient loss.- 11 Photosynthesis: principles and field techniques.- 11.1 The system concept.- 11.2 Principles of photosynthesis measurement.- 11.3 Components of gas-exchange systems.- 11.4 Real photosynthesis systems.- 11.5 Matching instrument to objective.- 11.6 Calibrating photosynthesis systems.- 11.7 Calculating gas-exchange parameters.- 11.8 List of symbols.- 12 Crassulacean acid metabolism.- 12.1 Introduction.- 12.2 Measurement of succulence.- 12.3 Nocturnal acidification.- 12.4 Nocturnal CO2 fixation.- 12.5 Analysis of day-night and seasonal patterns of CO2 and H2O vapor exchange.- 12.6 Measurement of photosynthesis and respiration by O2 exchange.- 12.7 Water relations.- 12.8 Stress physiology.- 13 Stable isotopes.- 13.1 Introduction.- 13.2 Natural abundances of stable isotopes of ecological interest.- 13.3 Stable isotope mass spectrometry.- 13.4 Sample preparation.- 13.5 Sample variability.- 13.6 Application of stable isotopes in ecological studies.- 14 Canopy structure.- 14.1 Introduction.- 14.2 Direct methods.- 14.3 Semidirect methods.- 14.4 Indirect methods.- 14.5 Summary.- 15 Growth, carbon allocation and cost of plant tissues.- 15.1 Introduction.- 15.2 Growth analysis.- 15.3 Fate of carbon.- 15.4 Carbon and energy costs of growth and maintenance.- 1