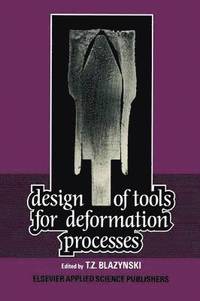 Fler böcker inom
Format

Häftad (Paperback / softback)

Språk

Engelska

Antal sidor

291

Utgivningsdatum

2011-10-13

Upplaga

Softcover reprint of the original 1st ed. 1986

Förlag

Illustrationer

13 Illustrations, black and white; XIV, 291 p. 13 illus.

Antal komponenter

1

Komponenter

1 Paperback / softback

ISBN

9789401083553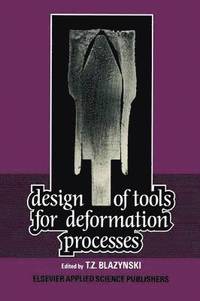 Design of Tools for Deformation Processes
Skickas inom 5-8 vardagar.
Fri frakt inom Sverige för privatpersoner.
Although the problem of tool design - involving both the selection of suitable geometry and material- has exercised the attention of metal- forming engineers for as long as this industrial activity has existed, the approach to its solution has been generally that of the 'trial and error' variety. It is only relatively recently that the continuing expansion of the bulk metal-forming industry, combined with an increase in the degree of sophistication required of its products and processes, has focussed attention on the problem of optimisation of tool design. This, in turn, produced a considerable expansion of theoretical and practical investi- gations of the existing methods, techniques r,nd concepts, and helped to systematise our thinking and ideas in this area of engineering activity. In the virtual absence, so far, of a single, encyclopaedic, but sufficien- tly deep, summation of the state of the art, a group of engineers and materials scientists felt that an opportune moment had arrived to try and produce, concisely, answers to many tool designers' dilemmas. This book attempts to set, in perspective, the existing - and proven - concepts of design, to show their respective advantages and weaknesses and to indicate how they should be applied to the individual main forming processes of rolling, drawing, extrusion and forging.
Passar bra ihop
+
Fler böcker av T Z Blazynski
Bloggat om Design of Tools for Deformation Processes
Innehållsförteckning
1. Concepts of Tool Design.- 1.1. Introduction.- 1.2. Pass Geometry and Product Quality.- 1.2.1. Introduction.- 1.2.2. Assessment of Pass Efficiency.- 1.3. Empirical and Theoretical Bases for Design.- 1.3.1. Development of Concepts.- 1.3.2. Specific Design Concepts.- 1.4. Design Concepts and Their Effects.- References.- 2. Longitudinal and Oblique Rolling.- 2.1. Longitudinal Rolling: Hollow Sections.- 2.2. Roll Groove Design: Sinking and Stretch-Reducing Mills.- 2.3. Longitudinal Rolling: Bar and Rod.- 2.4. The Pilger Process: Rotary Forging.- 2.5. The Push Bench Process.- 2.6. The Diescher Mill: Elongation by Oblique Rolling.- 2.7. Expanding by Oblique Rolling.- 2.8. The Assel Mill: Oblique Elongating by Three Stepped Rolls.- 2.9. Three-Roll Planetary Rolling.- 2.10. Rotary Piercing.- References.- 3. The Drawing of Metals.- 3.1. Developments in the Drawing of Metals.- 3.2. Developments in Drawing Lubricants.- 3.3. Development of Tool Materials.- 3.4. The Mechanical Design of Draw Tools.- 3.5. Theoretical Considerations.- 3.5.1. General Introduction.- 3.5.2. Force Equilibrium Analysis of the Axisymmetric Drawing of Wire, Rod or Bar through a Straight Conical Die.- 3.5.3. Force Equilibrium Analysis of the Axisymmetric Drawing of Tube through a Straight Conical Die.- 3.5.4. The Axisymmetric Drawing of Bi-metal Tube.- 3.6. Unusual and Recent Developments in Drawing.- 3.6.1. Hydrodynamic Drawing.- 3.6.2. Section Drawing.- 3.6.3. Elevated Temperature Drawing.- 3.6.4. Ultrasonic Drawing.- References.- 4. Extrusion.- 4.1. Introduction.- 4.2. Design of Tools for Hot Extrusion.- 4.2.1. Mandrel.- 4.2.2. Dummy Blocks.- 4.2.3. Die Stack.- 4.3. Industrial Practice in Tool Design.- 4.3.1. Mandrels.- 4.3.2. Dummy Blocks.- 4.3.3. Dies.- 4.4. Theoretical Approaches and Limitations.- 4.5. Future Developments.- 4.6. Conform.- 4.7. Cold Extrusion of Steel.- 4.7.1. Nomenclature and Tool Assembly Drawings.- 4.7.2. Punches.- 4.7.3. Dies.- 4.7.4. Other Tools.- 4.8. Cold Extrusion of Non-Ferrous Components.- 4.8.1. Introduction.- 4.8.2. Materials.- 4.8.3. Tool Design.- 4.9. Hydrostatic, HERF and Other Extrusion Techniques.- References.- 5. Forging.- 5.1. Forging Process Variables Affecting Die Design and Manufacture.- 5.1.1. Forging Materials.- 5.1.2. Forging Equipment.- 5.1.3. Friction and Lubrication.- 5.1.4. Heat Transfer and Temperature.- 5.1.5. Production Lot Size and Tolerances.- 5.2. Importance of Forging Geometry and Shape Complexity.- 5.3. Design of Finisher Dies.- 5.3.1. Estimation of Flash Dimensions.- 5.3.2. Prediction of Forging Stresses and Load.- 5.4. Design of Blocker Dies.- 5.4.1. Significance of Blocker Geometry.- 5.4.2. Distribution of Volume.- 5.4.3. Empirical Rules for Blocker Design.- 5.5. Computer-Aided Methods for Designing Forging Dies.- 5.5.1. CAD/CAM System Requirements and Selection.- 5.5.2. Design of Finisher Dies.- 5.5.3. Design of Blocker Dies.- 5.6. Metal Flow Simulation for Optimizing Die Design.- 5.6.1. Metal Flow Simulation Using the Slab Method.- 5.6.2. Simulation of Metal Flow in Round Forgings Using the Rigid Plastic Finite Element Method.- 5.7. Manufacturing of Forging Dies.- 5.7.1. Manual (Conventional) Turning or Milling.- 5.7.2. Copy Milling.- 5.7.3. Numerical Control (NC) Machining of Die Cavities.- 5.7.4. Electrodischarge Machining (EDM).- 5.7.5. Hobbing.- 5.8. Dies for Special Forging Techniques.- 5.8.1. Flashless Forging with Multiple Die Motion.- 5.8.2. Forging of Parts with Undercuts Using Split Dies.- 5.8.3. Core Forging of Parts with Lateral Protrusions.- 5.8.4. Dies for Precision Forging.- References.- 6. Friction and Tools.- 6.1. Influence of Friction in Metal-Working.- 6.2. The Mechanics of Asperity Deformation.- 6.3. The Origin of Friction Stresses.- 6.4. Lubrication.- 6.4.1. Mechanisms of Lubrication.- 6.4.2. Lubricants for Metal-Forming Processes.- 6.5. Measurement of Friction.- 6.5.1. Rolling.- 6.5.2. Drawing.- 6.5.3. Extrusion.- 6.5.4. Forging.- 6.6. Friction and Normal Stress Distributions in