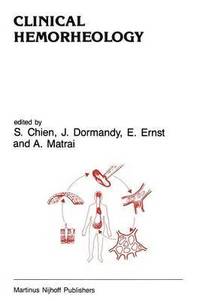 Fler böcker inom
Format

Häftad (Paperback / softback)

Språk

Engelska

Antal sidor

387

Utgivningsdatum

2011-10-13

Upplaga

Softcover reprint of the original 1st ed. 1987

Förlag

Medarbetare

Chien, S. (ed.), Dormandy, John A. (ed.), Ernst, E. (ed.), Matrai, A. (ed.)

Illustrationer

XI, 387 p.

Antal komponenter

1

Komponenter

1 Paperback / softback

ISBN

9789401084048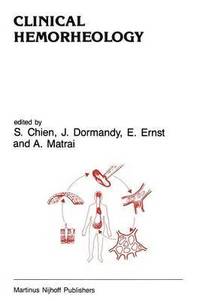 Clinical Hemorheology
Applications in Cardiovascular and Hematological Disease, Diabetes, Surgery and Gynecology
Skickas inom 10-15 vardagar.
Fri frakt inom Sverige för privatpersoner.
The task the editors have set themselves is to survey the field of clinical hemorheology from basic principles to up-to-date research. It is only in a new science like this that it is possible to span the whole field in a book of this size. Hemorheology, as a new approach to the study and management of a wide range of circulatory diseases, is now beginning to appear with increasing frequency in general as well as specialized medical journals. Hemorheology is also just beginning to creep into the undergraduate medical curriculum. Therefore, the majority of graduate doctors are unequipped to assess the place of hemorheology in the overall framework of circulatory physiology and pathology or to assess its relevance to their everyday practice. It is hoped that this book will fill this gap. The approach of the book is interdisciplinary. The first part deals with basic principles of blood flow, circulation and hemorheology. It has been written with the general doctor in mind, who has no special knowledge of hemodynamics and rheological concepts, terminology or methodology. To maintain the emphasis on practical clinical applications, all the chapters in the second part of the book have been written by clinical specialists practicing in the individual areas of disease. The book is so designed that clinicians may be able to read the relevant chapters in the second part of the book in isolation, using the basic science aspects contained in the first part of the book as reference chapters.
Passar bra ihop
+
Recensioner i media
`The book completely fulfills its initial objective of bridging `... the gap between scientific investigation and clinical practice ...'. It has no relevant negative aspects and thus constitutes a very good and very useful book, at an attractive price. I recommend it to all interested in hemorheology, and particularly to scientists and clinicians who wish to acquire specific knowledge on the scientific basis of hemorheology and its present state-of-the-art, or who want an extensive references book.' J. Martins e Silva, Clinical Hemorheology, Vol. 8, 1988.
Bloggat om Clinical Hemorheology
Innehållsförteckning
1. Introduction: On the way to modern clinical hemorheology.- 2. Biophysics.- 2.1. Basic concepts.- 2.1.1. Rheology.- 2.1.2. Stress, strain and strain rate.- 2.1.3. Elastic solid and viscous fluid.- 2.1.4. Classification of viscous liquids.- 2.1.5. Viscoelasticity.- 2.1.6. Surface rheology.- 2.2. Viscometry.- 2.2.1. Laminar and turbulent flow.- 2.2.2. Temperature control.- 2.2.3. Steady-flow viscometers.- 2.2.4. Tube viscometers.- 2.2.5. Rotational viscometers.- 2.2.6. Oscillatory flow methods.- 2.3. Other techniques quantifying blood rheology.- 2.3.1. Optical aggregometry.- 2.3.2. Blood filtration.- 2.4. Rheology of normal blood.- 2.4.1. Shear dependence.- 2.4.2. Plasma viscosity.- 2.4.3. Effect of hematocrit.- 2.5. Blood sampling and handling in hemorheological tests.- 2.5.1. Postural changes.- 2.5.2. Venous occlusion.- 2.5.3. Diurnal, seasonal and climatic variations.- 2.5.4. Anticoagulation and storage.- 2.6. Clinical interpretation of hemorheological data.- 2.6.1. Plasma viscosity.- 2.6.2. Blood viscosity.- 2.6.3. Blood filtration.- 2.6.4. Optical aggregometry and erythrocyte sedimentation rate.- 2.7. References.- 3. Rheology of blood cells.- 3.1. Introduction.- 3.2. Dynamic deformability of blood cells.- 3.2.1. Blood cells deformability: "extrinsic factors".- 3.2.2. Red blood cell deformability: "intrinsic factors".- 3.2.3. White blood cell deformability: "intrinsic factors".- 3.3. Rheological implications of blood cell deformabilities.- 3.4. Blood cell aggregation - disaggregation and interaction with vascular endothelium.- 3.4.1. Red blood cell aggregation: mechanisms.- 3.4.2. Red blood cell aggregation: measurement.- 3.4.3. Adhesion of blood cells to vessel walls.- 3.5. Acknowledgements.- 3.6. References.- 4. Structural, hemodynamic and rheological characteristics of blood flow in the circulation.- 4.1. Introduction.- 4.2. Structural and hemodynamic characteristics of the vascular system.- 4.3. Functional compartments within the vascular system.- 4.3.1. The high pressure conduit vessels.- 4.3.2. The control compartment.- 4.3.3. The exchange compartment.- 4.3.4. The low pressure compartment.- 4.4. Blood cell rheology in the circulation.- 4.4.1. Bulk flow regime I.- 4.4.2. Transition zone IIa.- 4.4.2.1. Fahraeus effect.- 4.4.2.2. Fahraeus-Lindqvist effect.- 4.4.3. Transition zone IIb.- 4.4.4. Single file flow regime III.- 4.5. Summary and conclusions.- 4.6. References.- 5. Physiological and pathophysiological significance of hemorheology.- 5.1. The role of hemorheology in circulatory physiology.- 5.1.1. Vascular hindrance and blood viscosity as determinants of resistance.- 5.1.2. Fundamental determinants of blood viscosity.- 5.1.3. Blood rheology in relation to circulation in vivo.- 5.1.4. Influence of blood rheology on oxygen transport.- 5.1.5. Influence of leukocytes on blood flow in the microcirculation.- 5.1.6. Modeling of microcirculatory networks.- 5.2. Circulatory consequences of pathological alterations in blood rheology.- 5.2.1. Hemorheological abnormalities in hematological disorders.- 5.2.2. Hemorheological abnormalities in cardiovascular disease.- 5.2.3. Compensatory adjustments to pathological alteration in blood rheology.- 5.3. Summary and conclusions.- References.- 6. Cardiovascular diseases.- 6.1. Introduction.- 6.2. Myocardial ischemia.- 6.2.1. Epidemiological evidence.- 6.2.2. Established myocardial ischemia.- 6.2.3. Changes associated with acute myocardial ischemia.- 6.2.4. Therapeutic implications.- 6.3. Hypertension.- 6.4. Cerebral ischemia.- 6.4.1. Physiological and epidemiological evidence.- 6.4.2. Role in the evolution of cerebral infarction.- 6.4.3. Therapeutic implications.- 6.5. Ischemia of the leg.- 6.5.1. Pathological role.- 6.5.2. Clinical significance.- 6.5.3. Therapeutic implications.- 6.6. Raynaud's phenomenon.- 6.6.1. Pathological role.- 6.6.2. Therapeutic implications.- 6.7. Conclusions.- 6.8. References.- 7. Thrombosis and hemorheology.- 7.1. Introduction