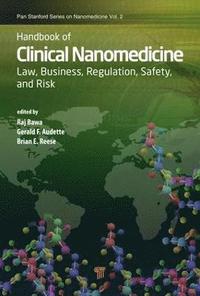 Fler böcker inom
Format

Inbunden (Hardback)

Språk

Engelska

Antal sidor

1502

Utgivningsdatum

2016-05-02

Förlag

Illustrationer

85 Illustrations, color; 36 Illustrations, black and white

Antal komponenter

1

ISBN

9789814669221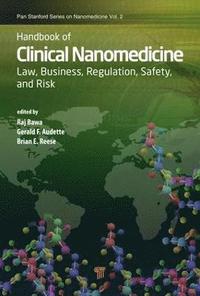 Handbook of Clinical Nanomedicine
Law, Business, Regulation, Safety, and Risk
Specialorder (osäker tillgång). Skickas inom 11-20 vardagar.
Fri frakt inom Sverige för privatpersoner.
This unique handbook (60 chapters) examines the entire "product life cycle," from the creation of nanomedical products to their final market introduction. While focusing on critical issues relevant to nanoproduct development and translational activities, it tackles topics such as regulatory science, patent law, FDA law, ethics, personalized medicine, risk analysis, toxicology, nano-characterization and commercialization activities. A separate section provides fascinating perspectives and editorials from leading experts in this complex interdisciplinary field.
Passar bra ihop
+
Fler böcker av författarna
Bloggat om Handbook of Clinical Nanomedicine
Övrig information
Raj Bawa, MS, PhD, is president of Bawa Biotech LLC, a biotech/pharma consultancy and patent law firm based in Ashburn, Virginia that he founded in 2002. He is an inventor, entrepreneur, professor and registered patent agent licensed to practice before the US Patent & Trademark Office. Trained as a biochemist and microbiologist, he has been an active researcher for over two decades. He has extensive expertise in the pharmaceutical sciences, biotechnology, nanomedicine, drug delivery, biodefense, FDA regulatory issues, and patent law. Since 1999, he has held various adjunct faculty positions at Rensselaer Polytechnic Institute in Troy, NY, where he is currently an adjunct professor of biological sciences and where he received his doctoral degree in three years (biophysics/biochemistry). Since 2004, he has been an adjunct professor of natural and applied sciences at NVCC in Annandale, VA. He is a scientific advisor to Teva Pharmaceutical Industries, Ltd., Israel. He has served as a principal investigator of National Cancer Institute SBIRs and reviewer for both the National Institutes of Health and the National Science Foundation. In the 1990s, Dr. Bawa held various positions at the US Patent & Trademark Office, including primary examiner for 6 years. He is a life member of Sigma Xi, co-chair of the Nanotech Committee of the American Bar Association and serves on the Global Advisory Council of the World Future Society. He has authored over 100 publications, co-edited four texts and serves on the editorial boards of numerous peer-reviewed journals, including serving as a special associate editor of Nanomedicine (Elsevier) and an editor-in-chief of the Journal of Interdisciplinary Nanomedicine (Wiley). Some of Dr. Bawa's awards include the Innovations Prize from the Institution of Mechanical Engineers, London, UK (2008), the Key Award from Rensselaer's Office of Alumni Relations (2005) and the Lifetime Achievement Award from the American Society for Nanomedicine (2014). Gerald F. Audette, PhD, has been a faculty member at York University in Toronto, Canada, since 2006. Currently, he is an associate professor in the Department of Chemistry and acting director of the Centre for Research on Biomolecular Interactions at York University. He received his doctorate in 2002 from the Department of Biochemistry at the University of Saskatchewan in Saskatoon, Canada. Working with Drs. Louis T. J. Delbaere and J. Wilson Quail (1995-2001), Dr. Audette's research focused on the elucidation of the protein- carbohydrate interactions that occur during blood-group recognition (in particular during the recognition of O blood type) using high-resolution X-ray crystallography. Dr. Audette conducted his postdoctoral research at the University of Alberta (2001-2006) in Edmonton, Canada. Working with Drs. Bart Hazes and Laura Frost; his research again utilized high-resolution protein crystallography to examine the correlation between protein structure and biological activity of type IV pilins that are assembled into pili used by bacteria for multiple purposes, including cellular adhesion during infection. It was during these studies that Dr. Audette identified the generation of protein nanotubes from engineered pilin monomers. Dr. Audette also studied the process of bacterial conjugation (or lateral gene transfer) using the F-plasmid conjugative system of Escherichia coli. Current research directions include: structure/function studies of proteins involved in bacterial conjugation systems, the structural and functional characterization of several type IV pilins (the monomeric subunit of the pilus), their assembly systems, and adapting these unique protein systems for applications in bionanotechnology. Dr. Audette has previously served as co-editor- in-chief of the Journal of Bionanoscience (2007-2010), and is currently a subject editor of structural chemistry and crystallography for the journal FACETS. Brian E. Reese, PhD, JD, MBA, is an
Innehållsförteckning
LAW, BUSINESS, AND COMMERCIALIZATION An Intellectual Property Primer for Nanomedical Researchers and Engineers Brian E. Reese, JD, PhD, MBA Strategic Intellectual Property Management: Building IP Portfolios Jeffery P. Langer, PhD, JD Extending Patent Term for Nanomedical Inventions: A Nexus between the FDA and the Patent System Susanne M. Hopkins, JD, and Ari G. Zytcer, JD When Patented Technologies Get Put to Experimental Use: Practical Considerations for Nanotech R&D Victor H. Polk, Jr, JD, and Roman Fayerberg, JD Bridging Diagnostics Research, Development and Commercialization Rosanna W. Peeling, PhD What the Supreme Court's Myriad Decision Means for Nanotechnology Patents Andrew S. Baluch, JD, Stephen B. Maebius, JD, and Harold C. Wegner, JD Managing the Expense of Patent Litigation in Nanotechnology Todd G. Vare, JD Technology Transfer: An Overview Bruce D. Goldstein, JD, MS Licensing Issues in Nanotechnology Joanna T. Brougher, JD, MPh Commercializing Your Intellectual Property: Steps to Take and Pitfalls to Avoid Inna Dahlin, PhD, JD, and Michael J. Pomianek, PhD, JD Overcoming Nanotechnology Commercialisation Challenges: Case Studies of Nanotechnology Ventures Elicia Maine, PhD The Commercialisation of Nanotechnology: The Five Critical Success Factors to a Nanotech-Enabled Whole Product Craig Belcher, MBA, PhD, Richard Marshall, MBA, Grant Edwards, PhD, and Darren Martin, PhD Overcoming the Odds: How to Incubate Fledging Bioscience Companies Patti Breedlove, MS Market Opportunity for Molecular Diagnostics in Personalized Cancer Therapy Elemer Piros, PhD, Istvan Petak, MD, PhD, Attila Erdos, MD, John Hautman, JD, and Julianna Lisziewicz, Ph Nanotechnology Implications for Labor Noela Invernizzi, PhD, and Guillermo Foladori, PhD Insurance Market Perception of Nanotechnology and Nanomaterials Risks Lijana Baublyte, PhD, Martin Mullins, PhD, Finbarr Murphy, PhD, and Syed A.M. Tofail, PhD REGULATORY ISSUES AND NANOGOVERNANCE FDA and Nano: Baby Steps, Regulatory Uncertainty and the Bumpy Road Ahead| Raj Bawa, MS, PhD EU Regulation of Nanobiotechnology John Quinn, LLM Regulating Nanomedicine Shannon G. Fischer, MS Nanomedicines: Addressing the Scientific and Regulatory Gap Sally Tinkle, PhD, Scott E. McNeil, PhD, Stefan Muhlebach, PhD, Raj Bawa, MS, PhD, Gerrit Borchard, PhD, Yechezkel Barenholz, PhD, Lawrence Tamarkin, PhD, and Neil Desai, MS, PhD Regulation of Combination Products in the United States John Barlow Weiner, JD, and Thinh X. Nguyen Regulation of Combination Products in the European Union Janine Jamieson, PhD, and Elizabeth Baker Brief Overview of Current Developments in Nanotechnology EHS Regulation in the U.S. Theodore Voorhees, Jr., JD EPA Targets Nanotechnology: Hi-Ho, Nanosilver, Away? David L. Wallace, JD, and Justin A. Schenck, JD Graphene: Regulatory Considerations for the "Wonder Material" Matthew Kaplan, JD, and Jennifer Woloschyn, JD The Enduring Embrace: The Regulatory Ancien Regime and Governance of Nanomaterials in the U.S. Christopher Bosso, PhD HEALTH, SAFETY, RISK, AND BIOLOGICAL INTERACTIONS Safety of Engineered Nanomaterials and Occupational Health and Safety Issues for Commercial-Scale Production Paul F. A. Wright, PhD, and Neale R. C. Jackson, PhD Engineered Nanoparticle Release, Exposure Pathway and Dose, Measures and Measuring Techniques for Nanoparticle Exposure in Air Heinz Fissan, PhD, and Hans-Georg Horn, PhD Managing Environmental and Health Risks in the Nanotechnology Industry Joseph Luke Huan, LLB (Hons), MPhil Risk Perception and Risk Communication on the Issue of Nanotechnology Gaby-Fleur Boel, PhD, Guido Correia Carreira, PhD, Astrid Epp, PhD, Eva Haffner, PhD, and Mark Lohmann, PhD In vitro Risk Assessment of Nanoparticles Birgit K. Gaiser, Julia Susewind, Nadia Ucciferri, Eva-Maria Collnot, Arti Ahluwalia, and Vicki Stone Biological