The stunning debut fantasy novel from author Peter V. Brett. The Painted Man, book one of the Demon Cycle, is a captivating and thrilling fantasy adventure, pulling the reader into a world of demons, darkness and heroes. Voted one of the top ten fantasy novels of 2008 by amazon.co.uk. Sometimes there is very good reason to be afraid of the dark...Eleven-year-old Arlen lives with his parents on their small farmstead, half a day's ride from the isolated hamlet of Tibbet's Brook. As dusk falls upon Arlen's world, a strange mist rises from the ground; a mist that promises a violent death to any foolish enough to brave the coming darkness, for hungry corelings - demons that cannot be harmed by mortal weapons - materialize from the vapours to feed on the living. As the sun sets, people have no choice but to take shelter behind magical wards and pray that their protection holds until the creatures dissolve with the first signs of dawn. When Arlen's life is shattered by the demon plague, he is forced to see that it is fear, rather than the demons, which truly cripples humanity. Believing that there is more to his world than to live in constant fear, he must risk leaving the safety of his wards to discover a different path. In the small town of Cutter's Hollow, Leesha's perfect future is destroyed by betrayal and a simple lie. Publicly shamed, she is reduced to gathering herbs and tending an old woman more fearsome than the corelings. Yet in her disgrace, she becomes the guardian of dangerous ancient knowledge. Orphaned and crippled in a demon attack, young Rojer takes solace in mastering the musical arts of a Jongleur, only to learn that his unique talent gives him unexpected power over the night. Together, these three young people will offer humanity a last, fleeting chance of survival.
(Bookdata)
Kundrecensioner
Det finns 1 recension av . Har du också läst boken? Sätt betyg och recensera.
Här är en bok jag varmt rekommenderar dig som läser på engelska. Vilken bok! Den fångade mig direkt och höll mig i ett hårt grepp ända tills boken var klar. Det är en tjock bok, men väl värd varenda sida.

Det här är författaren Peter V. Bretts debut. Han beskriver en värld där Demoner tar över världen efter mörkrets inbrott. Där alla måste ha en liten gnutta magi för att väva en skyddande kapsel runt sig. Alla är inte duktiga, vissa kan det betydligt bättre än andra. För de som inte klarar av att skydda sig finns bara ett öde, döden.

Arlens öde griper tag i mig och jag läser girigt varje ord för att få se vad som ska hända. Tårar rinner nedför kinderna, mungiporna lyfts upp i leenden, hjärtat bultar av skräck när demonerna kastar sig över honom.

Ja, det är verkligen en bok att älska. Den får högsta betyg av mig och jag ska läsa allt Peter V. Brett har skrivit.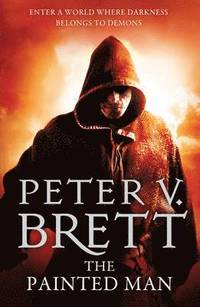 Fler böcker inom
Häftad (Paperback)
Språk: Engelska
Antal sidor: 560
Utg.datum: 2013-01-31
Förlag: HarperVoyager
Dimensioner: 201 x 128 x 36 mm
Vikt: 370 g
ISBN: 9780007492541
Recensioner i media
'I enjoyed The Painted Man immensely. Action and suspense all the way.' Terry Brooks 'The Painted Man works not only as a great adventure novel but also as a reflection on the nature of heroism' Charlaine Harris 'Peter V. Brett is one of my favourite new authors' Patrick Rothfuss 'Inspired, compelling, and totally addictive: the most significant and cinematic fantasy epic since The Lord of the Rings' Paul W. S. Anderson, director of Resident Evil: Afterlife
(Bookdata)
Övrig information
Raised on a steady diet of fantasy novels, comic books, and Dungeons & Dragons, Peter V. Brett has been writing fantasy stories for as long as he can remember. He received a Bachelor of Arts degree in English Literature and Art History from the University at Buffalo in 1995, and then spent over a decade in pharmaceutical publishing before returning to his bliss. He lives in New York.
(Bookdata)