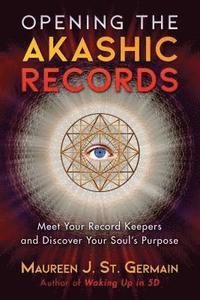 Fler böcker inom
Format

Häftad (Paperback / softback)

Språk

Engelska

Antal sidor

176

Utgivningsdatum

2019-04-05

Förlag

Illustrationer

20 b&w illustrations

Dimensioner

228 x 152 x 12 mm

Vikt

294 g

Antal komponenter

1

ISBN

9781591433385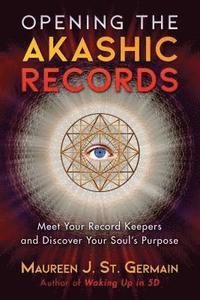 Opening the Akashic Records
Meet Your Record Keepers and Discover Your Soul's Purpose
Bokens leverantör håller tillfälligt stängt på grund av Coronapandemin. Klicka "Bevaka" för att få ett mejl när boken går att beställa igen eller välj ett annat format nedan.
A clear and simple manual of precise instructions for accessing the Akashic Records and confirming the accuracy of the information you receive The Akashic Records are a vast domain of energetic imprints much like a movie library, a living vibrational field that stores all possible futures, the present, and the past. As soon as your soul begins its life experience, a field of energy is released that records every thought, word, action, desire, and emotion. In this guide to opening the Akashic Records, Maureen St. Germain provides precise instructions explaining how to connect with your personal Record Keepers, gain clear access to the Akashic Records, discover information about you and your loved ones, and learn your soul's purpose. The author explains how outside energies can influence your connection to the Akashic Records. She details energetic clearing exercises to remove the energies blocking or shadowing your access and teaches the Higher Self Protocol to ensure an authentic channel of communication. She explores how to find the Record Keepers who will be the most helpful to you and provides techniques and tools, such as guided energy work, to prepare you for Akashic Record access, initiate you into the 5D mindset, and invite more accuracy and a stronger connection. She details the specific markers to look for to recognize genuine Akashic Librarians and to validate and confirm the information you receive, rather than simply "trusting" it to be true. She also provides guidance on accessing the Akashic Records on behalf of other people, how to ask questions, and how to handle the information as it comes in. Explaining why the Ascended Masters opened access to the Akashic Records to all of humanity and how their presence assists you, St. Germain shows how the intended purpose for working with the Akashic Records is for soul growth, not to "repair" your karma debts. By seeing your records and working with your Record Keepers, not only will you learn your soul's purpose and help solve the problems that crop up in everyday life and relationships, but you will amplify your spirituality and begin operating at a higher level in consciousness. Your work in the Akashic Records aids and assists in Earth's ascension.
Fler böcker av Maureen J St Germain
Recensioner i media
"Fabulous! Maureen St. Germain offers clear and precise instructions to guide you step-by-step through the process of developing a close relationship with your Higher Self, the Record Keepers, and your Guides so that you can personally connect with them in a direct and meaningful way. It works!" * MarBeth Dunn, energy management specialist * "Maureen St. Germain has tapped into the exquisite library of all that is. She has found a way to teach this to everyone. Her simple techniques are easy to understand. Her exclamations and marvelous tools will help you accurately identify your connection to the Akashic room. Bravo for another marvelous book that is sure to be treasured by many. I wish I had had this unique book when I was doing my Akashic training." * Sylvia Moss, author, healer, photographer, and Akashic Record reader * "Opening the Akashic Records is a straightforward and practical road map for how to access your Higher Self and the Akashic Records on your own. This lovely teaching encourages your spiritual identity and offers trustworthy guidance if you follow Maureen's suggestions and choose to develop a relationship with your Higher Self, your intuition, and your Divine Guides." * Sharlyn Hidalgo, author of The Healing Power of Trees * "Opening the Akashic Records is a journey into consciousness for the purpose of our soul's growth. Take the journey, it is well worth exploring. I highly recommend this book." * Laurie Huston, intuitive counselor, coach, and teacher * "Opening the Akashic Records should be required reading for anyone interested in this subject. Part of the beauty of this book is its simplicity; Maureen is a master at making a complex subject easy to understand and simple to access. She also includes timely practical wisdom, which is essential to the integrity required to use your access to the Akashic Records with appropriate respect and integrity." * Nicki Scully, author of Alchemical Healing and Planetary Healing * "Opening the Akashic Records is very likely the clearest, most thorough, and useful book ever published on this subject. As one who has benefited from readings by skilled practitioners, I can vouch firsthand for the value that insight into the Akashic field, with the help of an experienced guide, can provide. The Akasha can answer any question of consequence, posed with respect; can help us solve issues of health, love, money, and creativity; and can cleanse our cellular memory of guilt, fear, and pain, lifting us into new states of clarified perception and freedom. What makes this book unique, and much needed now, is that it shows you, provided you have the discipline and will stick with the 45-day program, how you can prepare to access your own Akashic Record and then use the richness of empowered serenity that the Akasha will deliver to explore your choice of possible futures. Good luck on this exciting journey!" * Dan Furst, astrologer, actor, and author of The Rain on the Nile * "This book is your opening to an entirely new reality known as the Akashic Records. Within the Akashic Records is every piece of information and energy you need to create and experience the love, peace, wisdom, truth, joy, happiness, health, prosperity, and true divine fulfillment you have been searching for." * Lori Ann Spagna, author, speaker, luminary, and visionary * "Opening the Akashic Records provides a thorough and easy-to-understand education for those who wish to access the Akashic Records. In the past, understanding what the Akashic Records are and how to access them has been a very complex subject. In this book, Maureen makes this knowledge available to anyone." * Lynn V. Andrews, New York Times bestselling author of the Medicine Woman series * "Opening YOUR Akashic Records is the key to your Soul." * C. Norman Shealy, M.D., Ph.D., author of Conversations with G *
Bloggat om Opening the Akashic Records
Övrig information
Maureen J. St. Germain is the founder of Transformational Enterprises and Akashic Record Guides International. An internationally recognized teacher and intuitive, she is also the author, musician, and producer of more than 15 guided-meditation CDs. She is the author of 4 books, including Waking Up in 5D, and lives in San Diego and New York.
Innehållsförteckning
Foreword by Lumari Message from the Keepers of the Gates of Akasha PREFACE The Call xix How Did I Come to Be a Messenger for the Akashic Records? 1 Your World, Elevated Why Would You Want to Access the Akashic Records? 2 Ancient Timing for Today What's in It for the Record Keepers, and Why Did They Step in Now? 3 Keys to Much More Than a Kingdom Accessing Records: A How-To 4 Practical Wisdom Essential Step-by-Step Instructions and Explanations 5 One-of-a-Kind Power Discovering Your Higher Self and Use in the Akashic Records 6 Purposeful Curiosity What to Ask and How to Ask 7 Intuitive Maximization Making the Most of the Opportunity 8 Communing through Community Reading for Others, Expanded Awareness 9 Ethereal Congruence Becoming One with the Cosmos and Messages from the Lords of Time EPILOGUE An Exception to the Rule APPENDIX A Code of Ethics APPENDIX B Akashic Records Guides' Guiding Prayer APPENDIX C Akashic Records Protocol Level 1 Notes Index