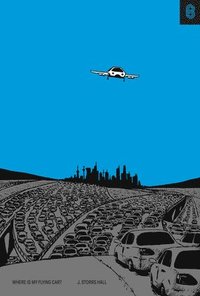 Fler böcker inom
Format

Inbunden (Hardback)

Språk

Engelska

Antal sidor

332

Utgivningsdatum

2022-01-13

Förlag

Illustrationer

Various charts, graphs and images used to explain concepts

Dimensioner

236 x 157 x 30 mm

Vikt

794 g

Antal komponenter

1

ISBN

9781953953186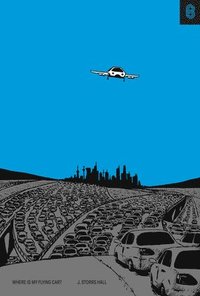 Where Is My Flying Car?
Skickas från oss inom 7-10 vardagar.

Fri frakt över 249 kr för privatkunder i Sverige.
From an engineer and futurist, an impassioned account of technological stagnation since the 1970s and an imaginative blueprint for a richer, more abundant future. The science fiction of the 1960s promised us a future remade by technological innovation. We'd vacation in geodesic domes on Mars, have meaningful conversations with computers, and drop our children off at school in flying cars. Fast-forward 60 years, and we're still stuck in traffic in gas-guzzling sedans and boarding the same types of planes we flew in over half a century ago. What happened to the future we were promised? In Where Is My Flying Car?, J. Storrs Hall sets out to answer this deceptively simple question. What starts as an examination of the technical limitations of building flying cars evolves into an investigation of the scientific, technological, and social roots of the economic stagnation that started in the 1970s. From the failure to adopt nuclear energy and the suppression of cold fusion technology to the rise of a counterculture hostile to progress, Hall recounts how our collective ambitions for the future were derailed, with devastating consequences for global wealth creation and distribution. He then outlines a framework for a future powered by exponential progress-one in which we build as much in the world of atoms as we do in the world of bits, one rich in abundance and wonder. Drawing on years of original research and personal engineering experience, Where Is My Flying Car?, originally published in 2018, is an urgent, timely analysis of technological progress over the last 50 years and a bold vision for a better future.
Passar bra ihop
+
Fler böcker av J Storrs Hall
J Storrs Hall

Artificial intelligence (AI) is now advancing at such a rapid clip that it has the potential to transform our world in ways both exciting and disturbing. Computers have already been designed that are capable of driving cars, playing soccer, and fi...
Recensioner i media
"One of the best and most interesting books on technology." -Tyler Cowen, Marginal Revolution "There are many writers with optimistic visions of the future. However, the goals I most often hear are all the negation of negatives: cure cancer, eliminate poverty, stop climate change. . . . This is good, but it is not enough. [These techno-optimists] are content with bringing the whole world up to the current best standard of living, but not increasing it. In this context, I found Where Is My Flying Car? refreshing. Hall unabashedly calls for unlimited progress in every dimension." -Jason Crawford, Roots of Progress "Whether there is 'tech stagnation' or a revolution about to swarm the skies, Where Is My Flying Car? offers piercing questions and answers about what it might take to make the dream come true." -David Brin, astrophysicist and author of Existence and The Postman "This book is an inspirational roadmap to an amazing future that can be ours if we will only reach for it. Hall's bold new perspective on technological progress is a must-read for anyone who claims to be a futurist." -Robert Freitas, nanotechnology scientist and author of Nanomedicine "America's 'golden quarter century' of technological and economic progress ended 50 years ago. Instead of flying cars, we got Facebook. J. Storrs Hall brilliantly explains the reasons for this Great Stagnation, and what to do to bring about another golden era of growth and prosperity." -Glenn Harlan Reynolds, Beauchamp Brogan Distinguished Professor of Law, University of Tennessee
Övrig information
J. Storrs Hall, PhD, is an independent scientist and author. He was the founding chief scientist of Nanorex, Inc. and a president of the Foresight Institute. He is currently a research fellow at the Institute for Molecular Manufacturing and an associate editor of the International Journal of Nanotechnology and Molecular Computation. He was also accredited as an expert reviewer for the Intergovernmental Panel on Climate Change in the field of computational climate models. Hall's previous books include Beyond AI: Creating the Conscience of the Machine and Nanofuture: What's Next for Nanotechnology. Now residing on Chesapeake Bay, he dabbles in aerodynamics design under the auspices of Eastern Shore Flying Cars, LLC. He lives in Virginia.
Innehållsförteckning
Part I-Profiles of the Past Chapter 1: The World of Tomorrow Chapter 2: The Graveyard of Dreams Chapter 3: The Conquest of the Air Chapter 4: Waldo and Magic, Inc. Chapter 5: Cold Fusion? Chapter 6: The Machiavelli Effect Chapter 7: The Age of Aquarius Chapter 8: Forbidden Fruit Part II-Profiles of the Present Chapter 9: Ceiling and Visibility Unlimited Chapter 10: Dialogue Concerning the Two Great Systems of the World Chapter 11: The Atomic Age Chapter 12: When Worlds Collide Chapter 13: When the Sleeper Wakes Part III-Profiles of the Future Chapter 14: The Dawn of Robots Chapter 15: The Second Atomic Age Chapter 16: Tom Swift and His Flying Car Chapter 17: Escape Velocity Chapter 18: Metropolis Chapter 19: Engineers' Dreams Chapter 20: Rocket to the Renaissance Appendix A: Energy Intensity of Predicted Technologies Appendix B: Selected Readings Appendix C: Epigraph Sources Appendix D: Endnotes Appendix E: Index