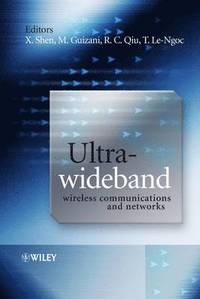 Fler böcker inom
Format

Inbunden (Hardback)

Språk

Engelska

Antal sidor

320

Utgivningsdatum

2006-02-01

Upplaga

1

Förlag

Medarbetare

Shen, Xuemin (ed.), Guizani, Mohsen (ed.), Qiu, Robert Caiming (ed.)

Illustrationer

Illustrations

Dimensioner

251 x 174 x 25 mm

Vikt

763 g

Antal komponenter

1

ISBN

9780470011447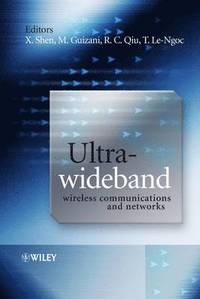 Ultra-Wideband Wireless Communications and Networks
Specialorder (osäker tillgång). Skickas från oss inom 11-20 vardagar.

Fri frakt över 249 kr för privatkunder i Sverige.
Finns även som
Läs i DRM-kompatibel e-boksläsare.
Learn about Ultra-wideband (UWB) transmission - the most talked about application in wireless communications. UWB wireless communication is a revolutionary technology for transmitting large amounts of digital data over a wide spectrum of frequency bands with very low power for a short distance. This exciting new text covers the fundamental aspects of UWB wireless communications systems for short-range communications. It also focuses on more advanced information about networks and applications. Chapters include: Radio Propagation and Large Scale Variations, Pulse Propagation and Channel Modelling, MIMO (Multiple Input, Multiple Output) RF Subsystems and Ad Hoc Networks. Focuses on UWB wireless communications rather than UWB radar, which has been covered before. Provides long and short-term academic and technological value. Teaches readers the fundamentals, challenges and up-to-date technical processes in this field.
Passar bra ihop
+
Fler böcker av författarna
Mohsen Guizani, Ammar Rayes, Bilal Khan, Ala Al-Fuqaha
Övrig information
Professor Xuemin Shen works in the Department of Electrical and Computer Engineering at the University of Waterloo, Canada. His research interests are Wireless/Internet interworking, Resource and mobility management, Voice over mobile IP, WiFi, WAP, Bluetooth, UWB wireless applications, ad hoc wireless networks. Dr. Mohsen Guizani is Professor and Chair of the Department of Computer Science at Western Michigan university. Dr. Guizani's research interests include Computer Networks, Wireless Communications and Computing, Design and Analysis of Computer Systems, and Optical Networking. He is the founder and Editor-In-Chief of Wireless Communications and Mobile Computing Journal, published by John Wiley. Professor Robert Caiming works in the Center for Manufacturing Research/Electrical and Computer Engineering Department at Tennessee Technological University, USA. His research interests include Wireless communications and systems (3G, 4G, UWB), Radar/communications signal processing and Time-domain Electromagnetics. Professor Tho Le-Ngoc works in the Department of Electrical and Computer Engineering at McGill University. His research interests include Broadband Communications: Advanced Transmission, Multiple-Access and Dynamic Capacity Allocation Techniques.
Innehållsförteckning
List of Contributors xi Preface xiii 1 Introduction 1 Robert Caiming Qiu, Xuemin (Sherman) Shen, Mohsen Guizani and Tho Le-Ngoc 1.1 Fundamentals 1 1.1.1 Overview of UWB 1 1.1.2 History 2 1.1.3 Regulatory 2 1.1.4 Applications 2 1.1.5 Pulse- or Multicarrier-Based UWB 3 1.2 Issues Unique to UWB 4 1.2.1 Antennas 4 1.2.2 Propagation and Channel Model 4 1.2.3 Modulations 5 1.2.4 A/D Sampling 6 1.2.5 Timing Acquisition 7 1.2.6 Receiver Structures 7 1.2.7 Multiple Access 8 1.3 Emerging Technologies 8 1.3.1 Low-Complexity Noncoherent Receivers 8 1.3.2 Location-Based Sensor Networks 9 1.3.3 Time Reversal 9 1.3.4 MAC 10 1.3.5 Future Directions 12 References 13 2 Modulation and Signal Detection in UWB 15 Uzoma A. Onunkwo and Ye (Geoffrey) Li 2.1 Overview 15 2.1.1 Evolution and Definition 15 2.1.2 Major Differences from Narrowband and CDMA Systems 16 2.1.3 Types of UWB Modulation 16 2.1.4 UWB Applications 16 2.2 Single-CarrierBased Modulation 17 2.2.1 Time-Hopping PPM 17 2.2.2 Other Types of Modulations 21 2.2.3 Channel Estimation 23 2.2.4 Signal Detection 27 2.3 OFDM-Based Modulation 29 2.3.1 Basic OFDM for UWB 29 2.3.2 Channel Estimation 30 2.3.3 Interference Suppression 31 2.4 Conclusion and Further Reading 34 References 34 3 UWB Pulse Propagation and Detection 37 Robert Caiming Qiu 3.1 Introduction 37 3.2 UWB Pulse Propagation 37 3.2.1 Generalized Multipath Model 37 3.2.2 IEEE 802.15.4a Channel Model 39 3.3 UWB Pulse Signal Detection 39 3.3.1 Optimum Receiver 39 3.3.2 Generalized RAKE Receiver 41 3.3.3 Optimum Receiver with Intersymbol Interference 44 3.3.4 Receiver with Time-Reversal Channel Impulse Response 47 3.3.5 Optimum Receiver with Multiuser Detection 48 References 51 4 Timing Synchronization for UWB Impulse Radios 53 Zhi Tian and Georgios B. Giannakis 4.1 Introduction 53 4.2 Signal Model 55 4.3 Signal Detection and Symbol-Level Acquisition 57 4.3.1 Analog Energy Detectors 57 4.3.2 Discrete-Time Energy Detectors 57 4.4 SAT and MAT: Templates with and without Timing 59 4.5 Coarse Synchronization Using Symbol-Rate Samples 60 4.5.1 Discrete-Time Correlator Output Model under Mistiming 61 4.5.2 CML Timing Synchronization 62 4.5.3 Analytic and Simulated Performance 62 4.6 Synchronization with Flexible Timing Resolution 64 4.6.1 Timing-Offset Search via Sample Mean Square 64 4.6.2 Timing-Offset Search via Cross-Correlation Mean Square 66 4.6.3 Comparative Study and Implementation Aspects 68 4.7 Timing Acquisition for Ad Hoc Multiple Access 70 4.7.1 Training-Based Multiuser TOE 70 4.7.2 Blind Synchronization for Multiuser Ad Hoc Access 71 4.7.3 TOE Performance Analysis 75 4.8 Demodulation and BER Sensitivity to Mistiming 76 4.9 Concluding Summary 78 References 79 5 Error Performance of Pulsed Ultra-wideband Systems in Indoor Environments 83 Huaping Liu 5.1 Introduction 83 5.2 System Model 85 5.3 Error Performance in Indoor Environments 89 5.3.1 Pulse Amplitude Modulation and Pulse Position Modulation 90 5.3.2 Receiver with Self-Derived Template Waveforms 92 5.3.3 System with Multiple Antennas 95 References 101 6 Mixed-Signal Ultra-wideband Communications Receivers 103 Sebastian Hoyos and Brian M. Sadler 6.1 Introduction 103 6.2 Analog-to-Digital Conversion via Signal Expansion 105 6.3 Mixed-Signal Communication Receivers Based on A/D Conversion via Signal Expansion 107 6.3.1 Transmitted Signal and Channel Model 107 6.3.2 Digital Linear Receivers Based on ADC via Signal Expansion 107 6.4 Analog-to-Digital Conversion in the Frequency Domain 109 6.5 Frequency-Domain Mixed-Signal Receivers 111 6.5.1 Multicarrier Communication Systems Based on A/D Conversion in the Frequency Domain 111 6.5.2 Relationship to the Fourier Series Coefficients 117 6.5.3 Mixed-Signal Transmitted-Reference Receiver 118 6.6 Conclusions 124 References 125 7 Trends in Ultra-