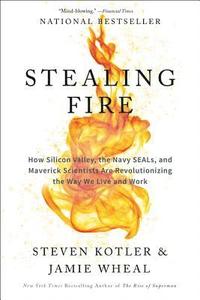 Fler böcker inom
Format

Häftad (Paperback / softback)

Språk

Engelska

Antal sidor

304

Utgivningsdatum

2017-12-18

Förlag

Dimensioner

228 x 152 x 19 mm

Vikt

317 g

Antal komponenter

1

ISBN

9780062429667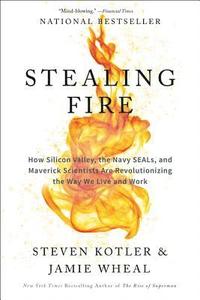 Stealing Fire
How Silicon Valley, the Navy Seals, and Maverick Scientists are Revolutionizing the Way We Live and Work
Skickas inom 3-6 vardagar.
Fri frakt inom Sverige för privatpersoner.
In this groundbreaking book, New York Times-bestselling author Steven Kotler draws on cutting edge research and first-hand reporting as he explores what makes super performers tick and what we can learn from them. Why are business moguls going to Burning Man? Why are c-suite level executives going on more meditation retreats now than in the 1970s? How is MDMA being used to treat trauma patients? Altered states, it turns out, can sharper our decision making capabilities, unleash creativity, fuel creative collaboration, and accelerate our ability to solve problems. Building a bridge between the extreme and the mainstream, Stealing Fire explains how Navy SEALS, Googlers, and Silicon Valley billionaires are using altered states (most are non-drug induced) to radically accelerate performance and fuel happiness. At its core, this is a book about profound possibility; about what is actually possible for our species; about where-if anywhere-our limits lie.
Passar bra ihop
+
Recensioner i media
"Reading Stealing Fire, Mr. Lang-Willar said, he became convinced that nothing less than a 'cultural awakening' was underway." -- <strong><em>The New York Times</em></strong> "A mind-blowing tour along the path from sex and drugs to R&D." -- <b><i>Financial Times</i></b> "Stealing Fire is a beautifully written, must-read for anyone interested in living up to their full potential. Kotler and Wheal have produced a user-manual for your hacking your brain to drive high performance." -- <b>Peter Diamandis, founder of the X Prize, co-chairman of Singularity University, bestselling author</b> "Stealing Fire cracks the secret code of peak performance so that ordinary people can achieve extraordinary results." -- <b>Cdr. Mark Divine (USN Ret.), <i>New York Times</i> best selling author, founder <i>SEALFIT</i> and <i>Unbeatable Mind</i></b> "Meticulously researched and innovatively conceptualized, Stealing Fire is not just a bible for the second psychedelic revolution (drugs not required), but a manual to getting more: out of your body, your mind, and your happiness." -- <b>Neil Strauss, <i>New York Times</i> best-selling author of <i>The Game</i></b> "An electrifying, fast-paced journey into the deep potential of the human brain." -- <b>David Eagleman, Stanford University neuroscientist, bestselling author, presenter of PBS's <i>The Brain</i></b> "Our linear lives and brains need to be thrown a curve on occasion and this is a masterpiece literary curveball." -- <b>Chip Conley, bestselling author of <i>Peak</i> and <i>Emotional Equations</i> and former Head of Strategy for AirBnB</b> "Captures the unspoken essence of what men and women on the frontier of human experience, think and do to excel in creativity and performance." -- <b>Michael Gervais, High Performance Psychologist to Super Bowl Champion Seattle Seahawks</b> "Stealing Fire lays out exactly how to hack the brain...Kotler and Wheal have taken a major bite out of the unknown. If you're at all interested in knowing how your mind works, this is imperative reading!" -- <b>Salim Ismail, founding executive director of Singularity University and bestselling author of Exponential Organizations</b> "Stealing Fire is a fantastic book about the future of humanity and everything that we can become. Based on incredible stories and cutting edge data, it reveals how our brain and body can be optimized to its greatest potential." -- <b>Andrew Newberg, MD., director of research Myrna Brind Center for Integrative Medicine and author of <i>How Enlightenment Changes Your Brain</i></b> "The North Star we've been waiting for--finally a distillation of the upper reaches of the human experience unveiled! I am so excited for this book to reach the world!" -- <b>Jason Silva, artist, futurist, host of National Geographic's Brain Games</b> "[Stealing Fire is] well-written, well-documented, and significant work." -- <b>Library Journal</b> "Steven and Jamie have done a wonderful job of balancing the promises, perils, and how-to prescriptions of engineering peak states such as 'flow.'" -- <strong>Tim Ferriss, #1 <em>New York Times</em> best-selling author of <em>The 4-Hour Workweek</em></strong>
Övrig information
STEVEN KOTLER is a New York Times bestselling author, award-winning journalist, and the cofounder and director of research for the Flow Genome Project. His books include Tomorrowland, Bold, The Rise of Superman, Abundance, A Small Furry Prayer, West of Jesus, and The Angle Quickest for Flight. His work has been translated into forty languages and his articles have appeared in more than eighty publications, including the New York Times Magazine, Atlantic Monthly, Wired, Forbes, and Time. Steven is an in-demand speaker and advisor on technology, innovation and peak performance. You can find him online at www.stevenkotler.com.