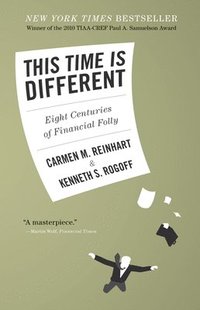 Fler böcker inom
Format

Häftad (Paperback / softback)

Språk

Engelska

Antal sidor

512

Utgivningsdatum

2011-08-07

Utmärkelser

Winner of Council on Foreign Relations Arthur Ross Book Award 2011; Winner of Paul A. Samuelson Award 2010; Runner-up for "Atlantic" Books of the Year 2009; Commended for Estoril Global Issu

Förlag

Originalspråk

English

Illustratör/Fotograf

Illustrationer

62 line illus. 30 tables.

Dimensioner

220 x 140 x 30 mm

Vikt

480 g

Antal komponenter

1

Komponenter

,

ISBN

9780691152646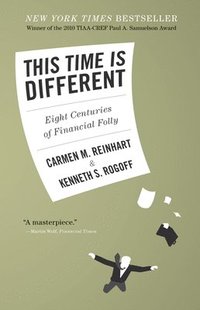 This Time Is Different
Eight Centuries of Financial Folly
Skickas inom 7-10 vardagar.

Gratis frakt inom Sverige över 199 kr för privatpersoner.
Finns även som
Läs i DRM-kompatibel e-boksläsare.
Throughout history, rich and poor countries alike have been lending, borrowing, crashing--and recovering--their way through an extraordinary range of financial crises. Each time, the experts have chimed, "this time is different"--claiming that the old rules of valuation no longer apply and that the new situation bears little similarity to past disasters. With this breakthrough study, leading economists Carmen Reinhart and Kenneth Rogoff definitively prove them wrong. Covering sixty-six countries across five continents, This Time Is Different presents a comprehensive look at the varieties of financial crises, and guides us through eight astonishing centuries of government defaults, banking panics, and inflationary spikes--from medieval currency debasements to today's subprime catastrophe. Carmen Reinhart and Kenneth Rogoff, leading economists whose work has been influential in the policy debate concerning the current financial crisis, provocatively argue that financial combustions are universal rites of passage for emerging and established market nations. The authors draw important lessons from history to show us how much--or how little--we have learned. Using clear, sharp analysis and comprehensive data, Reinhart and Rogoff document that financial fallouts occur in clusters and strike with surprisingly consistent frequency, duration, and ferocity. They examine the patterns of currency crashes, high and hyperinflation, and government defaults on international and domestic debts--as well as the cycles in housing and equity prices, capital flows, unemployment, and government revenues around these crises. While countries do weather their financial storms, Reinhart and Rogoff prove that short memories make it all too easy for crises to recur. An important book that will affect policy discussions for a long time to come, This Time Is Different exposes centuries of financial missteps.
Passar bra ihop
+
Fler böcker av författarna
Morris Goldstein, Graciela L Kaminsky, Carmen M Reinhart
Recensioner i media
Winner of the 2011 Gold Medal Arthur Ross Book Award, Council on Foreign Relations Winner of the 2010 Paul A. Samuelson Award, TIAA-CREF One of USA Today's "Year's Best Business Books To Make Sense of Financial Crisis" Listed on Bloomberg.com by James Pressley as one of "our favorite financial-crisis books this year" Shortlisted for the 2010 Spear's Book of the Year Award in Financial History Finalist for the 2011 Estoril Global Issues Distinguished Book Prize Runner-Up for the Book of the Year, The Atlantic Finalist for the 2009 Business Book Award ("Best of the Rest") in Current Interest, 800-CEO-READ One of Library Journal Best Business Books - Economics/U.S. Economy category "Mr. Rogoff, a professor of economics at Harvard University, accurately predicted the eurozone debt crisis and for years has been telling anyone who would listen that China posed the next big threat to the global economy. He is starting to look right, again... 'China is the classic "This time is different" story,' Mr. Rogoff said."--Andrew Ross Sorkin, New York Times "[E]ssential reading ... both for its originality and for the sobering patterns of financial behaviour it reveals."--Economist "Reinhart and Rogoff have compiled an impressive database, which covers eight centuries of government debt defaults from around the world. They have also collected statistics on inflation rates from every country where information is available and on banking crises and international capital flows over the past couple of centuries. This lengthy historical study gives what they call a 'panoramic view' of the unending cycle of boom and bust, showing how claims that 'this time is different' are invariably proven wrong... This Time Is Different doesn't simply explain what went wrong in our most recent crisis. This book also provides a roadmap of how things are likely to pan out in the years to come... This Time Is Different is an important addition to the literature of financial history."--Edward Chancellor, Wall Street Journal "Everyone working on economic policy should own This Time is Different and open it for a bracing blast of sobriety when things seem to be going well."--Greg Ip, Washington Post "[T]he most comprehensive study of financial crises and their aftermath."--Eduardo Porter, New York Times "The authors use copious amounts of data ... to make the compelling case that any well-informed person should have seen the Great Recession coming. The essence of their book is that while financial crises come in different varieties, they are not mysteriously born of undersea earthquakes, but frequently occurring events that can be spotted and even controlled if politicians and regulators know what to look for."--Devin Leonard, New York Times "This Time is Different takes a Sergeant Friday, just-the-facts-ma'am approach: before we start theorizing, let's take a hard look at what history tells us. One side benefit of this approach is that the current book manages to be both extremely useful to professional economists and accessible to the intelligent lay reader. The Reinhart-Rogoff approach has already paid off handsomely in making sense of current events."--Robin Wells and Paul Krugman, New York Review of Books "[A] terrific book."--Andrew Ross Sorkin, New York Times "Among policy experts and economists, This Time is Different: Eight Centuries of Financial Folly ... has become so influential that when somebody says, 'We live in a Reinhart-Rogoff world,' everybody else in the room nods sagely."--Justin Lahart, Wall Street Journal "Professor Rogoff and his longtime collaborator Carmen Reinhart ... know more about the history of financial crises than anyone alive. The pair have just published their broad survey of financial crises, This Time is Different. In an era when most 'analysts' rely on maybe 30 or 40 years' worth of financial histo
Övrig information
Carmen M. Reinhart is the Dennis Weatherstone Senior Fellow at the Peterson Institute for International Economics. She was previously professor of economics at the University of Maryland. Kenneth S. Rogoff is the Thomas D. Cabot Professor of Public Policy and professor of economics at Harvard University. He is a frequent commentator for "NPR", the "Wall Street Journal", and the "Financial Times".
Innehållsförteckning
LIST OF TABLES xiii LIST OF FIGURES xvii LIST OF BOXES xxiii PREFACE xxv ACKNOWLEDGMENTS xxxvii PREAMBLE: SOME INITIAL INTUITIONS ON FINANCIAL FRAGILITY AND THE FICKLE NATURE OF CONFIDENCE xxxix PART I: Financial Crises: An Operational Primer 1 Chapter 1: Varieties of Crises and Their Dates 3 Crises Defined by Quantitative Thresholds: Inflation, Currency Crashes, and Debasement 4 Crises Defined by Events: Banking Crises and External and Domestic Default 8 Other Key Concepts 14 Chapter 2: Debt Intolerance: The Genesis of Serial Default 21 Debt Thresholds 21 Measuring Vulnerability 25 Clubs and Regions 27 Reflections on Debt Intolerance 29 Chapter 3: A Global Database on Financial Crises with a Long-Term View 34 Prices, Exchange Rates, Currency Debasement, and Real GDP 35 Government Finances and National Accounts 39 Public Debt and Its Composition 40 Global Variables 43 Country Coverage 43 PART II: Sovereign External Debt Crises 49 Chapter 4: A Digression on the Theoretical Underpinnings of Debt Crises 51 Sovereign Lending 54 Illiquidity versus Insolvency 59 Partial Default and Rescheduling 61 Odious Debt 63 Domestic Public Debt 64 Conclusions 67 Chapter 5: Cycles of Sovereign Default on External Debt 68 Recurring Patterns 68 Default and Banking Crises 73 Default and Inflation 75 Global Factors and Cycles of Global External Default 77 The Duration of Default Episodes 81 Chapter 6: External Default through History 86 The Early History of Serial Default: Emerging Europe, 1300-1799 86 Capital Inflows and Default: An "Old World" Story 89 External Sovereign Default after 1800: A Global Picture 89 PART III: The Forgotten History of Domestic Debt and Default 101 Chapter 7: The Stylized Facts of Domestic Debt and Default 103 Domestic and External Debt 103 Maturity, Rates of Return, and Currency Composition 105 Episodes of Domestic Default 110 Some Caveats Regarding Domestic Debt 111 Chapter 8: Domestic Debt: The Missing Link Explaining External Default and High Inflation 119 Understanding the Debt Intolerance Puzzle 119 Domestic Debt on the Eve and in the Aftermath of External Default 123 The Literature on Inflation and the "Inflation Tax" 124 Defining the Tax Base: Domestic Debt or the Monetary Base? 125 The "Temptation to Inflate" Revisited 127 Chapter 9: Domestic and External Default: Which Is Worse? Who Is Senior? 128 Real GDP in the Run-up to and the Aftermath of Debt Defaults 129 Inflation in the Run-up to and the Aftermath of Debt Defaults 129 The Incidence of Default on Debts Owed to External and Domestic Creditors 133 Summary and Discussion of Selected Issues 136 PART IV: Banking Crises, Inflation, and Currency Crashes 139 Chapter 10: Banking Crises 141 A Preamble on the Theory of Banking Crises 143 Banking Crises: An Equal-Opportunity Menace 147 Banking Crises, Capital Mobility, and Financial Liberalization 155 Capital Flow Bonanzas, Credit Cycles, and Asset Prices 157 Overcapacity Bubbles in the Financial Industry? 162 The Fiscal Legacy of Financial Crises Revisited 162 Living with the Wreckage: Some Observations 171 Chapter 11: Default through Debasement: An "Old World Favorite" 174 Chapter 12: Inflation and Modern Currency Crashes 180 An Early History of Inflation Crises 181 Modern Inflation Crises: Regional Comparisons 182 Currency Crashes 189 The Aftermath of High Inflation and Currency Collapses 191 Undoing Domestic Dollarization 193 PART V: The U.S. Subprime Meltdown and the Second Great Contraction 199 Chapter 13: The U.S. Subprime Crisis: An International and Historical Comparison 203 A Global Historical View of the Subprime Crisis and Its Aftermath 204 The This-Time-Is-Different Syndrome and the Run-up to the Subprime Crisis 208 Risks Posed by Sustained U.S. Borrowing from the Rest of the World: The Debate before the Crisis 208 The Episodes of Postwar Bank-Centered Financial Crisis