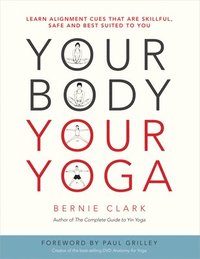 Fler böcker inom
Format

Häftad (Paperback / softback)

Språk

Engelska

Antal sidor

325

Utgivningsdatum

2016-04-12

Förlag

Medarbetare

Grilley, Paul (foreword)

Illustratör/Fotograf

Illustrationer

15 color photos, 490 color illustrations, 17 charts, 27 tables

Dimensioner

292 x 222 x 19 mm

Vikt

916 g

Antal komponenter

1

Komponenter

,

ISBN

9780968766538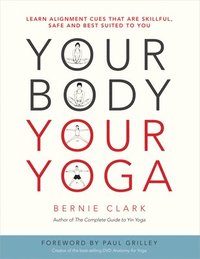 Your Body, Your Yoga
Learn Alignment Cues That Are Skillful, Safe, and Best Suited To You
Skickas inom 2-5 vardagar.
Fri frakt inom Sverige för privatpersoner.
Your Body, Your Yoga goes beyond any prior yoga anatomy book available. It looks not only at the body's unique anatomical structures and what this means to everyone's individual range of motion, but also examines the physiological sources of restrictions to movement. Two volumes are provided in this book: Volume 1 raises a new mantra to be used in every yoga posture: What Stops Me? The answers presented run through a spectrum, beginning with a variety of tensile resistance to three kinds of compressive resistance. Examined is the nature of muscles, fascia, tendons, ligaments, joint capsules, bones and our extracellular matrix and their contribution to mobility. The shape of these structures also defines our individual, ultimate range of movement, which means that not every body can do every yoga posture. The reader will discover where his or her limits lie, which dictates which alignment cues will work best, and which ones should be abandoned. Volume 2 will take these principles and apply them to the lower body, examining the hip joint, the knee, ankle and foot, and will present how your unique variations in these joints will show up in your yoga practice.
Passar bra ihop
+
Recensioner i media
Compulsory reading for those teaching and studying yoga! The best therapeutic exercise has a defined technique and dosage, but these are different for every person. Bernie Clark masterfully guides readers through an understanding of their unique bodies. Nothing else compares to the value and knowledge gained. With this, readers can create the most rigorous, evidence-based and effective yoga practice, finding what works best for them.--Professor Stuart McGill, PhD, University of Waterloo; Canada. You will not need another book on the mechanics of yoga. Bernie has written many wonderful books on yoga, but the one in your hands is his opus. I will be recommending this one to everyone!--Sarah Powers, co-founder of Insight Yoga Institute and author of Insight Yoga; U.S.A. Finally, a book that dares to combine yoga with state-of-the art critical thinking and scientific reflection! To my knowledge, the most accurate and anatomically-knowledgeable book in this field. I knew that Bernie Clark would contribute something remarkable. But this book goes way beyond even the highest expectations. A truly groundbreaking contribution to the field of science-inspired yoga.--Professor Robert Schleip, PhD, Ulm University; Germany. Your Body, Your Yoga is a fascinating, provocative, and scientifically-informed look at the inner workings of the body as it affects the practice of asana. Bernie Clark challenges much dogma in the modern postural yoga world, including a few heretofore sacrosanct principles of alignment, to demonstrate that a healthy and effective yoga practice should be adapted to each individual's unique needs, abilities and anatomy. Required reading for yoga teachers and yoga therapists, and highly recommended for avid practitioners.--Timothy McCall, MD, author of Yoga As Medicine; U.S.A. An exceptionally well-informed and interesting way of approaching the human enterprise of doing yoga. Full of beautiful and stimulating pictures and analogies, awakening a deep thirst to know more and think more yet.--Loren M. Fishman, MD, B. Phil.(oxon.), author of Healing Yoga and many other books; U.S.A. If you want to buy only one book on yoga and anatomy, buy this one. It fills a gap that urgently needed filling, and makes our work as yoga teachers and educators immensely easier. This will be a textbook for our future yoga teacher trainings.--Anat Geiger, co-owner of YogaGarden; Netherlands. This book will revolutionize the practicing and teaching of yoga. It is going to be the next yoga bible! It is an incredible treasure, and it will help everybody to truly understand the essence of physical yoga practice. --Stefanie Arend, author of Yin Yoga, Detox Yoga, and Fascia Massage; Germany Your Body, Your Yoga is an essential book for all serious yoga practitioners. Through skillful marshaling of evidence, Bernie Clark decisively illustrates the importance of individuality in yoga practice.--Norman Blair, Yoga teacher, author and trainer; United Kingdom. A must-read for yoga teachers and practitioners. This book will reframe the way you think about body movements. --Jo Phee, senior yoga teacher trainer; Singapore. I am so amazed: Your Body, Your Yoga is more than a great book--it is like participating in a training at home. I could not stop myself from finishing it.--Devrim Akkaya, senior yoga teacher trainer; Turkey. This is an instant classic. Your Body, Your Yoga demystifies and reveals the limitations in one's yoga practice in a very clear and in-depth manner.--Sebastian & Murielle, senior yoga teacher trainers; Indonesia. Teachers will benefit greatly from understanding all that this book has to offer, and advancing students will enjoy and benefit all the more because of it. Bernie Clark's book is a terrific contribution to the field of yoga, which until recently has been overly "posture-centric." Bernie gives a readable, clear account of individual differences--how to recognize them, their consequences for asana practice, and how
Bloggat om Your Body, Your Yoga
Övrig information
Bernie Clark author of the best selling The Complete Guide to Yin Yoga, has had a passion for science, health, sports and spirituality since childhood. He has a degree in science from the University of Waterloo and spent over 25 years as a senior executive in the high-tech/space industry. Bernie has been investigating the path of meditation for over three decades and began teaching yoga and meditation in 1998. He conducts yoga teacher trainings several times a year and aims to build bridges between the experiences of yoga and the understandings of modern science. He is creator of the YinYoga.com website. Bernie lives and teaches in Vancouver, Canada. Paul Grilley, creator of the influential DVD Anatomy for Yoga, began practicing yoga in 1979 after reading "The Autobiography of a Yogi" by Paramahansa Yogananada. He moved to Los Angeles in 1982 where he studied and taught yoga for 12 years. His special interest is the teaching of anatomy. He is the initial popularizer of the style of yoga called yin yoga, and patterns his philosophy on the writings and researches of Dr. Hiroshi Motoyama -- a yogi and scientist from Tokyo, Japan. This philosophy integrates the Taoist meridian and acupuncture theories of China with the yogic and tantric theories of India. Paul started his studies of anatomy with Dr. Garry Parker in 1979. He continued his studies at UCLA where he took courses in anatomy and kinesiology. He earned a M.A. from St. John's College, Santa Fe in summer 2000 and an Honorary Ph.D. in 2005 from the California Institute for Human Science for his efforts to clarify the latest theories on fascia and its relevance to the practice of hatha yoga.
Innehållsförteckning
Acknowledgements How to Read this Book Foreword: The History of Teaching Alignment in America Table of Contents for Volume 1: What Stops Me? Sources of Tension and Compression Intentions Chapter 1: You Are Unique--So Is Your Yoga Range of Human Variations Examples of Human Variations Chapter 2: What Stops Me? Tension Compression Sensing Tension and Compression Functional Yoga versus Aesthetic Yoga Chapter 3: The Value of Stress Chapter 4: The Physiology of Our Tissues Sources of Tension Muscles Myofascia Tendons Fascia Ligaments The Nervous System The Immune System The Wonder of Water Sources of Compression Bones Joints and Cartilage Volume 1 Summary Appendix A: The Forms of Stress Appendix B: Muscle Shapes and Functions Appendix C: The Myofascial Meridians Appendix D: Facts About Osteoporosis Appendix E: The Types of Joints Appendix F: The Biomechanics of Joint Motion Volume 1 Endnotes Table of Contents for Volume 2: The Lower Body Intentions 1. The Bare Bones of Yoga The Planes of the Body 2. The Joint Segments of the Lower Body The Hip Joint Form The Architecture of the Hip Joint The Bones of the Hip Joint The Joint Capsule and Ligaments Muscles of the Hip The Types and Ranges of Variations Function-Application in Yoga Postures Normal Ranges of Motion Sources of Tension Sources of Compression Variation in Ranges of Motion Hip Joint Summary 3. The Knee Joint Form The Architecture of the Knee The Bones of the Knee The Knee-Joint Capsule and Ligaments Muscles of the Knee The Types and Ranges of Variations Function-Application in Yoga Postures Normal Ranges of Motion Sources of Tension Sources of Compression Variation in Ranges of Motion Knee Joint Summary 4. The Ankle-Foot Segment Form The Architecture of the Ankle-Foot Segment The Bones of the Ankle and Foot The Ligaments The Muscles and Tendons The Types and Ranges of Variations Function-Application in Yoga Postures Normal Ranges of Motion Sources of Tension Sources of Compression Variation in Ranges of Motion Ankle-Foot Segment Summary 5 Volume 2 Summary Appendices A. List of Anatomical Directions B. Variations in the Female Pelvis C. Mechanical Advantage-Pulleys and Levers D. Flexion-Caused Impingement at the Hip Joint E. The Dangers and Benefits of Valgum or Varum Knee Orientation F. The Movements of the Foot and Ankle Sidebars It's Important: Beware of studies It's Important: Who is flying the airplane It's Important: Playing your edge It's Important: Injuries caused by yoga It's Important: Antifragility (or no strain--no gain!) It's Important: The value of compression It's Important: Millimeters versus inches It's Important: Safely stressing joints It's Important: The value of alignment It's Important: Remember, compression can be good! It's Important: Co-contraction It's Important: Are you valgus or varus? It's Important: Don't assume it's your ankles! It's Complicated: Averages and norms It's Complicated: Femoral neck-shaft-angle variations It's Complicated: Stress at the cellular level It's Complicated: Sarcomere contraction It's Complicated: Adding sarcomeres Its Complicated: Our ground substance It's Complicated: Other parts of our joints It's Complicated: Which muscles cause which movement can vary It's Complicated: Estimating available ranges of motion It's Complicated: Femoral acetabular impingement syndrome It's Complicated: What is a newton? It's Complicated: Hyperextension of the knee It's Complicated: The trochlea of the talus It's Complicated: What causes plantar fasciitis? It's Complicated: Arch support It's Complicated: Where should the dorsiflexed foot point? Note to Teachers: When students can't go further Note to Teachers: Stress when injured Note to Teachers: Should we try to stress tendons? Note to Teachers: Sources of compression Note to Teachers: Be cautious of creating alignment cues based only on your own experience Note to Teachers: Yoga is a self-selecting practice Note to Teachers: Explore from the core outwards Note to Teacher