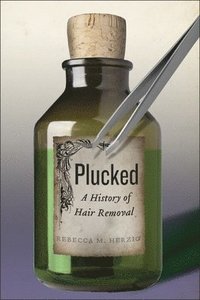 Fler böcker inom
Format

Inbunden (Hardback)

Språk

Engelska

Antal sidor

280

Utgivningsdatum

2015-01-16

Förlag

Illustrationer

black & white illustrations

Dimensioner

234 x 165 x 31 mm

Vikt

521 g

Antal komponenter

1

Komponenter

408:B&W 6 x 9 in or 229 x 152 mm Blue Cloth w/Jacket on Creme w/Matte Lam

ISBN

9781479840823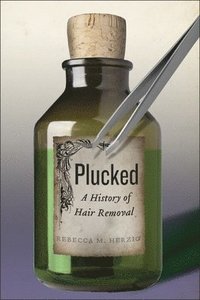 Plucked
A History of Hair Removal
Skickas inom 10-15 vardagar.
Fri frakt inom Sverige för privatpersoner.
From the clamshell razors and homemade lye depilatories used in colonial America to the diode lasers and prescription pharmaceuticals available today, Americans have used a staggering array of tools to remove hair deemed unsightly, unnatural, or excessive. This is true especially for women and girls; conservative estimates indicate that 99% of American women have tried hair removal, and at least 85% regularly remove hair from their faces, armpits, legs, and bikini lines. How and when does hair become a problem-what makes some growth "excessive"? Who or what separates the necessary from the superfluous? In Plucked, historian Rebecca Herzig addresses these questions about hair removal. She shows how, over time, dominant American beliefs about visible hair changed: where once elective hair removal was considered a "mutilation" practiced primarily by "savage" men, by the turn of the twentieth century, hair-free faces and limbs were expected for women. Visible hair growth-particularly on young, white women-came to be perceived as a sign of political extremism, sexual deviance, or mental illness. By the turn of the twenty-first century, more and more Americans were waxing, threading, shaving, or lasering themselves smooth. Herzig's extraordinary account also reveals some of the collateral damages of the intensifying pursuit of hair-free skin. Moving beyond the experiences of particular patients or clients, Herzig describes the surprising histories of race, science, industry, and medicine behind today's hair-removing tools. Plucked is an unsettling, gripping, and original tale of the lengths to which Americans will go to remove hair.
Passar bra ihop
+
Fler böcker av Rebecca M Herzig
The Nature of Difference

Evelynn M Hammonds, Rebecca M Herzig

A collection of wide-ranging primary source material that tracks the shifting relationships between race and science through two centuries of American history. The Nature of Difference documents how distinctions between people have been generated ...

Nature of Difference

Evelynn M Hammonds, Rebecca M Herzig

The Nature of Difference documents how distinctions between people have been generated in and by the life sciences. Through insightful commentaries and a wide-ranging selection of primary documents by the editors, it charts the shifting boundaries...
Recensioner i media
This is an interesting, serious, and meticulously researched contribution to American history, offering a variety of insights around key topics in the evolution of attitudes and practices relating to hair. * The Journal of American History * Few people would link the forced beard shaving of Guantanamo Bay detainees with Gwyneth 'I work a seventies vibe' Paltrow, but historian Rebecca Herzig connects the dots in her new book, Plucked. * The Toronto Globe and Mail * Pluckedmoves beyond current discourse, which is limited to whether shaving and waxing indicate subjugation to social norms or freedom and the practices associated with it. This interdisciplinary study, which unites sociology, anthropology, and history, draws on books, letters, advertisements, magazines, and contemporary interviews to show that determinations of whether hair is & excessive or & peculiar are subjective and flexible, dependent on the person doing the looking, and subject to change based on political, scientific, technological, military, and economic shifts * Women's Review of Books * Rebecca Herzig's thought-provoking book makes an important contribution to the history of the body, science, and culture in the United States. Herzig insightfully explores how Americans came to perceive body hair as a sign of sexual disorder and animal-like traits, as she traces the scientists and entrepreneurs who promoted hair removal, the feminists who reviled it, and the ordinary women and men who increasingly saw hairlessness as a sign of beauty and respectability. Plucked convincingly argues there is more at stake in shaving and waxing than simply removing hair; rather, these practices are bound up in our understanding of what it means to be human. -- Kathy Peiss,author of Hope in a Jar: The Making of America's Beauty Culture Plucked is a fascinating look into a largely untaught part of our history...meticulously researched. * Bust Magazine * Humanity has used an impressive array of tools to remove hair. This is, biologically speaking, pretty strange. Most of earth's mammals possess luxuriant fur. Only one seeks to remove it. Rebecca Herzig's delightful history explains why: smooth skin is a cultural imperative. * The Economist * If you ever want proof that a thoughtful, careful scholar can follow a single strand of social life and come to see race, class, gender and all the complexity of societythis is the book to read. -- Barbara Katz Rothman,author of Genetic Maps and Human Imaginations Well researched, well written, and knowledgeable, this work covers not only the history of hair removal in America but the social issues and movements associated with body hair, from cleanliness and race to free will. [] [T]he author excels at drawing out the larger implications of each dubious procedure and the pseudo-scientific theory associated with hair removal, from the turn of the 19th century to the present. Herzig carefully considers both sex and gender and never makes the assumption that white is the default. The book asks us to question what role advertising, science, and prejudice play in what we & know to be true. VERDICT: This would be a solid read for popular history buffs and fans of Lori Tharp and Ayana Byrds Hair Story or Bee Wilsons Swindled. * Library Journal * Herzig draws from history, sociology, racial studies, anthropology, and dermatology, and has absorbed views of theologians and pornographers. Much of what she has found is disturbing, and other findings are just funny, illustrating what a peculiar set of mammals we are. * Columbus Dispatch * Athoughtful and unique microhistory of hair from the eyebrows down. * Journal of American Culture * Herzig's history of the growing American antipathy to body hair, and the means used to deal with it, is full of such arresting moments. By its title, Plucked would seem to offer a volume of frothy fun (tinged with schadenfreude) about the high cost of fashion glory; it turns out to be eye-poppingly inf
Övrig information
Rebecca M. Herzig is Christian A. Johnson Professor of Interdisciplinary Studies at Bates College. Her previous work includes Suffering for Science: Reason and Sacrifice in Modern America and, with Evelynn Hammonds, The Nature of Difference: Sciences of Race in the United States from Jefferson to Genomics.
Innehållsförteckning
Contents Introduction: Necessary Suffering 1 1. The Hairless Indian: Savagery and Civility before the Civil War 19 2. "Chemicals of the Toilette": From Homemade Remedies to a New Industrial Order 35 3. Bearded Women and Dog-Faced Men: Darwin's Great Denudation 55 4. "Smooth, White, Velvety Skin": X-Ray Salons and Social Mobility 75 5. Glandular Trouble: Sex Hormones and Deviant Hair Growth 99 6. Unshaven: "Arm-Pit Feminists" and Women's Liberation 115 7. "Cleaning the Basement": Labor, Pornography, and Brazilian Waxing 135 8. Magic Bullets: Laser Regulation and Elective Medicine 153 9. "The Next Frontier": Genetic Enhancement and the End of Hair 171 Conclusion: We Are All Plucked 187 Acknowledgments 193 Notes 199 Index 275 About the Author 287