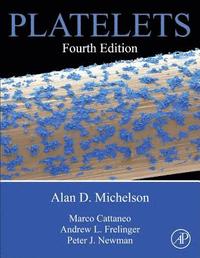 Fler böcker inom
Format

Inbunden (Hardback)

Språk

Engelska

Antal sidor

1268

Utgivningsdatum

2019-05-17

Upplaga

4

Förlag

Medarbetare

D.Michelson, Alan / Cattaneo, Marco / Frelinger, Andrew / Newman, Peter

Dimensioner

279 x 215 x 50 mm

Vikt

2653 g

Antal komponenter

1

ISBN

9780128134566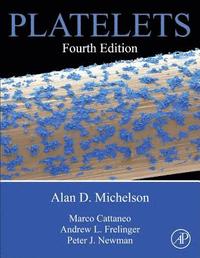 Platelets
Skickas inom 3-6 vardagar.
Fri frakt inom Sverige för privatpersoner.
Platelets
, Fourth Edition, integrates the entire field of platelet biology, pathophysiology, and clinical medicine with contributions from 142 world experts from 18 countries. This award-winning reference provides clear presentations by basic scientists on the cellular, molecular, and genetic mechanisms of platelets and the role of platelets in thrombosis, hemorrhage, inflammation, antimicrobial host defense, wound healing, angiogenesis and cancer. It also provides start-of-the-art presentations by hematologists, cardiologists, stroke physicians, blood bankers, pathologists and other clinicians on platelet function testing, disorders of platelet numbers and function, antiplatelet therapy and therapy to increase platelet numbers and/or function.
Since the publication of the Third Edition of
Platelets
, there has been a rapid expansion of knowledge in both basic biology of platelets and the clinical approach to platelet-related diseases. This Fourth Edition of
Platelets
draws all this information into a single, comprehensive and authoritative resource.
Comprehensive and definitive source of state-of-the-art knowledge about platelets
Integrates the entire field of platelet biology, pathophysiology, and clinical medicine
Written for clinicians, pathologists and scientists by 142 world-renowned experts from 18 countries
Completely revised and updated, with 11 new chapters on topics such as platelet glycobiology, the platelet transcriptome, platelet inhibitory receptors, platelet function testing in clinical research trials, therapeutic platelet-rich plasma in wound healing, and new antiplatelet drugs
Full color textbook with over 250 illustrations and 15,000 references
Passar bra ihop
+
Recensioner i media
Accolades for Previous Editions:
Best Book in Medical Science Award --Association of American Publishers
Highly Commended Prize (Internal Medicine) --British Medical Association Medical Book Awards
"Belongs on the bookshelf of every clinician who assesses patients with platelet disorders" --The Lancet
"Landmark" --New England Journal of Medicine
"This is a fantastic resource for anyone who treats patients with platelet disorders or is engaged in platelet or megakaryocyte-based research" --British Journal of Haematology


Övrig information
Dr. Michelson is Professor of Pediatrics and Professor of Medicine at Harvard Medical School in Boston, Massachusetts, U.S.A. He is also the Director of the Center for Platelet Research Studies (www.platelets.org) and the Director of the Thrombosis and Anticoagulation Program at Dana-Farber/Boston Children's Cancer and Blood Disorders Center. After receiving his medical degree with honors from the University of Adelaide, Australia, Dr. Michelson continued his medical and research training on a Fulbright Scholarship at Boston Children's Hospital, Brigham and Women's Hospital, and Harvard Medical School. In 2019 he received the International Society on Thrombosis and Haemostasis (ISTH) Esteemed Career Award. Dr. Michelson has been an invited participant in numerous National Institutes of Health working groups, international workshops and consensus conferences. He is the co-organizer and co-chair of the biennial International Platelets Symposium. Dr. Michelson is a past Chairman of the Platelet Physiology Scientific Subcommittee of the ISTH. He has published more than 450 original research articles, original research abstracts, and invited reviews - nearly all on the topic of platelets. Dr. Michelson has been the principal investigator on more than 100 research grants. He has been an invited speaker at over 200 major medical conferences worldwide. Dr. Michelson is an inventor on two awarded and three provisional U.S. patents. Marco Cattaneo is Professor of Internal Medicine and Director of the Unit of Internal Medicine at Ospedale San Paolo, Universit degli Studi di Milano, Italy. After gaining his MD at the Universit degli Studi di Milano in 1975, he specialized in Clinical and Laboratory Haematology at the Universit degli Studi di Pavia, followed by a Residency at the A. Bianchi Bonomi Haemophilia and Thrombosis Centre and Institute of Internal Medicine at the Ospedale Maggiore, Universit degli Studi di Milano. He has been Post-Doctoral Fellow at McMaster University, Hamilton, Ontario and Guest or Visiting Scientist at McMaster University, Hamilton, Ontario, Temple University, Philadelphia and The Scripps Research Institute, La Jolla, California. In 2001 he was awarded the International Society on Thrombosis and Haemostasis (ISTH) 10th Biennial Award for Contributions to Haemostasis and Thrombosis. He has been Editor of Thrombosis Research and on the Editorial Board/Advisory Board for a number of other high-tier journals, including Jornal of Thrombosis and Haemostasis, Haematologica, Platelets, Thrombosis and Haemostasis and Arteriosclerosis, Thrombosis and Vascular Biology. He was Chair of the Working Party on Platelet Aggregation, and Chair of the Scientific Subcommittee on Platelet Physiology, Scientific and Standardization Committee, ISTH. He was a member of the Council of the ISTH from 2010 through 2016. He was President-Elect, President and Past-President of SISET, the Italian Society on thrombosis and hemostasis, in the years 2002-2008....
Innehållsförteckning
Part One Platelet Biology 1. The Evolution of Mammalian Platelets 2. Megakaryocyte Development and Platelet Formation 3. Platelet Structure 4. The Platelet Cytoskeleton 5. Platelet Genomics and Proteomics 6. Platelet Receptors 7. The Glycoprotein Ib-IX-V 8. Integrin aIIbb3 9. Thrombin Receptors 10. The Platelet P2 Receptors 11. PECAM-1 12. P-Selectin/PSGL-1 and Other Interactions Between Platelets, Leukocytes, and Endothelium 13. Inhibition of Platelet Function by the Endothelium 14. Platelet Polymorphisms 15. Platelet Secretion 16. Signal Transduction during Platelet Plug Formation 17. Outside-In Signaling by Integrin aIIbb3 18. Platelet Thrombus Formation in Flowing Blood 19. Interactions between Platelets and the Coagulation System 20. Platelet-Derived Microparticles 21. The Role of Platelets in Fibrinolysis 22. Platelet Function in the Newborn Part Two Tests of Platelet Function 23. Clinical Tests of Platelet Function 24. Platelet Counting 25. The Bleeding Time 26. Platelet Aggregation 27. The VerifyNow System 28. The Platelet Function Analyzer (PFA)-100 29. Impact Cone and Plate(let) Analyzer 30. Flow Cytometry 31. Thromboxane Generation 32. Perfusion Chambers 33. Animal Models 34. Real-Time in Vivo Imaging of Platelets during Thrombus Formation Part Three The Role of Platelets in Disease 35. Atherothrombosis and Coronary Artery Disease 36. Central Nervous System Ischemia 37. Peripheral Vascular Disease 38. Diabetes Mellitus 39. Inflammation 40. Antimicrobial Host Defense 41. Angiogenesis 42. Tumor Growth and Metastasis 43. Alzheimer's Disease 44. Psychiatric Disorders Part Four Disorders of Platelet Number and Function 45. The Clinical Approach to Disorders of Platelet Number and Function 46. Immune Thrombocytopenic Purpura 47. HIV-1-Related Thrombocytopenia 48. Heparin-Induced Thrombocytopenia 49. Drug-Induced Thrombocytopenia 50. Thrombotic Thrombocytopenic Purpura and the Hemolytic-Uremic Syndrome 51. Thrombocytopenia in Pregnancy and the Newborn 52. Alloimmune Thrombocytopenia 53. Inherited Thrombocytopenias 54. Pseudothrombocytopenia 55. Thrombocytosis and Essential Thrombocythemia 56. Inherited Disorders of Platelet Function 57. Acquired Disorders of Platelet Function 58. Cardiopulmonary Bypass Part Five Pharmacology: Antiplatelet Therapy 59. Aspirin 60. ADP Receptor Antagonists 61. aIIbb3 (GPIIb-IIIa) Antagonists 62. Dipyridamole 63. Cilostazol 64. Experimental Antiplatelet Therapy Part Six Pharmacology: Therapy to Increase Platelet Numbers and/or Function 65. Platelet Growth Factors 66. Desmopressin (DDAVP) 67. Factor VIIa Part Seven Platelet Transfusion Medicine 68. Platelet Storage and Transfusion 69. Platelet Substitutes and Novel Methods of Platelet Preservation Part Eight Gene Therapy for Platelet Disorders 70. Gene Therapy for Platelet Disorders