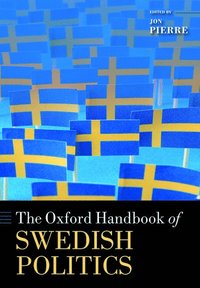 Fler böcker inom
Format

Häftad (Paperback)

Språk

Engelska

Antal sidor

736

Utgivningsdatum

2017-12-07

Förlag

Dimensioner

244 x 172 x 35 mm

Vikt

1243 g

Antal komponenter

1

ISBN

9780198803119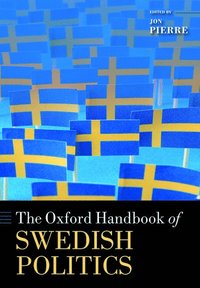 The Oxford Handbook of Swedish Politics
Skickas inom 5-8 vardagar.
Fri frakt inom Sverige för privatpersoner.
The Handbook provides a broad introduction to Swedish politics, and how Sweden's political system and policies have evolved over the past few decades.
Passar bra ihop
+
Recensioner i media
Carl Truedsson, LSE Review of Books the Handbook is a most welcome and sorely needed contribution. An impressively heavy, well-presented and organised tome, it paints a rich tapestry of Sweden's past and contemporary political and constitutional settlement from the dawn of the exceptional Swedish model through to its present (alleged) twilight as a beacon of prosperity and equality.



Bloggat om The Oxford Handbook of Swedish Politics
Övrig information
Jon Pierre is Professor of Political Science at the University of Gothenburg and Professor of Public Governance at the University of Melbourne. He is author, co-author, editor, and co-editor of more than 25 books. Jon Pierre is editor of Debating Governance (Oxford University Press, 2000) and co-author (with Guy Peters) of Governance, Politics and the State (Palgrave, 2000) and Governing Complex Societies (Palgrave, 2005). His most recent books include Globalization and Governance (Edward Elgar, 2013) and (with Bengt Jacobsson and Goran Sundstrom) Governing the Embedded State (Oxford University Press, 2015). His work has also appeared in journals like Governance, Journal of Politics, Journal of Public Administration and Theory and Journal of European Public Policy.
Innehållsförteckning
Section 1: The Politics of the Welfare State (Section Editor: Bo Rothstein) 1: Bo Rothstein: Introduction 2: Stefan Svallfors: Who Loves the Swedish Welfare State? Attitude trends 1980-2010 3: Anders Lindbom: Political Partisanship and Policy Feedback: The Swedish Welfare State after Eight Years of Center-Right Government 4: Christina Bergqvist: The Welfare State and Gender Equality 5: Bo Rothstein: The Moral, Economic and Political Logic of the Swedish Welfare State Section 2: Constitutional Design (Section Editor: Shirin Ahlback OEberg) 6: Shirin Ahlback OEberg: Introduction 7: Olof Petersson: Constitutional History 8: Joergen Hermansson: The Election System 9: Tommy Moeller: The Parliamentary System 10: Shirin Ahlback OEberg and Helena Wockelberg: The Public Sector and the Courts Section 3: The Party System (Section Editors: Hanna Back and Gissur Erlingsson) 11: Hanna Back and Gissur O. Erlingsson: Introduction 12: Nicholas Aylott: The Party System 13: Gissur O. Erlingsson, Ann-Kristin Koelln and Patrik OEhberg: The Party Organizations 14: Peter Esaiasson and Lena Wangnerud: Political Parties and Political Representation 15: Hanna Back and Torbjoern Bergman: The Parties in Government Formation Section 4: Electoral Behaviour (Section Editors: Soeren Holmberg and Henrik Ekengren Oscarsson) 16: Soeren Holmberg and Henrik Ekengren Oscarsson: Introduction 17: Richard OEhrvall: Voter Turnout 18: Maria Oskarson: The Never-Ending Story of Class-Voting in Sweden 19: Henrik Ekengren Oscarsson and Soeren Holmberg: Issue Voting Structured by Left-Tight Ideology 20: Jesper Stroemback: Swedish Election Campaigns Section 5: Public Administration (Section Editor: Goeran Sundstroem) 21: Goeran Sundstroem: Introduction 22: Patrik Hall: The Swedish Administrative Model 23: Goeran Sundstroem: Administrative Reform 24: Peter Ehn: The Public Servant 25: Bengt Jacobsson and Goeran Sundstroem: Governing the State Section 6: Subnational Government (Section Editor: Anders Lidstroem) 26: Anders Lidstroem: Introduction 27: Stig Montin: Municipalities, Regions, and County Councils: Actors and Institutions 28: David Feltenius: Subnational Government in a Multi-Level Perspective 29: Lars Niklasson: Challenges and Reforms of Local and Regional Governments in Sweden 30: Anders Lidstroem: Swedish Local and Regional Government in a European Context Section 7: Sweden's International Relations (Section Editor: Ole Elgstroem) 31: Ole Elgstroem: Introduction 32: Ulf Bjereld and Ulrika Moeller: Swedish Foreign Policy: The Policy of Neutrality and Beyond 33: Rikard Bengtsson: Sweden in the Baltic Sea Region 34: Annika Bergman Rosamond: Swedish Internationalism and Development Aid 35: Lisbeth Aggestam and Adrian Hyde-Price: A Force for Good? Paradoxes of Swedish Military Activism Section 8: Sweden and the EU (Section Editor: Ulrika Moerth) 36: Ulrika Moerth: Introduction 37: Ulrika Moerth: Sweden in a Multigovernance Polity 38: Bengt Jacobsson and Goeran Sundstroem: The Europeanization of the Swedish State 39: Douglas Brommesson: The Europeanization of Swedish Foreign Policy and Beyond: On Multiple Roles in Swedish Post-Cold War Foreign Policy 40: Malena Rosen Sundstroem: Leading the European Union: Sweden's EU Presidencies 2001 and 2009 Section 9: The Political Economy of Swedish Governance (Section Editor: Johannes Lindvall) 41: Johannes Lindvall: Introduction 42: Jenny Andersson: A Model of Welfare Capitalism? Perspectives on the Swedish Model, Then and Now 43: Leif Lewin and Johannes Lindvall: One Hundred Years of Swedish Economic Policy 44: Lars Calmfors: The Swedish Macroeconomic Policy Framework 45: Torsten Svensson: The Swedish Model of Industrial Relations Section 10: Policy Making in Sweden (Section Editor: Carl Dahlstroem) 46: Carl Dahlstroem: Introduction 47: Torsten Persson: Policy Coordination Under Minority and Majority Rule 48: Olof Petersson: Rational Politics: Commissions of Inquiry and the Referral System in Sweden 49: PerOla OEberg: Intere