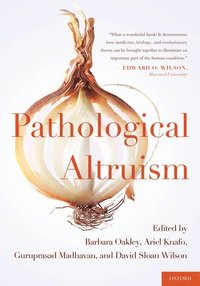 Fler böcker inom
Format

Inbunden (Hardback)

Språk

Engelska

Antal sidor

496

Utgivningsdatum

2012-01-05

Förlag

Medarbetare

Knafo, Ariel / Madhavan, Guruprasad / Wilson, David

Illustrationer

Illustrations

Dimensioner

257 x 175 x 28 mm

Vikt

1020 g

Antal komponenter

1

ISBN

9780199738571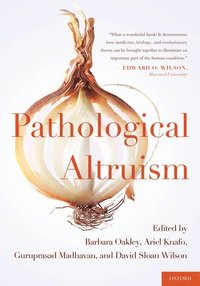 Pathological Altruism
Skickas inom 10-15 vardagar.
Fri frakt inom Sverige för privatpersoner.
Pathological Altruism is a groundbreaking new book - the first to explore the negative aspects of altruism and empathy, seemingly uniformly positive traits. In fact, pathological altruism, in the form of an unhealthy focus on others to the detriment of one's own needs, may underpin some personality disorders.
Passar bra ihop
+
Recensioner i media
International Herald Tribune Scholarly yet surprisingly sprightly volume


Nursing Standard I recommend this book to health professionals looking for a deeper understanding of altruism and its motivation. The arguments are clear and scholarly, and supported by a wealth of references.


PsycCRITIQUES, March 2013 By showing the mix of good intentions with themes such as hording, self-righteousness, and addictions that are taken to extremes, authors provide readers with a strong understanding of how people alleviate their own personal distress by trying to help others. Specific chapters offer varied insights into how altruism affects self-care, relationships, and civic engagement. Taken as a whole, the book helps readers better imagine how they might participate in civil
discourse.



Bloggat om Pathological Altruism
Övrig information
<br>Barbara Oakley is an associate professor of engineering at Oakland University in Michigan. Her work focuses on the complex relationship between social behavior and neuroscience. Her books include Cold-Blooded Kindness (Prometheus Books, 2011) and Evil Genes (Prometheus Books, 2007). <br>Ariel Knafo is a senior lecturer in psychology at the Hebrew University of Jerusalem. His research deals with the genetic and environmental contributions to empathy and altruism and how children's genetics affect their behavior and the way parents react to them. <br>Guruprasad Madhavan, a bioengineer, is a program officer in policy and global affairs at the National Academy of Sciences, National Academy of Engineering, Institute of Medicine, and the National Research Council - collectively called the National Academies - in Washington, DC. He is senior co-editor of Career Development in Bioengineering and Biotechnology (Springer, 2008). <br>David Sloan Wilson is SUNY Distinguished Professor of Biology and Anthropology at Binghamton University. His books include The Neighborhood Project (Little, Brown, 2011), Evolution for Everyone (Delacorte, 2007), Darwin's Cathedral (Chicago, 2002), and Unto Others (Harvard,1998).<br>
Innehållsförteckning
PART I: THE PSYCHOLOGY OF ALTRUISM; CHAPTER 1: PATHOLOGICAL ALTRUISM - AN INTRODUCTION; BARBARA OAKLEY, ARIEL KNAFO, AND MICHAEL MCGRATH; CHAPTER 2: EMPATHY-BASED PATHOGENIC GUILT, PATHOLOGICAL ALTRUISM, AND PSYCHOPATHOLOGY; LYNN E. O'CONNOR, JACK W. BERRY, THOMAS LEWIS, DAVID J. STIVER; CHAPTER 3: A CONTEXTUAL BEHAVIOURAL APPROACH TO PATHOLOGICAL ALTRUISM; ROGER VILARDAGA AND STEVEN C. HAYES; CHAPTER 4: CODEPENDENCY AND PATHOLOGICAL ALTRUISM; MICHAEL MCGRATH; PART II: PSYCHIATRIC IMPLICATIONS OF PATHOLOGICAL ALTRUISM; CHAPTER 5: SELF-ADDICTION AND SELF-RIGHTEOUSNESS; BY DAVID BRIN; CHAPTER 6: PATHOLOGICAL ALTRUISM AND PERSONALITY DISORDER; THOMAS A. WIDIGER AND JENNIFER RUTH PRESNALL; CHAPTER 7: THE RELEVANCE OF PATHOLOGICAL ALTRUISM TO EATING DISORDERS; RACHEL BACHNER-MELMAN; CHAPTER 8: ANIMAL HOARDING: HOW THE SEMBLANCE OF A BENEVOLENT MISSION BECOMES ACTUALIZED AS EGOISM AND CRUELTY; JANE N. NATHANSON AND GARY J. PATRONEK; CHAPTER 9: EVERYONE'S FRIEND? THE CASE OF WILLIAMS SYNDROME; DEBORAH M RIBY, VICKI BRUCE, & ALI JAWAID; PART III. SOCIETAL IMPLICATIONS OF PATHOLOGICAL ALTRUISM; CHAPTER 10: PATHOLOGICAL CERTITUDE; ROBERT BURTON; CHAPTER 11: ALTRUISM AND SUFFERING IN THE CONTEXT OF CANCER: IMPLICATIONS OF A RELATIONAL PARADIGM; MADELINE LI, GARY RODIN; CHAPTER 12: CONSIDERING PATHOLOGICAL ALTRUISM IN THE LAW FROM THERAPEUTIC JURISPRUDENCE AND NEUROSCIENCE PERSPECTIVES; MICHAEL L. PERLIN; CHAPTER 13: PATHOLOGICAL ALTRUISM: VICTIMS AND MOTIVATIONAL TYPES; BRENT E. TURVEY; CHAPTER 14: DOES NO GOOD DEED GO UNPUNISHED? THE VICTIMOLOGY OF ALTRUISM; ROBERT J. HOMANT AND DANIEL B. KENNEDY; CHAPTER 15: SUICIDE ATTACK MARTYRDOMS: TEMPERAMENT AND MINDSET OF ALTRUISTIC WARRIORS; ADOLF TOBENA; CHAPTER 16: GENOCIDE: FROM PATHOLOGICAL ALTRUISM TO PATHOLOGICAL OBEDIENCE; AUGUSTINE BRANNIGAN; CHAPTER 17: TOO MUCH OF A GOOD THING? FOREIGN AID AND PATHOLOGICAL ALTRUISM; GURUPRASAD MADHAVAN AND BARBARA OAKLEY; CHAPTER 18: WAS GANDHI A "PATHOLOGICAL ALTRUIST"?; ARUN GANDHI; CHAPTER 19: A CONTRARIAN PERSPECTIVE ON ALTRUISM: THE DANGERS OF FIRST CONTACT; DAVID BRIN; CHAPTER 20: IS PATHOLOGICAL ALTRUISM ALTRUISM?; BERNARD BEROFSKY; CHAPTER 21: ALTRUISM, PATHOLOGY, AND CULTURE; JOHN W. TRAPHAGAN; PART IV. CULTURAL AND EVOLUTIONARY DIMENSIONS OF PATHOLOGICAL ALTRUISM; CHAPTER 22: CULTURE-GENE COEVOLUTION OF EMPATHY AND ALTRUISM; JOAN Y. CHIAO, KATHERINE D. BLIZINSKY, VANI A. MATHUR, BOBBY K. CHEON; CHAPTER 23: THE MESSIANIC EFFECT OF PATHOLOGICAL ALTRUISM; JORGE M. PACHECO AND FRANCISCO C. SANTOS; CHAPTER 24: BATTERED WOMEN, HAPPY GENES: THERE IS NO SUCH THING AS ALTRUISM, PATHOLOGICAL OR OTHERWISE; SATOSHI KANAZAWA; PART V. THE DEVELOPMENT AND UNDERLYING BRAIN PROCESSES OF PATHOLOGICAL ALTRUISM; CHAPTER 25: EMPATHY, GUILT, AND DEPRESSION: WHEN CARING FOR OTHERS BECOMES COSTLY TO CHILDREN; CAROLYN ZAHN-WAXLER & CAROL VAN HULLE; CHAPTER 26: AUTISM, EMPATHIZING-SYSTEMIZING (E-S) THEORY, AND PATHOLOGICAL ALTRUISM; SIMON BARON-COHEN; CHAPTER 27: SEDUCTION SUPER-RESPONDERS AND HYPER-TRUSTERS: THE BIOLOGY OF AFFILIATIVE BEHAVIOR; KAROL M. PESSIN; CHAPTER 28: EMPATHIC DISTRESS FATIGUE RATHER THAN COMPASSION FATIGUE? - INTEGRATING FINDINGS FROM EMPATHY RESEARCH IN PSYCHOLOGY AND SOCIAL NEUROSCIENCE; OLGA KLIMECKI AND TANIA SINGER; CHAPTER 29: HELL'S ANGELS-A RUNAWAY MODEL OF PATHOLOGICAL ALTRUISM; MARC D. HAUSER; CHAPTER 30: ALTRUISM GONE MAD; JOACHIM I. KRUEGER; CHAPTER 31: PATHOLOGY, EVOLUTION, AND ALTRUISM; DAVID SLOAN WILSON