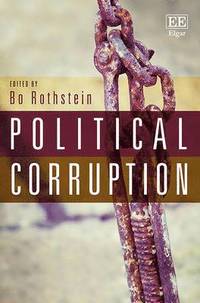 Fler böcker inom
Format

Inbunden (Hardback)

Språk

Engelska

Antal sidor

840

Utgivningsdatum

2015-06-26

Förlag

Dimensioner

254 x 177 x 44 mm

Vikt

1564 g

ISBN

9781783473045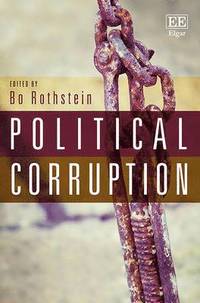 Political Corruption
Skickas inom 10-15 vardagar.
Fri frakt inom Sverige för privatpersoner.
Political corruption is a problem as old as society itself. As a fixture of political science and related disciplines, however, it is new and rapidly-developing, having only received very modest coverage until the late 1990s. The recent shattering of the taboo surrounding the discussion of corruption, largely attributed to its re-definition as an economic problem, has resulted in a torrent of new material on the subject. The most important of this has been brought together in this interrogative and authoritative collection. This book, including an original introduction by Professor Bo Rothstein, assembles the best papers in the field into a comprehensive examination of political corruption and will be an invaluable resource for anyone interested in the subject.
Passar bra ihop
+
Recensioner i media
'Bo Rothstein, one of the world's leading scholars working on the topic of corruption, has put together an outstanding set of articles in this new collection. Drawing on recent research that focuses on the meaning of corruption, its causes, effects, and impacts on democracy, political legitimacy and social justice, as well as on how best to fight it, the chapters in his volume provide the reader with a smorgasbord of key resources - all put into clear context in a typically perceptive introductory chapter. It will undoubtedly become established as a standard work of reference for all those interested in current debates around corruption.' -- Paul M. Heywood, University of Nottingham, UK
Bloggat om Political Corruption
Övrig information
Edited by Bo Rothstein, University of Gothenburg, Sweden
Innehållsförteckning
Contents: Introduction Bo Rothstein PART I POLITICAL CORRUPTION: THE NATURE OF THE PROBLEM 1. Jonathan Hopkin and Andres Rodriguez-Pose (2007), '"Grabbing Hand" or "Helping Hand"?: Corruption and the Economic Role of the State', Governance: An International Journal of Policy, Administration, and Institutions, 20 (2), April, 187-208 2. Anna Persson, Bo Rothstein and Jan Teorell (2013), 'Why Anti-Corruption Reforms Fail-Systemic Corruption as a Collective Action Problem', Governance: An International Journal of Policy, Administration, and Institutions, 26 (3), July, 449-71 3. Susan Rose-Ackerman (2010), 'Corruption: Greed, Culture, and the State', Yale Law Journal Online, 120, 125-40 4. Herbert H. Werlin (2007), 'Corruption and Democracy: Is Lord Acton Right?', Journal of Social, Political, and Economic Studies, 32 (3), Summer, 359-77 5. Mark E. Warren (2004), 'What Does Corruption Mean in a Democracy?', American Journal of Political Science, 48 (2), April, 328-43 PART II CAUSES OF POLITICAL CORRUPTION 6. Alicia Adsera, Carles Boix and Mark Payne (2003), 'Are you Being Served? Political Accountability and Quality of Government', Journal of Law, Economics, and Organization, 19 (2), 445-90 7. Shaomin Li and Judy Jun Wu (2007), 'Why China Thrives Despite Corruption', Far Eastern Economic Review, 170 (3), April, 24-48 8. Gabriella R. Montinola and Robert W. Jackman (2002), 'Sources of Corruption: A Cross-Country Study', British Journal of Political Science, 32 (1), January, 147-70 9. Daniel Treisman (2007), 'What Have We Learned About the Causes of Corruption from Ten Years of Cross-National Empirical Research?', Annual Review of Political Science, 10, 211-44 PART III POLICIES AGAINST CORRUPTION 10. Peter Evans and James E. Rauch (1999), 'Bureaucracy and Growth: A Cross-National Analysis of the Effects of "Weberian" State Structures on Economic Growth', American Sociological Review, 64 (5), October, 748-65 11. William Chester Jordan (2009), 'Anti-Corruption Campaigns in Thirteenth-Century Europe', Journal of Medieval History, 35 (2), June, 204-19 12. Bo Rothstein (2011), 'Anti-Corruption: The Indirect "Big-Bang" Approach', Review of International Political Economy, 18 (2), May, 228-50 13. Wayne Sandholtz and Mark M. Gray (2003), 'International Integration and National Corruption', International Organization, 57, Fall, 761-800 PART IV EFFECTS OF POLITICAL CORRUPTION 14. Pranab Bardhan (1997), 'Corruption and Development: A Review of Issues', Journal of Economic Literature, XXXV (3), September, 1320-46 15. Soeren Holmberg, Bo Rothstein and Naghmeh Nasiritousi (2009), 'Quality of Government: What You Get', Annual Review of Political Science, 12, 135-61 16. Paolo Mauro (1995), 'Corruption and Growth', Quarterly Journal of Economics, CX (3), August, 681-712 PART V DEMOCRACY AND POLITICAL CORRUPTION 17. Eric C.C. Chang, Miriam A. Golden and Seth J. Hill (2010), 'Legislative Malfeasance and Political Accountability', World Politics, 62 (2), April, 177-220 18. Torsten Persson, Guido Tabellini and Francesco Trebbi (2003), 'Electoral Rules and Corruption', Journal of the European Economic Association, 1 (4), June, 958-89 19. Luigi Manzetti and Carole J. Wilson (2007), 'Why do Corrupt Governments Maintain Public Support?', Comparative Political Studies, 40 (8), August, 949-70 20. Alina Mungiu-Pippidi (2006), 'Corruption: Diagnosis and Treatment', Journal of Democracy, 17 (3), July, 86-99 21. John McMillan and Pablo Zoido (2004), 'How to Subvert Democracy: Montesinos in Peru', Journal of Economic Perspectives, 18 (4), Fall, 69-92 PART VI CORRUPTION AND POLITICAL LEGITIMACY 22. Christopher J. Anderson and Yuliya V. Tverdova (2003), 'Corruption, Political Allegiances, and Attitudes Toward Government in Contemporary Democracies', American Journal of Political Science, 47 (1), January, 91-109 23. Barry S. Rundquist, Gerald S. Strom and Jo